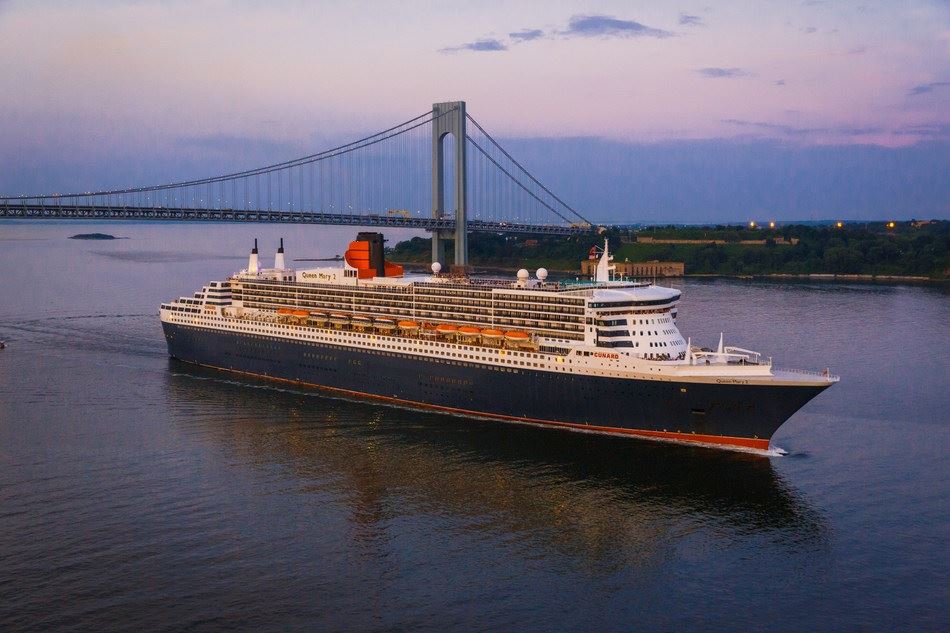 Luxury cruise line Cunard has announced its voyage program for the remainder of 2021, including an extended season in Japan; and new voyages in Iceland, the Baltics, and the North Cape.
Queen Victoria will offer two new 14-night itineraries in Iceland, one featuring the British Isles ports of Belfast and Liverpool; and the other visiting the Scottish ports of New Haven and Invergordon, as well as calling at the Faroe Islands, Reykjavik, Inverness.
Queen Victoria will sail Northern Europe itineraries from May through November 2021. The ship will also sail a new nine-night Baltic itinerary with a maiden call at Aarhus, Denmark, and will have overnight stays on various voyages in St. Petersburg, Russia; Reykjavik, Iceland; as well as Funchal and Lisbon, Portugal. Evening departures will be offered in Liverpool, England; Tromso and Narvik, Norway; and Funchal, Portugal.
Flagship liner Queen Mary 2 will increase the number of the brand's signature Transatlantic crossings in 2021, with short breaks in Europe, along with New England & Canada voyages. The vessel will make 23 Transatlantic crossings from April through December in 2021, including crossings from Hamburg, Germany; and Le Havre (Paris), France.
Queen Mary 2 will also sail New England & Canada voyages over the July Fourth holiday with an overnight in Boston, and in early October with overnight calls in Québec City. Other itineraries include the Norwegian Fjords, the Caribbean, and short break five-night voyages in Western Europe. Two Caribbean sailings roundtrip from New York include stops at a variety of islands; one of which will be a Thanksgiving voyage, and the other a voyage during Christmas and New Year's holidays.
In 2021, Queen Elizabeth will offer an extended season in Japan with two additional Tokyo roundtrip sailings in the spring. The first will visit Western and Southern Japan ports of Kagoshima, Fukuoka, Nagasaki, Busan; and a maiden call at Seogwipo in Jeju Island, South Korea. The second will circumnavigate Japan with calls in Aomori, Akita, Kanazawa, Nagasaki, and Busan.
After the June-August Alaska season, Queen Elizabeth will return to Japan for three Tokyo roundtrip voyages and then sail to Southeast Asia with overnight stays in the iconic ports of Shanghai, Hong Kong, and Singapore. In November, the ship will sail to Australia and New Zealand, with an 11-night from Sydney to Auckland; with port calls at Melbourne, Dunedin, and Bay of Islands.
Cunard is offering value fares for the 2021 program launch, with up to 25% off public standard fares and a reduced non-refundable and non-transferable 12.5% deposit (required within three days of reservation).
Clients who book launch fares by Dec. 4, 2019, will receive up to $1,000 per person onboard credit based on cabin category and voyage length (applies to the first two guests in a stateroom), and free drinks and gratuities in the Princess Grill and Queens Grill Suites.