How to Make Money Selling Bahamas Paradise Cruise Line
by Dori Saltzman /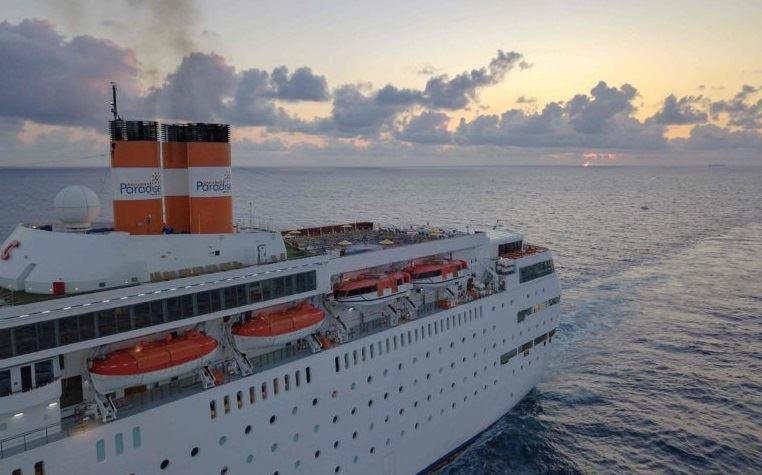 Ask most travel advisors about Bahamas Paradise Cruise Line and they've either never heard of it or they respond quickly with "I'd never sell that." Their reasons range from you can't make any money to it's an inferior product.
But few actually know much about the line other than the fact that the fares are low and its one ship is aged. (Grand Classica was built in 1991 for Italian cruise line Costa Cruises.) Such facts lead most travel advisors to incorrect assumptions.
"I expected Motel 6 and it was not that at all," Chad Burt, co-owner of Outside Agents, told Travel Market Report. Burt experienced the cruise line for the first time this summer and says he's chomping at the bit to go back again.
"I was really surprised and really pleased," he says.
Francis Riley, the line's Chief Commercial Officer, says some of the agency industry's misconceptions are the cruise line's fault. Until recently, Bahamas Paradise hasn't made much of an effort to communicate its unique value proposition to the agency community.
"They don't really know us well," he says. "And we get lost in the mix. We're the small guys."
As a result, travel advisors don't understand that virtually everything the cruise line sells is commissionable to travel advisors, including drinks packages and shore excursions. But it's more than just commissionable fares and onboard packages that make selling the line valuable to advisors.
But to understand how to make money off of Bahamas Paradise Cruise Line, you need to understand the product first.
What Is Bahamas Paradise?
Defining Bahamas Paradise Cruise Line isn't easy. It doesn't fit into any category neatly. Yes, the line offers two-night cruises to Grand Bahama Island and back. But that's only a small piece of what they offer.
Their main value proposition is their cruise & stay program, which pairs those cruises with all-inclusive land stays.
Broken down, it looks like this: guests take a one-night cruise to the Bahamas, where they disembark and stay for two or four-nights at one of two all-inclusive land resorts in Freeport. Then they take a one-night cruise back to Palm Beach.
It's something no other company does.
That alone is a selling point, Outside Agents' Burt says, calling it a "story to tell" your clients about. And, a story your clients can tell their friends about.
Because no one else will have done it.
"A lot of rich people, they've got plenty of cash and they can go where they want, but they want a story to tell," he says, adding he told everyone on a recent Silversea cruise to Alaska about how much he liked Bahamas Paradise.
But would rich people like a Bahamas Paradise cruise?
"People are always trying to sell rich people expensive things," Burt says. "What I'm learning is that rich people don't want all the sandwiches in the world. They don't even want a solid gold sandwich. Sometimes all they want is peanut butter and jelly on rye. This is that PB&J."
Grand Classica is an old ship. There's no doubt about that. But it's been refurbished and it has suites.
"I can have a balcony, separate bedroom, nice bathroom, butler, prime location on the ship, all the details handled for me, for under 500 bucks. Are you kidding!?" Burt says, adding the layout of the suites is the same he's had on Regent Seven Seas Cruises ships in the past.
Of course, you don't only need to market Bahamas Paradise to your wealthier clients, but you should focus on the higher-end pieces of the Bahamas Paradise product.
Focus on Cruise & Stay
Travel advisors can make the most money with Bahamas Paradise by selling the company's cruise and stay product, which bundles a one-night cruise to the Bahamas, with two- or four-nights at a resort on Grand Bahama Island, and a one-night cruise back to Palm Beach.
With the exception of the taxes and fees for the cruise segment of the package, the entire vacation is commissionable at 15%. The average cost for a high season four-day package in an oceanview room (both resort and ship) is $469 plus taxes and fees. (There are also add-on packages, commissionable at 10%, but we'll get into that below.)
Both Burt and Riley recommend that travel advisors take the cruise & stay packages even further, by bundling it with a land stay in Florida.
"We love the mouse, right?" Burt says, adding that people come from states in the Midwest in droves to go to Disney World. Many times, they bundle that with a short cruise on one of the Disney ships.
"But that's not always in everybody's budget," he says, "Disney isn't cheap. We can wrap Bahamas Paradise around that vacation instead."
Now, you've got a client flying into Florida once, but hitting Disney World, getting in an all-inclusive stay in the Bahamas, and cruising. You think they're not going to be telling their friends about that vacation?
Riley says another strategy is to build a Florida and Bahamas vacation around a stay in Palm Beach. Two or three nights in Palm Beach, two one-night cruises, and a two- or four-night stay in the Bahamas, all in one vacation. Plenty of people will fly into Florida for that, he says.
Upsell
To maximize how much commission can be made with a Bahamas Paradise booking, travel advisors need to focus on upselling their clients. That means selling suites instead of inside cabins and making sure every booking includes one or more onboard packages.
The price for a suite? $499.
Then layer in the packages.
There's the Paradise Premium Package, which gives cruisers 10 free drinks per stateroom, one specialty dining for two, and a discount of $50 per person off the price of a shore excursion. The cost is $99 per person and it's commissionable at 10%.
Then there's the Concierge package, which includes a host of perks including free internet, priority luggage delivery, express check-in and disembarkation, dinner for two for a night of specialty dining, reserved seating at the theater, sparkling wine breakfast for two in a specialty restaurant (both mornings), staterooms treats including a fruit basket and chocolate-covered strawberries, a wine tasting for two, and two individual massages of 25 minutes. The cost is $299 for two and is commissionable at 10%.
Know your client will be drinking onboard? Help them save money by offering them the 10-drinks package for $89.67 per person (a retail value of $120). Or don't even offer it. Simply bundle it up into the overall price. It covers alcoholic beverages like beer, cocktails, and wine, so it's doubtful your client will mind. And, again, it's commissionable to you at 10%.
What about shore excursions? Often, travel advisors let their clients take care of that themselves because the cruise lines don't pay a commission. Bahamas Paradise offers five excursion options, ranging in price from $49 to $199 per person, all commissionable at 10%.
Building for the Future
The truth is travel advisors won't make very much money selling the bottom-of-the-barrel cabins on a two-night sailing on Bahamas Paradise. A two-nighter leaving on a Friday in January will cost a couple $358 for an inside cabin. That's $53.70 for you. Even if you upsell them to the Concierge Package, that's only an additional $29.90 for a total of just under $84 in commission.
Not a lot. But that doesn't have to be a reason not to sell the cruise line, both Burt and Riley said. What's important is that you're serving your clients' needs. Not everyone needs or wants to be marketed a full-week cruise all the time.
"Agents look at us and say, 'It's a two-night cruise. Is it worth my effort?'" Riley says. "And the reality is, yes, it is. There are a lot of customers that do seven-day cruises that come to us because they want a short break. They [advisors] are potentially losing a client that wants this type of product."
Burt agrees. "If I believe in selling one thing to one person, one time, I wouldn't sell this product," he says. "If I'm in the mindset that I'm growing market share and that I'm growing clients. And I believe that travel is a progressive disease… three nights turns into five, five to seven. Then this is a huge investment for me."
Whether it's the cruise & stay packages or the two-night cruises, the Bahamas Paradise product can address the needs of specific clients at specific times.
"The rich guy just wants to get away with the grandkids for the weekend," says Burt. "The husband and wife want to get away because the two- and three-year-olds are driving them crazy… and now they get to know me and I'm able to continue marketing to them and remarketing and developing that relationship."
It's also a great product for transitioning land clients to cruises and vice versa, Burt tells TMR. Cruisers will like that it's only two days on land, while still getting in their cruise fix. Resort goers will be happy they can spend up to four days on land, but dip their toes into the cruise experience without worrying about too much time at sea.