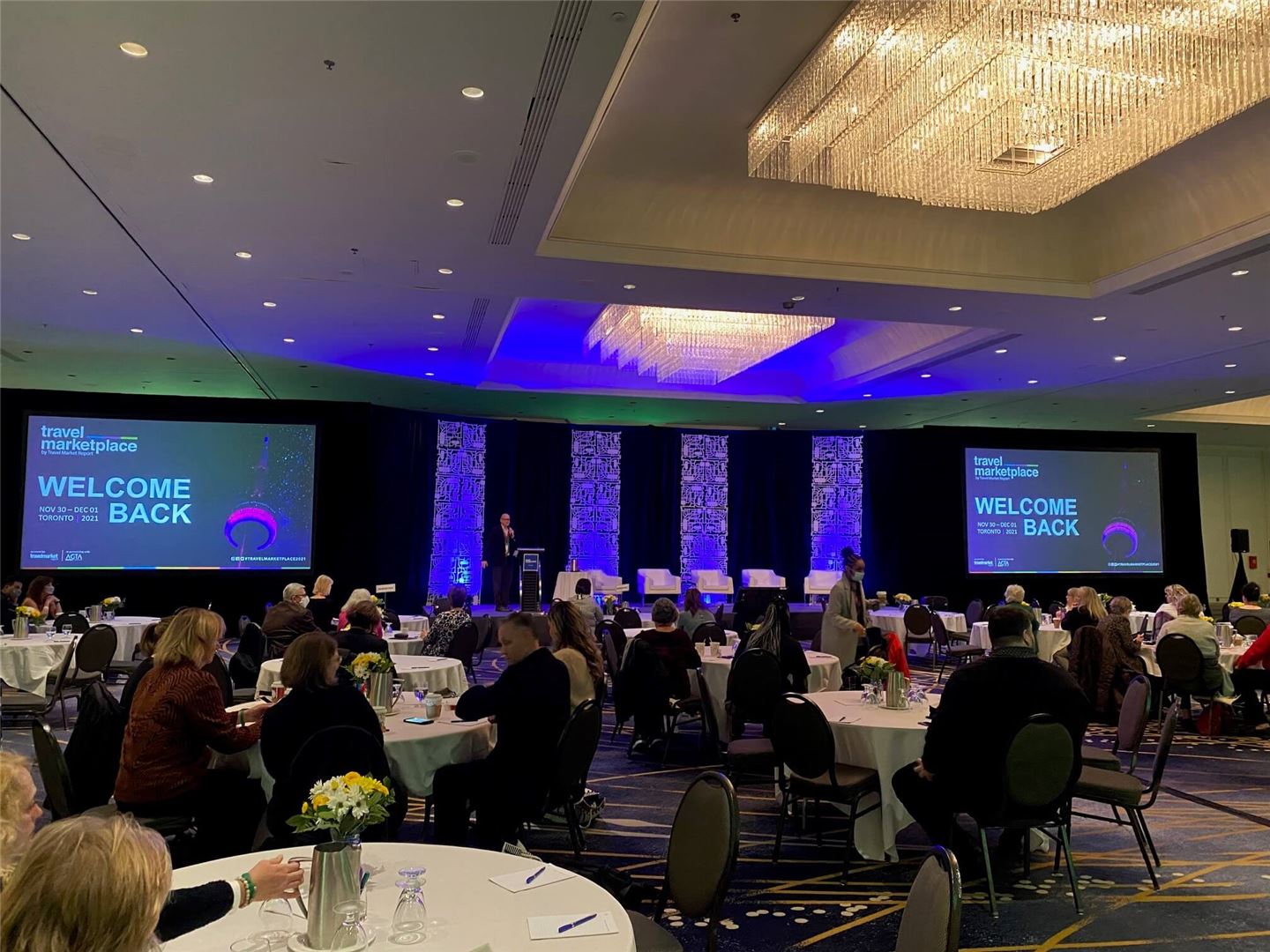 The return to in-person conferencing continues.
To the tune of the Welcome Back Kotter theme song, more than three hundred travel agents along with supplier partners gathered this week at the Delta Hotels by Marriott Toronto Airport & Conference Centre to take part in Travel Market Place 2021.
The conference, produced by TMR in partnership with the Association of Canadian Travel Agents (ACTA), was one of the first in-person events so many agents attended since the onset of the pandemic, and was the first TMR-produced show since March 2020.
"We felt the need to come back to Toronto as soon as we could," Anne Marie Moebes, TMR publisher said, "and we couldn't be more thankful for everyone who is joining us this week. It's really a gift to be able to see everyone in person once again."
"It is truly a pleasure to see so many old faces and so many new faces. The travel demand is not only there but consumers need you more than ever."
The show kicked off on Tuesday morning with a few words from ACTA's Wendy Paradis, who spoke about the recovery.
"I truly believe that the recovery is in sight and we are going to get through this very dark tunnel together," she said, recognizing that news from last week may have stopped the recovery, but things will continue to move forward.
"We will continue over the coming weeks and months to take three steps forward and two steps back but the recovery is coming and the recovery is near," she added.
Tuesday's program included talks from Virgin Voyage's John Diorio and a panel moderated by TMR's Dan McCarthy featuring Louise Gardner of the Travel Agent Next Door, David Harris of Ensemble, Mike Foster of Nexion, and Steve Phillips of TRAVELSAVERS.
That panel focused on leading teams and agents out of the pandemic, including how to process news like the headlines that came out on Friday about the omicron variant. The message was simple—remain calm, gather the facts, and inform your clients about their options knowing that the decision to travel ultimately comes down to them.
"This is an industry I love because of the people, because of the places, and because of the planet," Globus' Stephanie Bishop, who also presented on Tuesday, said.
Tuesday also included a sold-out trade show floor, one of the first travel trade shows since March 2020 in all of Canada.
Cruise panel
During an afternoon panel hosted by tripcentral.ca's Richard Vanderlubbe, cruise line executives spoke to advisors about what their best partners are doing to create awareness and make sales.
"The most successful accounts is just the constant contacting their guests and really putting out there that travel is happening right now," Shane Buksh, the senior manager of national and strategic accounts at Seabourn said. "That message is kind of getting lost between us and advisors and not going from advisors to clients. The most successful ones are taking the message and making it their own and really showing that travel is back, even though people may not be traveling now they are booking now."
Buksh added that a lot of Seabourn's guests are attracted to bucket-list items that are now selling farther out than ever. Katie Gerhard, the associate vice president of sales for Azamara, agreed, adding that it's important to know where your clients want to go and focus on that, too.
"Just keep up with where your people want to go. Our books are open through 2024 and we are seeing very aggressive bookings coming in. You can't be all things to all people so my advice to you is to pick your destinations.
The same with Thomas Lennartz, the VP of sales at Quark.
"We find our average booking time is a year and a half out. We are already launching the 2024 season. There is a capacity problem, not a demand problem. The future seasons are already filling up. Part of the advice in considering something for the future - if you want to book for 23/24, get it done soon before it's gone,"
"We are seeing a lot of success is for the travel partners who are planning further out and building groups. If you think of an escorted group, there is a comfort level of traveling with a group of people you know," Norwegian Cruise Line vice president Derek Lloyd said.