Perillo Tours to Launch 360 Video Travel Agent Campaign
by David Cogswell /

Perillo Tours, working with the media marketing spin-off Perillo TravelVR, plans to launch a travel agent marketing campaign at the end of July that will include sending virtual reality headsets to thousands of travel agents to enable them to view the first of the company's new 360-degree virtual reality videos.
The headsets will also enable the users to watch other virtual reality (VR) videos produced by other companies, as this technology gains traction and is adopted by more and more travel companies. The plummeting of prices of the virtual reality headsets is putting the technology in the hands of everyman and driving adoption of the technology for marketing.
Besides being a good opportunity to capture a good discount and receive a nicely-wrapped gift, for travel agents, this is potentially the opening of a door into a rising media technology that is projected to sweep the world and create vast changes in many things, including in the way travel agents sell and the way consumers research travel.
Passing the media torch
Perillo Tours was one of the first travel companies to use television to promote its business in the 1980s, when Mario Perillo introduced his products personally in TV ads and became a revered media personality in the Northeast U.S.
Mario's father Joseph, who founded the company in 1945, embraced the technology of the 1950s for marketing travel, running ads on Italian radio stations in New York that said "Chi viaggia con Perillo, viaggia tranquillo" ("He who travels with Perillo, travels tranquilly.")
Steve Perillo has continued in the media-savvy footsteps of his father and grandfather as a spokesperson and media personality in his own high-production TV ads. Now he has taken a giant step further into today's media frontier by founding a new media company based on the latest in 360-degree video combined with virtual reality (VR), augmented reality (AR) technologies, and the combination: mixed reality (MR).
The confluence of these technologies is potentially world-shattering and difficult to even imagine as we stand at the dawn of a new age of media, perhaps radically altering the cultural landscape, as did the introduction of cinema in the early 20th century. It is likely to vastly change the experience of entertainment and the culture itself.
"It's going to replace traditional video in the next two or three years," said Steve Perillo, "because you can watch it like traditional video, but can also watch it in that immersive style. Amazing."
The virtual reality market, including hardware and software, is projected to reach $7 billion in 2018 and to grow to $30 billion by 2020, according to SuperData Research in 2017. But, its potential uses go far beyond the world of entertainment. Various industries have been catching on to the nascent technology and it has been making its rounds in the business world as the prices of the technologies plummet.
"It's growing and growing," said John Graham, president of Perillo TravelVR, "and it's not just in travel, but in education, healthcare, real estate, every industry. Travel is now the one that is just taking off. A lot of companies are doing it already — Crystal's doing it, MSC is doing it, G Adventures is doing it. And it's a great thing, because it's going to help educate the travel agent and enable them to sell better to the consumer and close the gap of the sales process."
Google introduced its Google Cardboard, which is literally a cardboard virtual reality headset that has brought the price down to the $10 range, making it cheaper than the price of a single movie ticket. By plugging the headset into your smartphone, you can enter a virtual reality.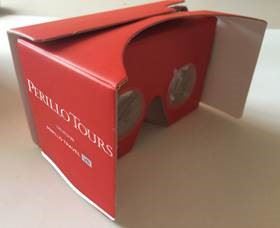 Perillo's Google Cardboard headset.
Enter Perillo TravelVR
Perillo TravelVR, headed by Steve Perillo as CEO and travel industry veteran John Graham as president, was launched in February as a company separate from Perillo Tours. It specializes in 360-degree video production for marketing and will be using the hybrid technology not only to promote Perillo Tours, but will also be selling its services to other travel companies. Some hotels, resorts and destination marketing organizations have already signed on to begin using the technology to market their products and destinations.
The technology is based on 360-degree video, which is created with eight cameras mounted in a globe and pointed in various directions to produce a 360-degree image. It can be watched like a movie, but it is also possible to use arrows on the screen to pan the camera view to look to the side, or in back, or above. With the virtual reality headset you can essentially place yourself at the center of the globe, and instead of clicking arrows on the flat screen to pan the image, that function is activated by turning your head.
At the end of this month, Perillo Tours, as a client of Perillo TravelVR, will be sending out special Perillo-branded Google Cardboard headsets to travel agent partners to enable them to watch the tour operator's new 360-degree promotional videos.
The 360 videos can also be watched on Oculus Go headsets, the price of which has plunged to $199, about half what it was a couple of years ago. The virtual reality can also be accessed on smartphones and desktop computers, though the experience is different and the 360-degree function is accessed and controlled with on-screen arrows.
Agents who watch the videos, and catch the retrieval code embedded within, qualify to receive a 20 percent discount on their next booking.
Travel agents can request a free headset while supplies last and brochures online by typing "headset" in the box provided on the Perillo website or by calling 800-431-1515.