Key West, Florida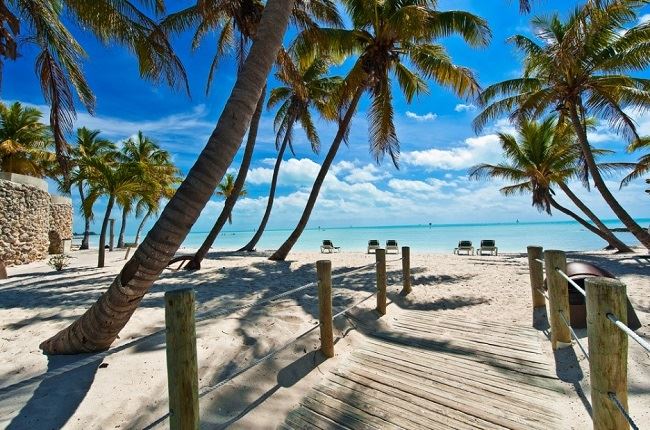 Photo: shutterstock.com
At the southernmost point of the United States, you can find crystal clear waters, white sand beaches, and a pet-friendly atmosphere. Key West is a trip idea for human and canine beach lovers alike. Let your pup go free at no-leash-required Key West Dog Beach. You can even bring him or her along to view the fascinating aquatic life at the expansive Key West Aquarium. Be sure to visit Island Dogs Bar for live music, local fare and, as the name suggests, dogs! Key West boasts over 20 pet-friendly hotels and countless activities that you and your pet can enjoy together.

Asheville, North Carolina

Photo: MilesbeforeIsleep/shutterstock.com
For an active and scenic pet-friendly vacation, bring your beloved companion to Asheville. Take in breathtaking mountain views with several look-out points on a drive up Blue Ridge Parkway. There are plenty of tours that start right in Asheville. Visit the pet-friendly North Carolina Arboretum, a location famous for its beautiful and lush gardens. For a bite, Asheville Pizza and Brewing is a pet-friendly local favorite. In the heart of downtown Asheville, there are several pet-friendly dining options as well as accommodations.
San Francisco, California

Photo:shutterstock.com
Humans can soak up iconic views of the Golden Gate Bridge and the San Francisco skyline while dogs romp on a leash-free sandy beach and splash in the bay at Crissy Field. There's an adjacent grassy area with picnic tables. Or stop by Chow, an indoor/outdoor patio area that's heated and is the perfect spot to grab a casual drinks with some friends and your pup.
Austin, Texas

Photo: ShengYing Lin/shutterstock.com
The charismatic city of Austin is a dog-friendly getaway with seemingly endless pet-friendly activities. Red Bud Isle Park is an island park where your dog can splash in the water while you take in the beautiful views on foot or by kayak! The Domain is a downtown shopping neighborhood that is almost completely dog-friendly. For a dining experience, the historic Scholz Garten is a can't miss—dogs are welcome in the outdoor biergarten. There is no shortage of wide open spaces on land and water where your pet can be included.
Asbury Park, New Jersey

Photo:shutterstock.com
Asbury Park has quickly become one of the most popular destinations at the Jersey Shore. You'll find plenty of dog-friendly beach rentals nearby. From October 1st through May 15th, dogs are allowed on the boardwalk and on the 8th Avenue Dog Beach all day long. During the summer, dogs are welcome between 6 pm and 8:30 am. Attending Yappy Hour at the famous Wonder Bar is a must on a Thursday afternoon! They have a fenced-in outdoor area so dogs are free to socialize while their humans enjoy some drinks at the same time. The Asbury Park Convention Hall also hosts many dog-friendly events, including flea markets, all year round.