5 Things Travel Advisors Should Know About Norwegian Encore
by Daniel McCarthy /

Norwegian Encore, the 17th ship in the fleet and the line's fourth and final Breakaway-Plus vessel, debuted in New York this week after Norwegian Cruise Line took delivery late last month.
Encore will sail out of Miami starting on Nov. 17, offering seven-night itineraries to San Juan, St. Thomas, and Tortola. The ship will move from Miami to New York City where it will sail seven-night Bermuda itineraries.
Here are five things that travel advisors should know about Encore before it debuts in Miami later this month, including how Norwegian is reaching out to the trade.
1. Elevated dining
Encore comes into service with Onda by Scarpetta, a specialty Italian restaurant that will offer guests signature seafood dishes, homemade pasta, and classic Italian dishes. Onda, which is Italian for "wave," is the first time Scarpetta has brought its sophisticated Italian experience to a cruise ship (Scarpetta has eateries in New York City, Las Vegas, Miami, Rhode Island, Philadelphia, and soon-to-be London).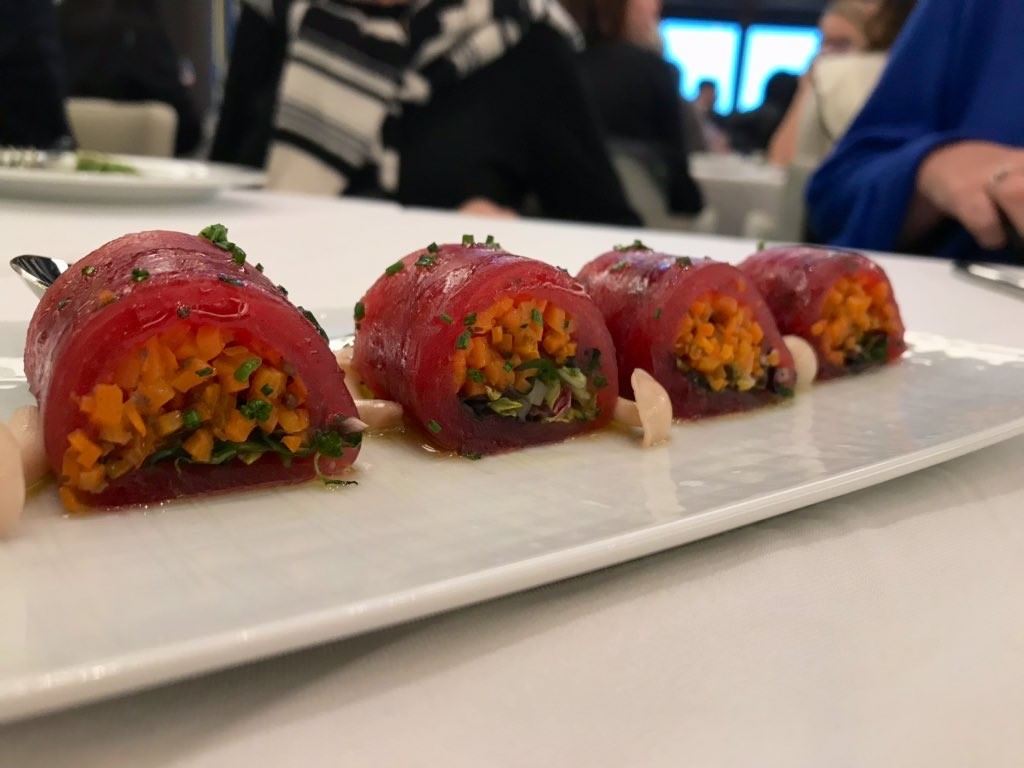 Tuna Susci at Onda. Photo: Dmccarthy.
Other eateries onboard were rolled out on Norwegian's Breakaway-Plus class of ships, including the Texas-barbecue joint Q, Mexican eatery Los Lobos, The Local Bar and Grill, American Diner, the chocolate and desert eatery Coco, Food Republic, and more.
They join three different main dining rooms—the Manhattan Room, Taste and Savor—that all offer different experiences to guests.
2. Solo accomodations and suites
The Encore staterooms include staples that Norwegian has rolled out on other ships in its fleet: Haven staterooms offer access to a private lounge, restaurant, and courtyard; spa suit, mini-suite, and balcony staterooms give guests access to the spa and fitness center; mini-suite staterooms; balcony staterooms; oceanview staterooms; and inside staterooms.
Staterooms onboard also include solo cabins and studios, which are specifically designed for a solo-traveler to get onboard without paying a single supplement. All studios include a full-size bed, a separate bath area, and access to the ship's Studio Lounge. Encore also offers connecting studio staterooms for solo travelers who want to cruise together.
Studios onboard. Photo: Dmccarthy.
3. Bars and lounges onboard
The A-List Bar, which first appeared on Norwegian Bliss, highlights a number of bars and lounges onboard. The A-List Bar honors Norwegian Cruise line president and CEO Andy Stuart, who is overseeing the launch of Encore as the last ship before he leaves the cruise line after more than 30-years.
Staff at the A-List Bar, along with the other bars and lounges onboard, are encouraged to create bespoke drinks for guests staying in The Haven. The cocktails, created through a partnership between Norwegian and Kathy Casey of Liquid Kitchen, are tailored to each guest's preferences.
Other bars onboard include The Cellars, a wine bar from Michael Modavi. Aside from a wine list with 35 different varieties, The Cellars will offer tastings, flights of wine, and seminars including wine and macaroon tastings, chocolate and wine pairings, cheese and wine tastings, and a black glass tasting that will allow guests to taste their wine before seeing its color.

The A-List Bar onboard, named for Andy Stuart. Photo: dmccarthy.
4. Big and small touches
The ship joins its sister ships in the Breakaway-plus class of ships with big, eye-popping features that stand out onboard—the ship's top deck includes Norwegian's go-kart race track with 10 turns, a lost-city of Atlantis-themed laser-tag arena, and an aqua park with two multistory waterslides.
Onboard entertainment include Broadway-style musicals like The Choir of Man, which debuted on Norwegian Escape, and Kinky Boots, which gets it debut on Encore.
The ship's 10,000-square-foot Galaxy Pavilion, which debuted on Norwegian Joy, allows guest to fully immerse themselves in a number of virtual-reality experiences designed for guests of all ages.
But there are a ton of smaller touches on Encore that elevate the guest experience. The fish on the rugs that run up and down the stateroom hallways all point toward the front of the ships, giving guests an easy reference point whenever they aren't near the ship's digital touchscreens located near the elevators onboard.
There's also the new JUST Water bottles that allow Norwegian to continue its commitment toward sustainability with new, paper-based carton that Norwegian says will help save six million plastic bottles being used annually.

Encore's Speedway. Photo: Dmccarthy.
5. Partners first
The launch of Encore also marks the 10th anniversary of Partners First, Norwegian's travel advisor platform that's designed to help advisors drive commissions and ensure commitment to their client relationships.
During a Partners First session at Encore's launch week in New York, Norwegian's trade executives told advisors in attendance that Norwegian wants to be the easiest cruise line for its partners to do business with.
Part of that includes Norwegian's investment in a new Affinity Groups Plus program that will guarantee advisors some pricing flexibility with their groups, including a 15% discount on oceanview and above staterooms when booked 451-days ahead of sailing and open bar and specialty dining perks.
Part of that is also Norwegian's Free at Sea offers, which allows advisors to earn commissions on fares that include open bar, specialty dining, shore excursions, and WiFi.
Norwegian is also giving advisors who attended Encore's inaugurals in New York and Miami some booking incentives. Through Feb. 29, 2020, advisors booking FIT and groups on Norwegian fleet-wide can exchange points earned for gift cards.
And, through a partnership with ASTA, Norwegian is giving advisors on the inaugurals discounted ASTA memberships, with $50 off membership per person and $100 off membership per agency.