6 Ways to Promote Your Agency with Social and Other Highlights from TMP East
by Jessica Montevago /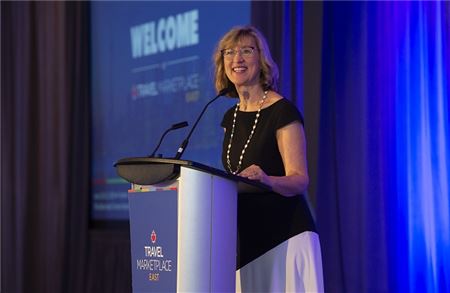 Three social media experts shared their secrets for effectively using social media to grow an agent's business during Travel MarketPlace East in Toronto this week.
Travel Market Report's Geraldine Ree led the panel that included: Sandra McLemore, travel industry expert and TV host; Ryan McElroy, CEO of Travel Agency Tribes; and Sandra Sundborg, cruise consultant with Expedia CruiseShipCenters.
The panel offered these key tips to travel advisor attendees.
1. Have a plan
McLemore compared lacking a social media plan to taking a drive on a Sunday: It takes up some time in your day and you're not always sure where you will end up. If you take that same drive, however, with a GPS, you will get to where you're going a lot faster. You'll make a more efficient use of your time by developing a long-term plan.
2. Tracking leads
McElroy said it's important to stay organized. Your stage of business will determine what tool you use. If you run a smaller agency, you can create an Excel spreadsheet. For larger agencies, try a CRM like Hubspot or Sabre Tool, though there are all different kinds of tracking methods available. Have a strategy to touch base with followers, he added, then you're able to correlate if they are following you and if they are booking with you.
3. Attracting followers
You can get your brand in front of prospective travelers by using different travel-related hashtags consistently, McElroy said. By posting with #Amawaterways or #Silversea, for example, your photo on Instagram will come up for people searching under those hashtags. Or reversely, you can search under those hashtags and follow people who are posting pictures of their cruises, with the long-term goal of having them book their next one through you. It's not a perfect science, he said, "I like to do a/b testing to see what's working and what's not working, and adjust from there."
4. Use a professional account
Remember, while gaining followers gets your name out there, your main goal should be converting followers into clients, McLemore said. Shift from your personal Facebook to a business page and post what you want your ideal client to see. "Your friends and family might not be your ideal client," she said. It might be nice to have them pad your following numbers, but what you really want are follower who will eventually make it to your email list.
5. Don't be afraid to utilize video
"If you're trying to get people to spend money with you, they need to trust you and know you. Video is the fastest way to build the like and trust background. You can see me and the authenticity comes through very quickly," McLemore said. If you're uncomfortable, she suggests overcoming your fears through education and with practice. "If you can get over it either prerecorded or live stream, you can take your business to new levels."
6. 'If content is king, consistency is queen'
This gem, from McLemore, speaks volumes to how you should be managing your social media accounts. Sundborg agreed, saying she was able to make Facebook integral to her business over a short period of time by staying consistent. "I recognize where my sales are coming from, which is Facebook, and I try and stay within my demographic and stick with my story, and stay with posting preferred suppliers."
In other news from Travel MarketPlace East ...

Sandra McLemore, travel industry expert and TV host at TMP East. Photo: Dan Gabraith.
How to sell to the Millennial market
Derek Lloyd, director of Norwegian Cruise Lines, led a panel segment discussing how to sell travel to different age demographics, and how advisors can adapt their marketing strategies to focus on selling to the emerging Millennial market.
"Next year, Millennials are going to be 50% of the workforce, and in five-years-time, they're going to be 70% of the overall [workforce]," said Lloyd. "We need to make sure that we are ready to start selling to these groups of people."
The Millennial demographic has a different set of priorities, when it comes to travel, from their Baby Boomer predecessors. They look for things like the latest technology and WiFi accessibility, more diverse food and entertainment options, and casual homey aesthetics in their accommodations.
"We need to recognize that the Millennials, who, by the way, are now starting into their 40s, will not act the same, will not buy the same, and will be looking for different things from you as their travel advisor."
He emphasized the importance of changing the way advisors think about Millennials, who, as a group, are generally more technologically savvy and skeptical than previous generations. Typically, Millennials gravitate toward more consumer-made reviews and tend to do much of their research online and through mobile devices.
"That's something that we, as suppliers, certainly have to be aware of; how do we reach our customers?" said Lloyd. "We need to be very aware, mobile is key. You have to look at everything you do from the perspective of, 'How is it going to look on a six-inch screen?' You cannot assume someone is getting your emails sitting at a desk, you cannot assume that someone is getting marketing sitting at a desk. Most of the stuff that they're going to be opening will be on mobile [devices]."
He concluded by urging advisors to "work with the Millennials in your marketing, because quite frankly, they're bright, they're a huge part of the population, and they are the future of our business — and we need to start paying attention to how we talk to them."
By Daine Taylor

Travel agent attendees at TMP East. Photo: Dan Gabraith.
How to effectively upsell
"Luxury travel is an aspiration, and it's natural for people to want a superior experience, but the question is, 'Are you offering it'?" Silversea's Director Mark Dzerowycz said to kick off his TMR Talk called, "How to Sell Pieces of Ice the Size of Your House."
Dzerowycz discarded the traditional definition of upselling for attendees, instead saying that the process is "a consultative process which enables you to upgrade your clients to a superior product or experience which, in turn, helps fulfill their aspirations."
He added: "Upselling means offering better, not cheaper. You don't want to offer something that's cheaper than staying at home; you want something that is better than staying at home."
One good example of this, Dzerowycz said, is to look at how advisors can go from selling a value, inside cabin on an Alaskan cruise. Start with asking the client why he or she wants to see Alaska on a cruise. Describe the scenery and what the potential is just outside of their cabin.
"When you have scenery like this outside your stateroom, does it make any sense to book in an inside cabin – that's the first upsell opportunity, inside cabin or balcony," he said. Describe to them what is possible on these sailings.
"You wake up in the morning, open up your balcony doors, and you are face-to-face with the Margerie Glacier," he said. "If you go to Alaska, you don't want to miss this" – share your experience and tell them why it was so special.
"At the end of the day, what it comes down to is this … simply ask, I can offer you the three-star product, I can sell you the four-star product, or I can offer you this one."
By Daniel McCarthy