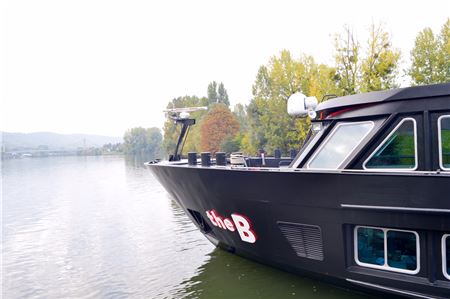 The travel industry is building niches to address the needs of specific demographics, and no supplier category has been more active than the cruise segment.
From wine-tasting river cruises, to U by Uniworld (prepared for launch in 2018), the cruise industry is creating offerings to stimulate demand with niche groups.
Last month, U by Uniworld held a preview sailing of its new product for Millennials, and one of the guests was Caroline Hollar, digital marketing manager at Gifted Travel Network. At about the same time, Michelle Woodson Howell, owner and luxury travel specialist at MH Signature Journeys, in Elkton, Maryland, embarked on a Tauck Rhine river cruise with her husband.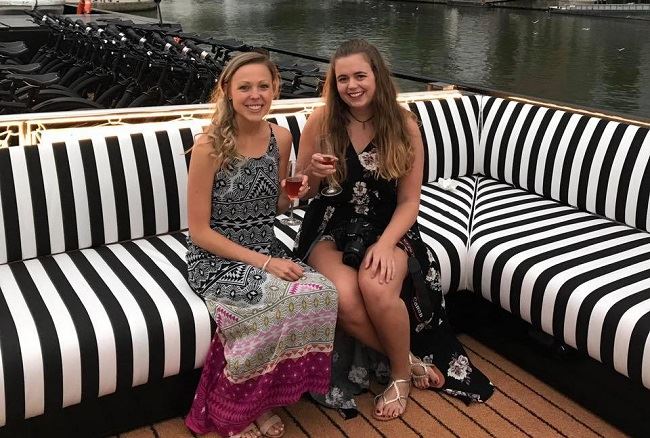 Hollar (right) onboard U by Uniworld.
The differences in their two experiences serves as an opportunity for travel agents to understand the selling points of the various cruise products being offered today.
The inspiration
Woodson Howell and her husband are 52- and 56-years-old respectively, and they chose this cruise having thoroughly enjoyed a Tauck Taste of France cruise last year.
"We were looking for a longer trip which would allow us more time to bond with fellow passengers. The other thing I liked was being able to extend our vacation three days in Bern on land, staying at the Bellevue Palace hotel. It was a good balance of land and river."

The lobby of ms Inspire.
Meanwhile, Hollar was inspired to sail with Uniworld when she found out about a contest to invite 10 agents and five non-agents on an October "Sneak Peek" Paris preview cruise. In August, Hollar submitted a 30-second video about why she was going to sell U by Uniworld, and was shocked when a month before the cruise she found out she had won.
"I always thought the idea was perfect for Millennials looking for the balance of being together with a group of fellow travelers my own age (23), but having the freedom to go and explore on your own," Hollar said.
The onboard layout
Woodson Howell booked Tauck's eight-day, seven-night southbound itinerary on the 130-passenger ms Inspire, which has three levels and a sun deck. Her middle deck cabin measured about 225 square feet, "enormous," Woodson Howell said. "I was shocked how big it was. I really liked the size of the cabin."
Hollar was hosted in a 128–square-foot studio on the 120-passenger ship called The B (formerly the River Baroness). "I live in a studio apartment, so I was comfortable. It was what I expected." (U by Uniworld also operates a ship it calls The A, formerly Uniworld's River Ambassador).
"I didn't spend much time there. It was for sleeping, getting ready, charging my phone," she said, although Hollar did like the free Wi-Fi as well as the Bluetooth-enabled stateroom speakers, so she could "continue the party in my room."
On board The B, a deck-top lounge called the Ice Bar stays open to the early hours, supplemented by the U Lounge on the main level. The Ice Bar hosted dance parties, including a "silent disco" where participants wore headphones to hear the music, Hollar said.
She loved The B's black-and-white decor, "with pops of color" flowing into the U Lounge where a neon red heart beams, and neon lights glow underneath the chairs and tables.
On the more stately ms Inspire, Woodson Howell called the Panorama Lounge "the heart of the ship." It hosted not only dinner entertainment and cooking demonstrations, but was also the place where groups would meet, recline and catch up on the day.
Fellow cruisers
Before Woodson Howell and her husband departed for Amsterdam, they were already exchanging emails and phone numbers with fellow cruisers, including some Australians, and couples who lived only a few miles away.
While she did not ask for ages, Woodson Howell felt the group skewed 8-10 years older than she and her husband, though there was one family with teenagers, and a former AT&T senior executive famous enough that she could Google him.
Hollar said she was on the younger end of the guests on her trip. U by Uniworld is intended for guests 21-45, and Hollar's four-night preview cruise (about half the planned 8-day tour) also included social media influencers.
Activities
One of the greatest distinctions in the two cruise offerings are the activities. With Tauck, Woodson Howell and her fellow passengers received their daily briefings printed out in their cabins every day. U by Uniworld communicated with Hollar via WhatsApp and email.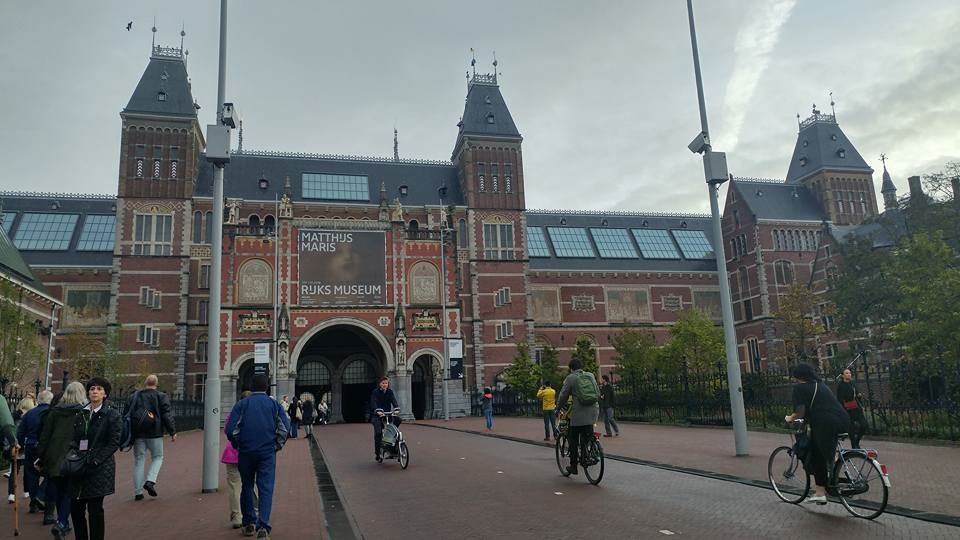 Rijksmuseum in Amsterdam.
Woodson Howell said there were three Tauck directors on the ship, in their forties and up. "Some were retirees doing this part time. All of them were extremely highly educated and knowledgeable." Hollar said U by Uniworld had "two main guides" on the ship who skewed older in age, but still fit in with their guests.
At the Rijksmuseum in Amsterdam, Woodson Howell said, her guide was able to discuss in detail the meaning of specific paintings, and gave a thorough description of the city's prolific bicycle culture.
The Tauck cruise always included nightly entertainment specific to the country and/or region. In Amsterdam, entertainers played and sang sea shanties. In Bern, there was a Swiss trio. "It was very culturally immersive," Woodson Howell said.
She raved about the evening reception and dinner at Ehreshoven Castle, in Engelskirchen, Germany, "where the widows of nobles retired. It was one of the few nights you dress up, and was elegant, with a private quartet playing for us, a tour, and sit-down dinner." That night reminded her of the final dinner at the Bellevue Palace in Bern.
Appealing to those seeking independent adventure, one key to the U by Uniworld product is having the ships stay in port later into the evenings, allowing adventurous Millennials to explore the local night life. "I like that we got to spend a lot of time in Paris," Hollar said. "You have to spend a couple of days to see everything, and get the chance to experience the Paris night life."
In Paris, Hollar chose a bike tour, which she described as "intense," because of the French drivers and pedestrians. "You have to be adventurous to do this," she said. There also was a treasure hunt at the Louvre, a tour of Paris' catacombs, or the "Parisian Rooftops" excursion taking guests to the top of some of the city's apartment buildings and townhouses.
"It's definitely targeted well for Millennials and Instagram influencers. You can get great pictures for your social media feeds," Hollar said. In Rouen, U by Uniworld offers kayaking and a pub crawl.
While there were significant differences in many aspects, the camaraderie of touring together in close quarters was the same. In the evenings, Woodson Howell said, everyone wanted to be in the lounge for the organized activities and meals.
Hollar said she had expected Uniworld's night life would be mostly on land, "but we spent more time on the ship, which was a lot more fun than I expected." Dinner every night was around 7:30, at tables with a minimum of six seats.
"You had to meet new people, since groups of two travelers were pretty common. After dinner the first night, we all got along so well, we ate and hung out together the rest of the trip."
Sales takeaways
Hollar applauds the concept and would sell U by Uniworld to Millennials who want to meet new people from around the world.
"We bonded really quickly and now I have new friends in different cities, connected through social media. There is a handful of people I follow now on Instagram. I can see Millennials wanting to see everyone's pictures and videos after they get back."
Woodson Howell definitely sees a niche selling to Baby Boomers and more senior demographics, as well as wine affinity groups, luxury auto enthusiasts (a landside excursion included the Porsche museum), and lovers of classical music and art.