An Under-Par Day: ACTA's Golf Tournament Plus Lobbying Ontario Government
by Lynn Elmhirst /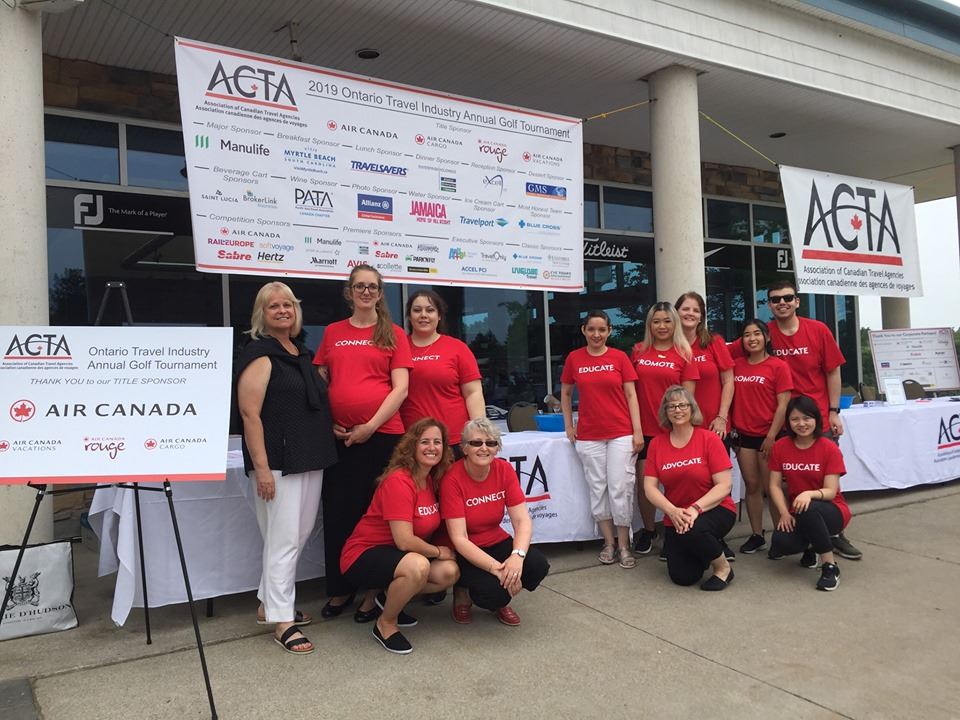 July 11 was a busy day for Association of Canadian Travel Agencies (ACTA) President Wendy Paradis and Heather Craig-Peddie, ACTA's vice president of advocacy.
It was the date of the organization's 31st annual Golf Tournament at the Royal Ontario Golf Club in Milton, bringing 200 travel advisors and industry members together to showcase the power of the travel industry in Canada.
But this year, the two ACTA executives also had to hang up their clubs mid-tournament to head to Queen's Park to meet with provincial government officials to address the outdated and under-performing Ontario Travel Industry Act. They joined the Canadian Association of Tour Operators (CATO) in lobbying the Ontario government to complete its review of the Act, as well as follow through on its promises to ease regulatory burdens on business, including Ontario travel businesses.
ACTA President Wendy Paradis expressed the organization's frustration at the slow progress the two organizations have made. "We've been working on this file since 2016, and with intense focus over the last seven months," she said, a process made more difficult by the fact that the Ministry of Government and Consumer Services has changed Ministers three times in less than a year.
"The Government has pledged to make life easier for businesses by reducing regulatory burden," she said. "However, so far, there has been no lessening of burden on Ontario travel businesses. In fact, we are concerned that some of the government recommendations will add more administrative and financial burden on Ontario travel businesses."
Central to ACTA's and CATO's concerns is the province's Travel Compensation Fund, which the organizations say is outdated, as it fails to address the current travel business environment that includes credit cards, the internet, and e-commerce. In addition, ACTA members have told the association that their primary concern is the unfairness of the Compensation Fund model and the financial and administrative hardship it causes their travel businesses.
Unlike other Canadian provinces, Ontario's travel regulator TICO and its Travel Compensation Fund, designed in the 1970s to protect and compensate consumers when an end travel supplier or Ontario tour operator goes out of business, are 100% financed by the Ontario travel industry.
According to ACTA, "The Fund currently sits at more than $23 million, and the government has been informed through an actuarial study commissioned by TICO itself that the Fund should be closer to $50 million.
"If the funding model does not change, this could mean a dramatic increase in travel agency fees."
ACTA notes that other jurisdictions, including other Canadian provinces like Quebec, have already altered their models to ensure long-term viability of consumer protection funds in the modern era of e-commerce, internet, credit cards, and comprehensive travel insurance.
The Association's position is that Ontario must make a number of changes to the model to make it sustainable and fair to its travel agency members.
Two of ACTA's and CATO's top recommendations are that the province must follow other jurisdictions and move to a model where the consumer pays, as well as base the Fund on risk assessment (here, they use the analogy of life insurance, where a 19-year-old and a 90-year-old are assessed differently and pay different fees).
ACTA President Paradis, following her Golf Tournament day meetings with government officials vowed: "ACTA and CATO will continue to meet with government officials throughout the summer to actively lobby for changes to the Travel Compensation Fund and the reduction of other regulations that inhibit travel business success and growth."