Benchmark Looks To Food & Beverage As A Draw For High-End Customers
by Cheryl Rosen /

The art of true hospitality lies in letting guests connect to the overall experience—and who would know that better than a company with the word "Hospitality" in its name?
Playing on the art theme, the former Benchmark Hospitality International—now rebranded as BENCHMARK®, a global hospitality company—debuted a new culinary focus and new technology for buyers and for properties under its umbrella at a press conference in Manhattan's Museum of Modern Art last week. Since its merger with Gemstone Hotels & Resorts in September, Benchmark has more than 70 hotels, resorts and conference centers, and 8,000 guestrooms. Now it's looking to grow "in more urban destinations like downtown Chicago, New York and San Francisco," CEO Alex Cabañas told TMR.
For now, though, the newly enlarged Benchmark is finding member hotels and their customers more focused on offering top-quality food and a wide range of experiences—and to that end, it has signed Todd Parmalee to oversee F&B operations across the brand and restaurateur Stephan Pyles, owner of six Dallas restaurants, as consulting chef.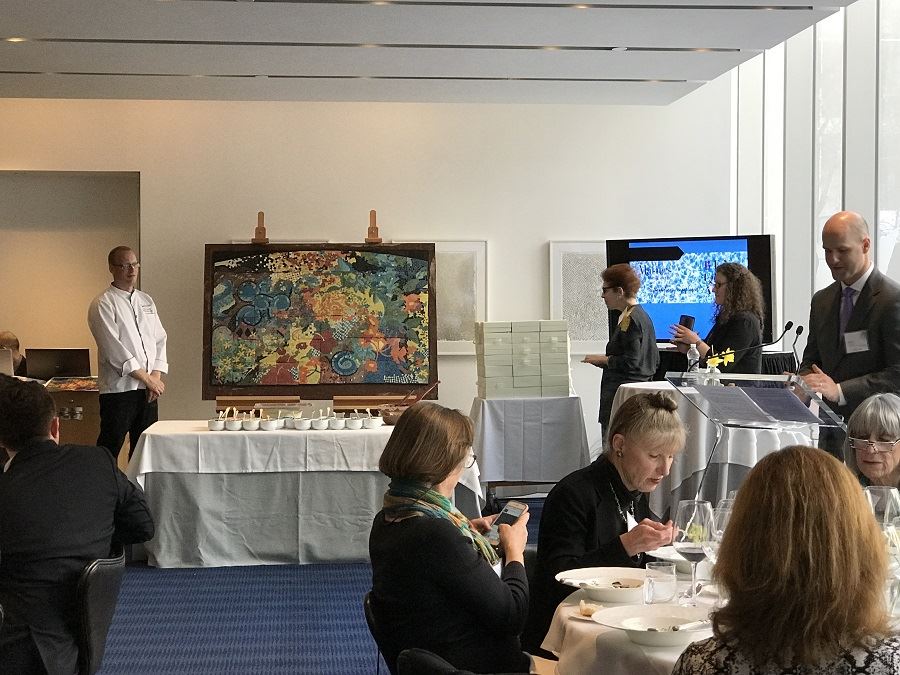 Benchmark Hospitality International debuted a new culinary focus at a press conference in Manhattan's Museum of Modern Art. Photo: Cheryl Rosen
"Great food creates a memory, and we want to be memorable," Cabañas said—and with a food and beverage line that brings in $200 million in business for Benchmark, his goal is to create culinary experiences as good as those of any restaurant.
"Millennials are changing the way everyone eats," Pyles told TMR. "They are very food-savvy, and that makes it a very interesting time; you can be a little more creative.
Benchmark also in the next few weeks will debut a new consumer website designed to connect guests and travel agents to the unique sites and sounds and tastes of each property. Today's buyers at upscale properties want to know more than just the details of the property itself, said chief experience officer Ted Davis. "They want to know what else there is to do, about the culinary scene, about the adventure." And the meeting planners who make up a big portion of Benchmark's customer base need even more information: specialty menus were, offsite offerings, team building events.
The new site offers "a platform of creative ways to engage with literally every property across the brand and every single destination" and user-generated content from "travel influencers."
With an average age of 53 years old and annual income of $130,000, Benchmark's customer base has an online engagement 83% higher than the average, Davis said.
Where previously its member properties preferred to keep their own branding, Benchmark now is seeing more properties interested in using the Benchmark name as well. "We have been a fiercely independent branding partner, focused on marketing and branding the individual hotels, but in the past three years we've delivered $49 million in revenue to them through our brand advertising.
"We are moving into it slowly," Cabañas said. "We want our guests to know they are part of our family of properties. We don't want our name on the hotel, but we want you to know you are part of the family."