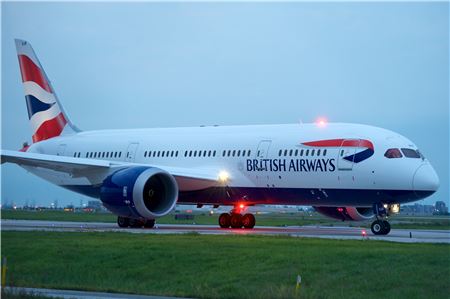 British Airways said it has restored full service out of Heathrow and Gatwick Airports today (May 30) following a massive wave of flight cancellations and disruptions caused by a computer system failure.
The problem apparently began when a power supply issue wreaked havoc with the carrier's operations, call centers and website, effectively making it impossible for passengers to check in or to board flights. The airline said it was forced to scrub 1,000 flights out of London's Heathrow and Gatwick airports over the Memorial Day weekend, and left 75,000 passengers stranded, according to reports.
By late Monday the airline said most flights, including long-distance services over the Atlantic, had returned to normal. BA chief executive Alex Cruz apologized to travelers and promised a full investigation into what caused the communications failure, to "ensure it never happens again."
BA posted updates on its travel trade portal and on social media over the weekend, which in addition to apologizing, dispensed routine advice, such as double-checking flight status before heading to the airport. BA also warned that the problem had roiled its baggage systems too, and that it had a "significant number of bags" at Heathrow that had yet to be reunited with their owners.
If this all sounds familiar, it is. It's at least the second time in less than a year that Britain's largest airline has effectively been brought to its knees by a technological glitch. Last September, a software problem with the line's self-service check-in kiosks caused a massive disruption, affecting tens of thousands of passengers who, among other things, had to wait in long lines for manually issued boarding passes and luggage tags.
And BA is hardly alone. In the past year, many of the world's major airlines – and some minor ones too – have seen operations disrupted in a very public fashion. In January, Delta Air Lines had to cancel hundreds of flights after a computer outage. And that came just months after one of the worst meltdowns, in August, 2016, when a fire at an Atlanta power station knocked out a transformer, crippling critical IT systems, forcing Delta to scrub 2,000 flights. United in 2015 suffered a series of computer woes that caused major service disruptions; last summer, Southwest canceled thousands of flights due to a technology breakdown.
So the bigger question for travel agents and their clients is: Why does this keep happening? Last weekend's woes were blamed by some observers on the cost-cutting policies of BA's corporate parent company, the IAG Group (which also includes Iberia), saying that the company had slashed staff and outsourced jobs in its IT department.
Other problems include the fact that most legacy airline computer systems are old and outdated, and the merger wave that swept the industry in recent decades only made things worse, as the new mega-airlines that emerged had to integrate often disparate systems.
"The big question is are they investing enough?" in IT, asked Henry Harteveldt, founder and travel analyst at Atmosphere Research. "Airlines are among the most technology dependent industries in the world, and they probably need to hire more people. For an airline, investing in a good technology infrastructure should be as critical as investing in airplanes."