British Travel Giant Thomas Cook Collapses, Leaving Thousands Stranded
by Daniel McCarthy /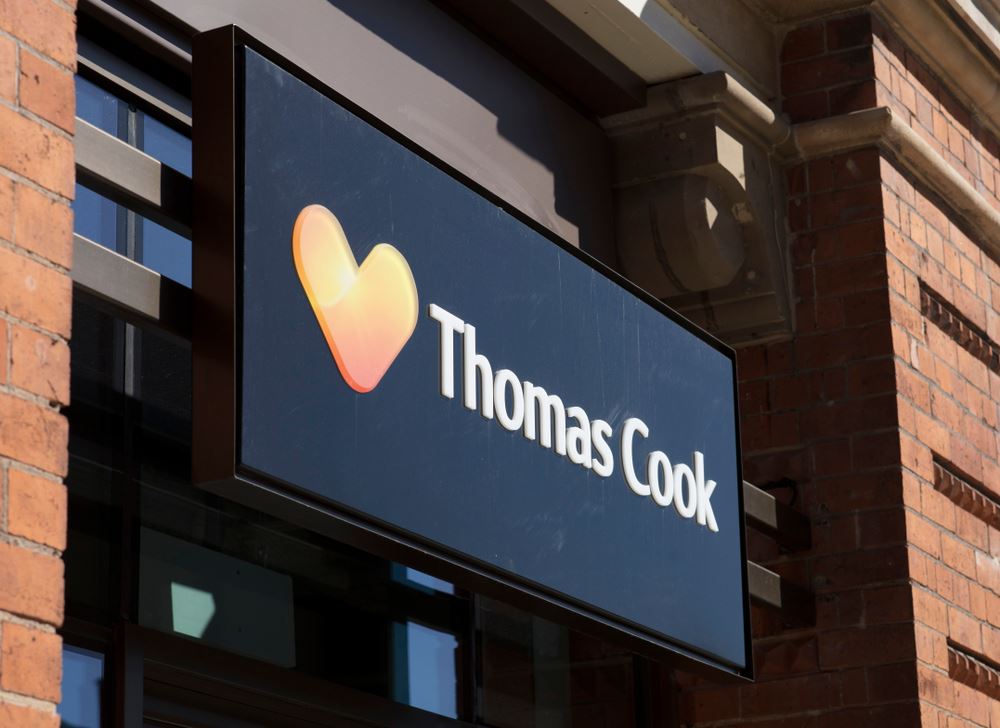 Thomas Cook Group, the 178-year-old British travel company that includes its namesake UK tour operator and airline, announced on Saturday that it was taking "steps to enter into compulsory liquidation with immediate effect," forcing cancellations of hundreds of travel bookings and leaving hundreds of thousands of travelers stranded around the world.
"Thomas Cook has confirmed that all the UK companies in its group have ceased trading, including Thomas Cook Airlines," the group wrote in a message on its website. "As a result, we are sorry to inform you that all holidays and flights provided by these companies have been cancelled and are no longer operating. All Thomas Cook's retail shops have also closed."
The company had been struggling financially for a number of reasons, including the emergence of low-cost carriers, online rivals, and Brexit issues; and had been trying for months to secure a business deal that would keep operations intact, but was unable to do so.
Aside from the stranded passengers, the news also means that 21,000 Thomas Cook employees now face an uncertain future.
"This marks a deeply sad day for the company, which pioneered package holidays and made travel possible for millions of people around the world," the group's chief executive, Peter Fankhauser, said in a statement. "I know that this outcome will be devastating to many people and cause a lot of anxiety stress and disruption."
The UK Government and Civil Aviation Authority is now tasked with getting passengers back to the UK in what is believed to be the largest peacetime repatriation in the country's history (Thomas Cook told CNN that it had 600,000 customers on vacation with 150,000 coming from the UK).
The government is expected to be running over 1,000 flights over the next two weeks using 40 chartered planes. "This repatriation is hugely complex and we are working around the clock to support passengers," Thomas Cook's statement read.
The plan includes rescuing travelers who are stranded around the world, including more than 50,000 in Greece, according to the Associated Press.
According to the UK's Foreign Office, passengers in areas with "limited alternative options" will be prioritized in its repatriation plan. Those abroad with flights after Oct. 6 will have to book their own flights back and passengers who only booked hotel stays through Thomas Cook won't be helped in the plan.
Some travelers will be protected by the UK's Air Travel Organizer's License, which will help travelers secure their stay with their hotel.
Condor, a German airline owned by Thomas Cook, said it would continue its flight operations but will no longer carry Thomas Cook passengers; and Thomas Cook India said it would be unaffected by the collapse of its sister brand. Condor, according to the German government, has requested a bridging loan to help keep operations intact going forward.
Some history
Thomas Cook's history goes back to its founding by Thomas Cook, a British cabinet-maker, in 1841 in Leicestershire, a county in the English Midlands. Cook created the company to help bring temperance support between UK cities on rail, according to Thomas Cook's website. Eventually, the business would move into commercial travel and then beyond the UK and into Europe.
The company left the Cook family in 1928 when the operator of the Orient Express, Compagnie des Wagons-Lits, bought the business from Thomas Cook's surviving grandsons. It was then nationalized in 1948, becoming part of the British Transport Commission, which was created post-World War II.
The company again changed ownership in 1972, when it was bought out by a private British consortium made up of Midland Band, Trust House Fort, and the Automobile Association. It then merged with Carson Leisure Gravel Group UK in 1999 before being acquired by a German travel company in 2001, and becoming Thomas Cook AG.
Thomas Cook Airline launched in the UK in 2013; and it merged with Germany's Condor in 2013.
The group made headlines, starting in 2018, because of its struggling financial health. It closed 21 of its retail locations and cut more than 300 jobs in March 2019 because of struggling bookings; and then, in May, announced a loss of £1.5 billion for the first half of its financial year.
The company reportedly started to explore the sale of some of its businesses, including a takeover from a Chinese company, before asking the UK government to bail the company out, a request that was denied.