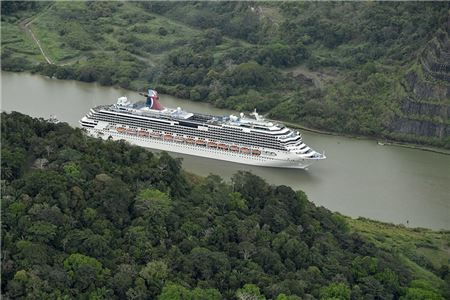 Carnival Cruise Line is upping its West Coast offerings, deploying two ships to its newly expanded Long Beach terminal, and announcing plans to modernize its port operations in Ensenada, Mexico.
The 3,960-passenger, Vista-class Carnival Panorama, under construction in Italy, will be deployed to Long Beach in 2019 and is the first new Carnival ship based in Southern California in 20 years, the cruise line said. The third Vista-class ship in Carnival's fleet, the Panorama will offer seven-day Mexican Riviera cruises from Long Beach, and will be joined by the 113,300-ton Carnival Splendor.
The Carnival Panorama will include venues offering both indoor and al fresco experiences, including the Fahrenheit 555 steakhouse, Library Bar, and Bonsai Sushi, along with open-air attractions like the groundbreaking bike-ride-in-the-sky attraction called SkyRide, a massive WaterWorks aqua park, and the SportSquare recreation area.
The Panorama will also feature a "Havana section" with tropics-inspired staterooms and its own Cuban-themed bar and pool. "Family Harbor" offers larger accommodations, the Family Harbor Lounge, and Ocean Plaza, and a spacious dining and entertainment venue with indoor and outdoor seating.
Reservations for Carnival Panorama are expected to open in late March 2018.
The Panorama will join the Carnival Splendor, which just arrived in Long Beach to serve seven-day cruises to Mexico this season. It also will be deployed on longer-length voyages to Alaska and Hawaii, representing a 40 percent capacity increase on that route.
The 113,300-ton Carnival Splendor is currently the largest ship based year-round in Southern California. It offers a variety of onboard amenities, including a 22,750-square-foot Cloud 9 Spa, a reservations-only steakhouse, a sliding dome covering the main pool area, and nearly 600 balcony staterooms.
"The West Coast is an important market with vast growth potential and these initiatives further demonstrate the confidence in our future success in Long Beach. We are very much looking forward to having Carnival Panorama homeported here beginning next year," said Carnival President Christine Duffy.
Port terminals expansions and upgrades underway
The announcements were made at a grand re-opening of Carnival's 146,000-square-foot, state-of-the-art Long Beach Cruise Terminal.
The expanded Long Beach Cruise Terminal has doubled in size. Operated by Carnival since 2003, the terminal features the famous free-span geodesic dome originally built to house Howard Hughes' Spruce Goose plane.
"This project is many years in the making and Carnival's Long Beach Cruise Terminal is one of the most visually striking and efficient facilities of its kind, providing a seamless embarkation for our guests while making a tremendous economic impact on the Southern California region," said Carlos Torres de Navarra, Carnival's vice president, strategic and commercial port development.
Carnival also announced a major port development project in Ensenada, Mexico, currently featured on the line's three- and four-day cruises from Long Beach. Although it did not disclose details, Carnival said it will be adding "unparalleled, one-of-a-kind dining and retail experiences" along with "unique attractions for guests of all ages to enjoy."
"This project will provide our guests with a truly unique shoreside experience while making our short cruises from Long Beach even more attractive to consumers," said Torres de Navarra. "This port development project will make Ensenada one of the West Coast's premier destinations."
The Carnival Imagination and Carnival Inspiration are also currently based out of Long Beach, sailing three- and four-day cruises to Ensenada and Catalina Island. With the Splendor, the three ships carry approximately 600,000 guests annually from Southern California on more than 250 three- to 14-day cruises.