Croatia and Austria Confirm First Cases of Coronavirus
by Daniel McCarthy /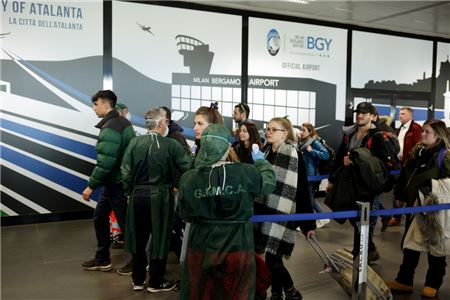 After Italy on Monday reported that the number of people infected by coronavirus had gone above 200, the largest single outbreak outside of Asia and the first official outbreak in Europe, Croatia and Austria both said on Tuesday that they have their first cases of coronavirus.
According to Croatia's Prime Minister Andrej Plenkovic, the Croatian patient is a younger person, currently in stable condition, who spent a week in Milan earlier this month. The patient is in isolation in Zagreb, Croatia's capital.
Austria's health authority said on Tuesday that it currently has two people infected by the virus: Two Italians who live in Austria and who were most likely infected while they were in Italy's Lombardy region, according to Guenthener Platter, the governor of Tyrol, a state in Western Austria.
Meanwhile, a hotel in Tenerife, in Spain's Canary Islands, is reportedly on lockdown with 1,000 guests and staff quarantined after an Italian man staying at the hotel tested posted for coronavirus. The man had been staying at the hotel, the H10 Costa Adeje Palace in south Tenerife, for six days before becoming ill and going to a local hospital, according to local media.
All guests are being told to remain in their rooms and staff are being told not to come into work, according to the Guardian.
According to statistics from Worldometers, there are currently 49,752 active cases, the majority of which are in mild condition (49,537 or 81%). More than 30,000 cases have already been closed with the vast majority (27,899 or 91%) recovered and discharged. According to Worldometers, there have been 2,707 deaths as of Tuesday morning.