Cruise Company Peregrine Adventures Doubles Down on Experiential Travel
by Richard D'Ambrosio /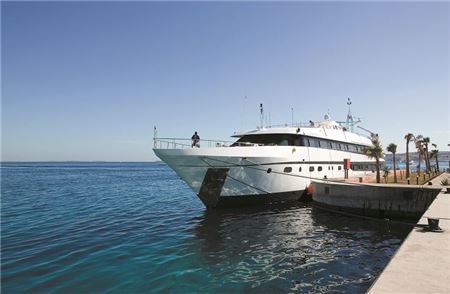 Marrying the leisure traveler's desire for more unique and immersive experiences with the convenience of cruising, Peregrine Adventures is increasing its small-ship charter tour business around the globe.
In Europe alone, Peregrine this year is tripling the number of its small-ship departures, and Filippos Venetopoulos, brand and sales manager, adventure cruising at Peregrine, said the company is sailing with 94 percent of its cabins booked, and its U.S. originating bookings are its fastest growing.
Launched in 1977 as a small group land tour company, Peregrine decided to enter the cruise market in late 2016. The company, part of the Intrepid Group, charters 50-passenger ships allowing it to provide more intimate, small-group tours.
Aboard the 31-guest Royal Eleganza, the company's 8-day Dalmatian Coast cruise visits the islet of Saint Mary (Sveta Marija), located in the middle of Veliko Jezero lake, where guests can explore a 12th-century Benedictine monastery. On a Vietnam cruise, guests visit the Hanoi home of a local family that performs a small-scale water puppet theater.
"So much of what today's traveler wants is that authentic, real-life experience. By operating small ships, we go further up the river to villages where tourism hasn't overwhelmed the community, but also where the villagers are excited to see you because those dollars can help sustain the community," Venetopoulos said.
In Europe, some of Peregrine's cruises are aboard ships from Variety Cruises, a Greek private yacht charter company. The company is hoping to have its own vessels by 2020.
The line's West Africa river cruise makes its way up the Gambia River to Kuntaur, where guests can take a large motorized pirogue to the southernmost tip of Baboon Island, one of the five islands of the Gambia National Park, and home to the Chimpanzee Rehabilitation Project. Hippos, crocodiles, Green Vervet monkeys and a variety of birdlife can be viewed on the excursion.
"We're not talking to the average family, the passport stamper. We're looking for the traveler who probably has been to Asia and is looking to see it in a different way the next time," said Venetopoulos, during a visit recently to the New York Times Travel Show.
"We're talking to a client who wants to visit a local family and eat a home-cooked meal," he said. Sixty five percent of the clientele is female. The company encourages singles to book its cruises, matching them up with the same gender, instead of charging a single supplement.
Working with sister Intrepid Group company, Peak DMC, Peregrine builds shore excursions that steer clients towards traditional wineries, and "mom and pop cafes," said Venetopoulos.
Depending on the day and the itinerary, Peregrine typically offers two meals onboard, with ingredients sourced locally, and encourages guests to disembark to "taste the local cuisine," Venetopoulos said.
Commissions start at 10% and increase based on agency affiliation agreements.