Cruise Line Executives Talk NCFs, First-Time Cruisers, & Overtourism
by Daniel McCarthy /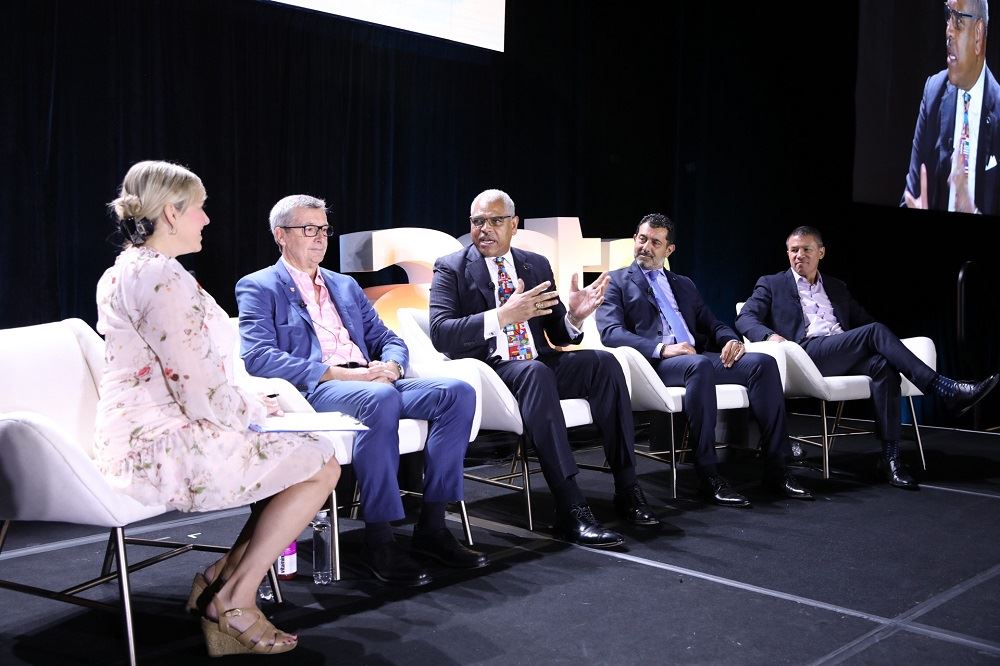 This year's ASTA Global Convention in Ft. Lauderdale, Florida, brought 500 agents and another 500 industry people to The Diplomat Resort to honor the industry, network, and learn from their peers.
In a panel moderated by CBS News' Wendy Gillette, executives from around the cruise industry came together to talk about the issues facing advisors, from NCFs to overtourism, and the value advisors bring to the cruise lines.
According to MSC Cruises' Gianni Onorato, travel advisors are "the best vehicle to communicate what a cruise experience is" to clients; and with the majority of the general public still never experiencing a cruise, "travel advisors will remain the biggest channel for us."
"We're trying to find millions of people and we can't do it without you," Norwegian Cruise Line's Andy Stuart told attendees. "You reach people that we just could not reach. There's no possible way we could reach those people without you."
"One of the best ways to build your business is to make sure your customers are happy, and one way to do that is through an experienced travel advisor," Royal Caribbean International's Michael Bayley said.
"The critical role that travel professionals play is, in fact, putting people on the right product, the right ship, the right brand. It's a very critical thing," Carnival Corp.'s Arnold Donald said.
Reaching that new-to-cruise market
There is a rich opportunity within the travel space for advisors to find new-to-cruise-clients. And with research showing that once a client cruises, he or she continues to do so, it's not only profitable in the short term, but also exponentially so in the long run. Finding those clients, and convincing them to cruise, is a difficult task.
"We believe in honing in on customers and figuring out the right brand precut of the group for the customer … that really is the key," Bayley said.
"Cruise is an incredible premise. They really are the best vacation value … the cruise vacation is a much better value than the equivalent land-based experience. You unpack once and the world shows up to you," Donald said.
"The critical thing for you all is to really understand the different cruise offerings and realize that a given customer, at any point in time, could fit on any of the different brands, but at that point in time, is perfect for just one," he added. "You just have to introduce the concept and your own personal experiences and those of your happy satisfied customers who have cruised."
The impact of NCFs
Among the topics Gillette brought up with the panel, non-commissionable fees (NCFs) got the biggest pop from the audience.
While none of the executives spoke about the rise of NCFs or the possible elimination of NCFs in the future, all did say that their role in the trade was to make sure that advisors can grow their business because, "We can only grow if you grow. We can only be successful if you're successful," Donald said.
Stuart said that Norwegian Cruise Line is trying to add more and more to the cruise fare to bring commission fares up. According to Stuart, gross prices are up 30% over the last ten years at NCL by bringing more of the extras — WiFi, drinks, airfare, and more — into the total, commissionable cruise fare.
"Is it profitable to sell the cruise line you are partnered with? Is it getting more profitable over time? I'm 100% certain that it's getting more profitable … We're getting the gross price up and that's driving more commission to you," Stuart said.
"There's no perfect model in the world, and I think we have a model that's been built up over time," Bayley said. "We are all investing like crazy in building and designing ships … that are not only driving demand, but pushing the products up."
Combating overtourism
One of the bigger stories this year for the industry has been the rise of concern for overtourism in some major cruise cities. Venice made headlines earlier this year for a cruise ship collision between MSC Opera and Uniworld's River Countess, which was followed by the news that the city would officially ban large cruise ships from its city center.
According to Onorato, the positive to come out of the news is that cruise lines have now been working proactively with the Italian government to find a solution that will keep tourism in the city manageable while also keeping the cruise industry in Venice.
"This industry has a very strong proven track record in terms of safety," he said. "This has reopened the debate … we hope we can find a solution."
"Cruise in most places isn't an issue. Even in Venice," Donald added. "There are 24 million tourists in Venice annually, and less than two million are cruise. Cruise is a small percent of the tourism situation. That being said, we have to lead by example."
Working collectively as an industry, including working with CLIA, can help, Donald said, as does using influence to build a destination, like Royal Caribbean is doing now with its new destination company called Holistica.
"It's about everybody going out of this with a win-win situation," Bayley said.