Cruise Planners' Koepf Hopes to Bring His Unique Sales Skills to Franchisees
by Richard D'Ambrosio /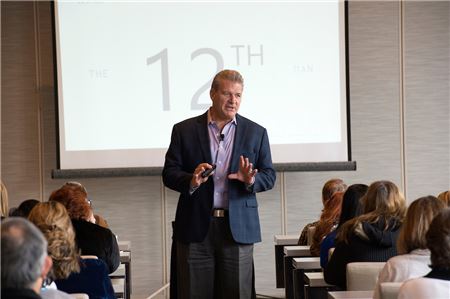 While there is quite a difference between being an independent contractor (IC) solo entrepreneur, and a travel agency franchise, many of the issues facing these two business types are the same — especially finding new clients and closing on sales.
As Scott Koepf takes on the role of vice president, strategic development at Cruise Planners, with a focus on training and events, he told Travel Market Report that he is excited about helping franchises review their sales and marketing skills, and bringing his perspectives on how to enhance their capabilities to close leads faster.
"For as long as I can remember, whenever the trade associations asked agents what is the biggest challenge they face, or the most valuable training they could get, they have always said marketing and finding new customers," Koepf said.
For the last ten years, Koepf focused his attention on the growth in ICs, including more than seven years as senior vice president of sales at host agency Avoya Travel, and a two-and-a-half-year stint as president of the National Association of Career Travel Agents.
"Agents, no matter what size, never say, 'If only we had more product or destination training, that would lead to success.' The number one challenge of most agents today is,'How do I make the phone ring?' It's not taught a lot in our industry in general, the actual selling part of the equation," said Koepf, who is noted for his rousing sales presentations, often featuring his singing talents.
Cruise Planners, based in Coral Springs, Florida, hosts a number of events each year, where his skills can go to use. For example, the company hosts its "CP on the Road" local training series six times a year, as well as annual luxury travel and river cruise forums, and the Cruise Planners' annual convention.
"I'm not coming in to fix something. This is a very well-oiled machine, very cutting edge. I'm more looking to see where I can add something. Cruise Planners has a marketing and technology platform that offers the solutions, so I want to help put a focus on marketing skills and make as many connections as possible to these platforms."
Faith in face-to-face selling
As much as technology is making marketing and sales more efficient, Koepf hopes to renew Cruise Planners franchisees' faith in face-to-face selling, as well.
"One area I am a huge believer in, and I don't think the wonders of technology can replace, are the interpersonal skills," Koepf said. "I'm excited to be involved with that and bring some of my more unique perspectives and messages to those forums."
Koepf admits that Cruise Planners is quite different from the Avoya host model. "The fact that you can operate under a common brand, the benefits of that long term hold extra appeal for me. Franchising has been proven out as extraordinarily successful."
But even if a franchise has a store front, the sales challenge remains the same. "The model relies very much on each franchisee developing their own local marketplace, building their local influence and exposure. A lot of my career has been helping agents do that," Koepf said.
Coming full circle
For Koepf, joining Cruise Planners "is almost like going full circle for me, back to where I started," he said. Koepf opened the fifth franchise for Cruise Holidays, a cruise only agency, about 30 years ago.
Additionally, Koepf is currently a San Diego native. But many years ago, he lived in Coral Springs, and even worked in the building that houses Cruise Planners' headquarters. He plans, however, to remain a San Diego resident.
"We have a lot of connections over the years," Koepf told Travel Market Report. "It's like this was destined in the stars."