Crystal Cruises Is 'Full Steam Ahead' on Both Ocean and River Products
by Daniel McCarthy /

In his first Seatrade press conference as the president and CEO of Crystal Cruises, Tom Wobler reaffirmed Crystal's place in the industry amid a time of company change.
"My priority that Crystal remains laser focused on what we do best, exceeding the expectation of all of our guests at every time. Caring service, generous space, quality generations, was born on the ocean ships and they remain at the heart of what we do best," he told reporters.
Crystal is currently revving up for big years ahead with the launch of Endeavor in 2020, Crystal Symphony and Serenity redesigns finishing this year, and continued evolution of its river cruise product, first launched with Crystal Mozart in 2016.
Endeavor
Crystal Endeavor, currently in production, is further proof that "expedition cruising has really been a boom for the industry," Wobler said. The ship had its steel cut in Germany earlier this year and will come into service in 2020 as the "largest and most spacious purpose-built Polar Class ship."
According to Wobler, Endeavor will feature six restaurants—Waterside, which will offer a menu of classic dishes with a modern twist; Prego, an Italian class restaurant home to the Vintage room; Nobu's Umi Uma; Silk Kitchen and Bar (depending on itineraries), offering Chinese comfort food; Bistro Café; and the Bistro Buffet.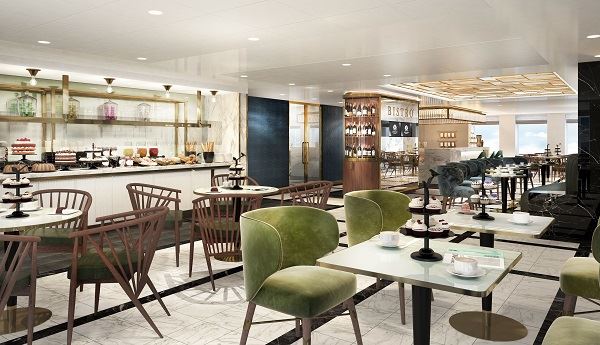 Endeavor's Bistro Buffet
Crystal will also bring a number of public areas over from its ocean product including Palm Court, Connoisseur Club, Crystal Cove, Crystal Cove, Crystal Cove Bar, Crystal Promenade, and the Crystal Life Spa and Salon that features a sauna, relaxation room, and fitness area.
Other features include one submarine and two helicopters for off board exploration, a mud room, a two-story solarium pool deck with a glass roof that will offer almost 360-degree views "that are going to absolutely wow people," Wobler said.
More details, including itineraries, will be announced soon.
Crystal Espirit, the brand's current luxury yacht, will conclude its first session shortly. According to Wobler, the ship attracts a younger and more adventures traveler than its river ships.
"I think of it as the water bound experience of a high end safari – exciting outdoor activities, exciting itineraries," Wobler said.
Symphony and Serenity refits
After Symphony entered its redesign phase in October 2017, its sister ship, Serenity, will get the same refit, "as significant as the one Symphony just went through," Wobler said, re-debuting in November 2018.
Serenity's dining rooms will get the open-seating concept that is now offered on Symphony. Wobler said the concept "allows guests to dine when they want, where they want, with whom they want." The ship will also get 36 new penthouses and two new penthouse suites.
Those changes "will reduce the capacity to 980 guests while keeping the number of crew onboard the same, which will enhance the guest experience and enhance the atmosphere in the public space and the dining areas," Wobler said.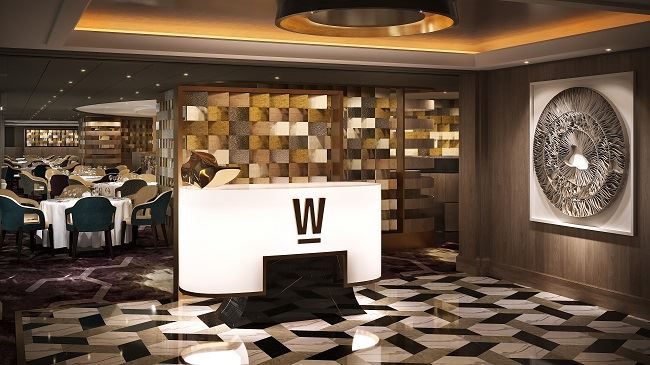 Serenity's Waterside Reception
A new production show, Crystal in Motion, will also be offered, as will some new technical innovations including interactive flat panel TVs in all rooms and in public spaces. Those TVs will get Crystal Connect, the cruise portal that allows guests to customize their sailing.
For the first time, Wobler unveiled the name of Crystal's new smaller ocean cruise class—Crystal Diamond Class. Diamond Class will feature ships of 60,000 tons with a maximum capacity of 800 guests.
"That size is the absolute right size for the level of service and personal detail that is really core to the Crystal brand," he said.
The plans for Diamond Class no longer include space for residents as was previously announced.
River cruises
After some initial delays, Crystal's river product is "full steam ahead." This year, Crystal will sail more overnights and extended stays than ever before.
The average age for the river product, Wobler said, is skewing lower than ocean.
"That really reaffirms the objective behind Crystal's expansion," he said. "Providing new experiences for our most passionate fans who are looking for new ways to explore the world, bringing new guests into Crystal that we hope will move up to the ocean ships."
All of its 2018 itineraries are filling up but space is still available.