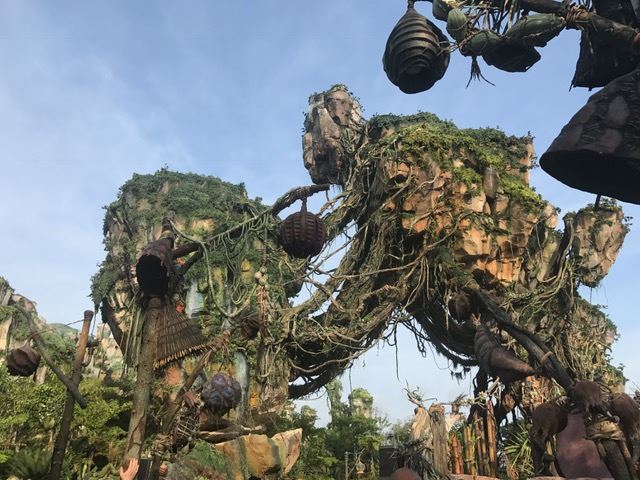 "I never thought I'd see the day when the Pandora I imagined could be made physically real," Avatar director James Cameron told reporters at the press preview of Pandora – The World of Avatar.
The $500 million project that brings Cameron's blockbuster hit to life was unveiled Wednesday before it opened to the public over the weekend. The director was joined by the movie's cast, including Zoe Saldana, Sigourney Weaver and Sam Worthington, and Walt Disney CEO Bob Iger, for the dedication ceremony.

(L-R) Jon Landau, Wes Studi, Joel David Moore, Sam Worthington, Stephen Lang, James Cameron, Zoe Saldana, CCH Pounder, Bob Iger, Sigourney Weaver and Laz Alonso pose during the dedication of the new land, Pandora – The World of Avatar, at Disney's Animal Kingdom on Wednesday. Photo: Disney
While the film debuted eight years ago, a seemingly long time to introduce a dedicated-park, more movies are in the works; the sequel is scheduled for 2020.
"At Disney, we have a 'how do they do that' standard. I cannot think of a better example of that than what we're standing in front of right now," Iger said. "It's kind of fun to do the impossible, it drives everything we do, and it's thanks to our visionaries and innovators to deliver the impossible."
Housed in Walt Disney World's Animal Kingdom, the self-contained land allows guests to feel truly transported upon crossing the bridge and entering the Valley of Mo'ara. In its 12 acres, no detail is left unturned by Disney's Imagineers. Walkways are lined with lush vegetation, bearing names like Puffball Tree and Scorpion Thistle, while the majestic "floating" Hallelujah Mountains, a massive 130-feet rock structure with a waterfall cascading into a pond, stands at the land's center. Totems and cave paintings from the Na'vi, the indigenous people of Pandora, are displayed throughout, and Na'vi greetings are used by cast members. Other experiences include tribal face painting and an interactive drum circle.

Walkways are lined with lush vegetation. Photo: Jessica Montevago
Two rides help further immerse guests into the world of Pandora. The Na'vi River Journey takes guests on a boat ride through a glowing rainforest, where a 10-foot-tall animatronic Na'vi Shaman sings as passengers glide along the river. The much-buzzed-about Flight of Passage uses a next-generation theater to simulate flying on the back of a banshee, taking riders on a completely immersive journey through the jungles and forests of Pandora.

Riders of Flight of Passage pass an Avatar while waiting online. Photo: Jessica Montevago
Rounding out the park expansion is fast-casual restaurant Satu'li Canteen, Pongu Pongu, a specialty beverage kiosk and a gift shop.
After dark, the land is aglow with bioluminescent flora and paths. It adds to the nighttime experiences at Animal Kingdom, which recently launched a Rivers of Light show and light-up images projected onto the Tree of Life.
The goal was to make Disney's Animal Kingdom a full day-to-nighttime park, said Walt Disney World Resort senior vice president of sales and services Claire Bilby. Clients staying at onsite hotels can experience Pandora later into the night, with special Nightly Extra Magic Hours from 11 p.m. to 1 a.m., through July 4.
Disney currently offers the 4-Park Magic Ticket for $79 per day, with one admission to each park on four separate days.
Commitment to travel agent partners
Since early this year, Disney has hosted a variety of in-market and online training opportunities for travel agents to learn more about Pandora – The World of Avatar, Cal Almaguer, vice president of domestic travel industry sales for Disney Destinations, told TMR. Emphasizing a commitment by Disney to its travel agent partners, he said, "the response was amazing and we've already seen positive results."
A Pandora Showcase tour offered 11 events in five countries, while the sales team hosted training sessions in cities across the country. Agents who missed these training opportunities can view an online webcast at disneytravelagents.com.