First Look: Dr. Seuss Waterworks Park On Carnival Cruise Line's Horizon
by Daniel McCarthy /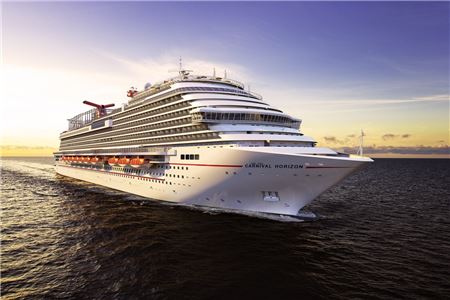 When Carnival Cruise line debuts its newest ship, Horizon, in April 2018, it will also be debuting a first for the cruise line. Horizon will be the first Carnival ship to feature Dr. Seuss Waterworks, a full water park inspired by "everyone's favorite feline," The Cat in the Hat.
"It's a fun, new and different feature on Carnival Horizon," Carnival president Christine Duffy told reporters at CLIA Cruise 360 in Fort Lauderdale on Thursday.
The park will feature two waterslides. The Cat in the Hat slide is an enclosed raft slide that spans 450 feet; its outside is emblazoned with the famous red and white pattern of The Cat in the Hat. The second, the polka-dotted Fun Things slide, is named after Thing 1 and Thing 2. It features 213 feet of all-ages fun.

Dr. Seuss Waterworks is a full water park aboard Carnival's newest ship, Horizon.
The park will also have a 150-gallon Cat's Hat, which will tip and flood the park with water, and a kiddie splash zone with dozens of water spray toys.
Characters from the franchise will feature heavily in the park, with a life-sized Cat in the Hat holding an inner tube and The Grinch with a surfboard tucked under his arm greeting guests as they enter the park.
The park's addition builds on a four-year-long relationship between Carnival and Dr. Seuss Enterprises.
"This has become one of the most popular family friendly programs…for any vacation experience that a family can enjoy together," Duffy said. "We enjoy the partnership, it's a very important one and it's a great organization."
The companies originally signed an agreement to launch Seuss at Sea in 2014. Since then, a number of Seuss-branded innovations have appeared on Carnival ships including the Dr. Seuss Bookville, which opened on Carnival Freedom, as well as the Seuss-a-Palooza parade and the Green Eggs and Ham breakfast.
Last year, Carnival sailed 800,000 children, and with the additions of family-centric entertainment like Dr. Seuss, "we think that's going to continue to grow," Duffy said.