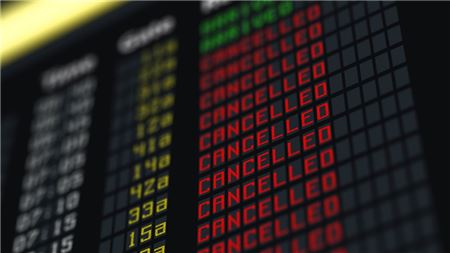 After leaving a wake of delays and cancellations in the southeast yesterday, the first winter storm of 2018 is packing enough punch to cancel more than 1,000 flights in New York and Boston today, sending ripple effects throughout the U.S.
Today's report from the website FlightAware says there are 6,025 total delays and 3,715 cancellations today. Delays within, into, or out of the U.S. today: 281. Cancellations of flights into and out of the U.S. today: nearly 3,000.
Seventy-three percent of the flights at Newark Liberty International and 72 percent of the flights at Boston Logan International are canceled for today.
Sixty-five percent of the flights at John F. Kennedy International airport are canceled as well, significantly impacting the operations of JetBlue Airways and United Airlines. Today, one out of three JetBlue fights and 22 percent of United's flights are canceled.
As a result, United is waiving change fees and will not charge any difference in fares for flights originally scheduled for Jan. 4-5, to and from these airports, as well as places like Albany, New York; Burlington, Vermont; Manchester, New Hampshire; Montreal and Quebec. Travel must be rebooked on or before Jan. 8.
JetBlue is doing the same for flights for Jan. 4, booked on or before Jan. 2, 2018. New flights must depart on or before Wednesday, Jan. 10. "Customers with canceled flights may also opt for a refund to the original form of payment," JetBlue said.
The storm is expected to drop 6-12 inches of snow from about Central Connecticut east to Maine, according to most weather reports, with blizzard conditions possible during the daylight hours. In the New York metropolitan area, snow accumulations are expected to be half that amount, though they could be much higher on Long Island, home to Islip/Macarthur airport in Suffolk County.
Flight operations are also complicated by high wind gusts and hazardous wind chill factors.
While the storm was drifting east towards Boston throughout the early morning hours of Thursday, it was close enough to Hartford's Bradley International Airport in Connecticut to shut down 60 percent of the flights there, and 13 percent of the flights at Philadelphia International Airport, FlightAware reports indicated.
The southeast is also just now recovering from the storm's ice and snow, deposited yesterday in cities and states not prepared for the highly unusual low temperatures. FlightAware reports show that today 48 percent of the flights out of Charleston, South Carolina are canceled; as are 29 percent of the flights in and out of Savannah, Georgia; and 27 percent of the flights from Myrtle Beach, South Carolina.