Five Tips for Travel Advisors Selling Theme Park Vacations During a Pandemic
by Daniel McCarthy /

When COVID-19 hit the U.S. in late February and early March, it had a major impact on virtually every aspect of life. For the travel industry, it brought virtually everything to a halt, including some of the quintessentially American vacations like those to Orlando's trademark theme parks.
When Walt Disney World shut its doors on March 12, it was the first time the Orlando resort closed for a non-weather-related reason since 9/11.
Now, with Orlando theme parks reopened, including Universal Orlando, guests are ready to travel and are looking to book once again. But the experiences have changed and the guidance of a good travel advisor is more important than ever.
Two travel advisors, Kristen Buckshire, Owner/Agent at Travel Ease LLC, and Kristi Peek, President/Travel Professional at Embrace the Journey Travel, joined TMR last week to talk about their experiences selling theme park vacations during the COVID-19. Here's what they said.
1. Set expectations
"We need to set realistic expectations for our guests," Buckshire said. "Because things are changing so rapidly, we need to let them know what they're going into."
The typical Walt Disney World experience has changed a lot since reopening, and continues to do so, that what clients heard a month ago, might not be the case when they arrive four weeks from now, she said.
Masks are still required at all Disney parks at some experiences that are designed for large crowds to enjoy at all once,
"It's just so important to set expectations so they know exactly what their trip is going to be like when they arrive."
Disney's FastPass system, for instance, still has not returned to its parks, which is one of the big questions on everyone's mind right now.
And while lines at attractions were shorter when the theme parks initially re-opened, that's not necessarily the case anymore—according to TouringPlans, a Walt Disney World news blog, the average wait times for attractions that have opened have increased slowly and steadily each week.

Savi's Workshop in Disney Studios, one of the experiencs that has reopened. Photo: WDWParks.
2. Get first-hand experience to show your expertise
Not only does that first-hand experience aid in selling, but it also allows for advisors to show that they are still the expert, no matter how much the experience has changed, whether it be a theme park vacation or a resort vacation.
"I detail the experience, load it to the website, we market it to the agency's Facebook page and I post it, too, because we found a direct connection between us traveling as travel advisors as sales," Peek said, mentioning that she got a honeymoon booking directly from posting photos of her trip to Mexico.
"That wouldn't have happened if I did not go to Mexico myself and post pictures of the trip."
Buckshire said that her experience has also made a difference.
"The reason I do it really, is not for the sale, it's so that our clients can still view us as an expert. I've been known as the Disney and Universal subject-manner expert for quite some time, and I think that showing our clients that we have boots on the ground and are there doing it, really just solidifies in their mind that we are their travel professional, whether they are ready to book or not.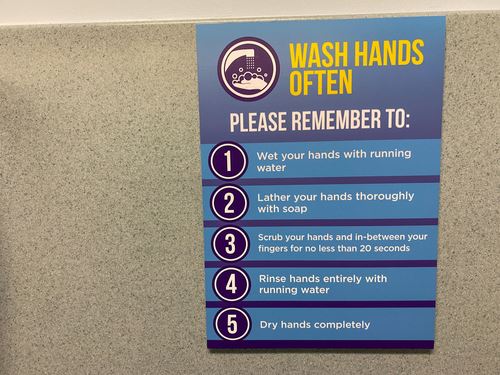 Hygiene signs at Universal Orlando. Photo: Shutterstock.com/JoniHanebutt.
3. Target the ideal client
Not every client who may have fit into the category a few months ago are right for a theme park vacation with the new rules and regulations, Peek said.
Right now, the ideal client is "a high Disney affinity client." It is someone who has been to the theme parks, someone who realizes that the experience has definitely changed, but wants to go and experience it anyway.
"I have clients there right now who have been multiple times, they've been in their houses for a long time. We prep them before they go so they have an idea of what to expect, but that's their happy place," Peek said.
"They're happy there, even with the longer lines. But that's the client that we would suggest visit in 2020. That's who we are targeting for the rest of the year—the high Disney affinity client who has been multiple times."
4. Suggest first-timers hold off
Because those experiences have changed, Buckshire said her agency has been suggesting that first-timers hold off on their trip because that full experience isn't necessarily available right now.
"It's great for those repeat guests who need a little Disney in their life, but it's not the right experience for everyone right now," she said.
Buckshire said that it's hard for guests to pay that full package pricing right now and then not have "the full experience."
Universal Orlando on the other hand, might offer an experience closer to what they'd get pre-pandemic just because of the nature of that destination.
"It's two different theme parks right now, obviously, and we have a lot of guests who are going through the Express Pass packages at the premier resorts there because they're not having to wait in lines and we're having really great feedback from them."
Peek said her agency is hearing the same things, especially with certain promos that allow for a lower price point to get into Universal.
"Universal is running promos, so we're able to get them less of a price at Universal than what they were getting at Disney."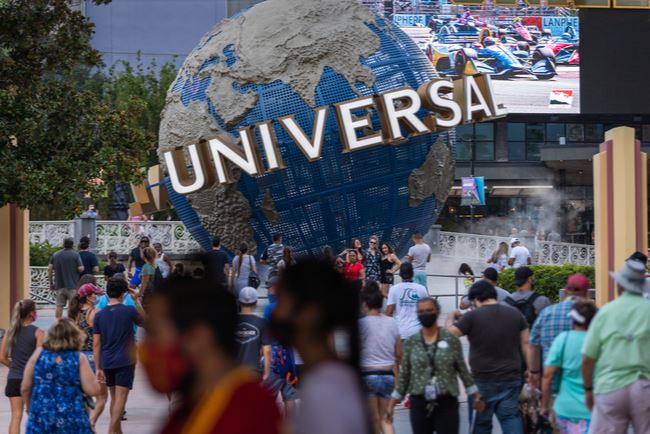 Masks are now required at all Universal Orlando resorts. Photo: Shutterstock.com/YesMarketMedia.
5. Be flexible and allow your clients to do the same
"We are finding that clients who come to us with a specific destination in mind right now may not end up in the destination that they originally came to us looking for. As we start to talk to them about things like FastPasses not being in place, little caveats there, we are finding that they may be a better fit in another destination." Buckshire said.
For example, Buckshire had some clients who, looking to get out of their house and take care of the build-up of pent-up travel demand, converted vacations from Disney to all-inclusive resorts in Mexico or cruise clients who have now switched into a theme park vacation.
And not every client who once seemed perfect for a theme park or all-inclusive vacation might necessarily fit there. Peek told TMR her agency is seeing a wide variety of clients wanting to travel all over.
"Tomorrow I have a family who live on the East Coast, who have been inside for months, going to stay in Mexico" for an extended period of time, something that the new virtual world, including virtual school for the kids, has opened opportunities for.
"They're going to do virtual school and work from Generations there," she said. "We have a wide variety of couples who have been trapped in their house for months with their kids and need a week away. We're having to tailor it to each guest's needs on what first them."