Headquarters Happenings: World Travel Holdings Reports Double-Digit Growth, Has Positive Outlook
by Cheryl Rosen /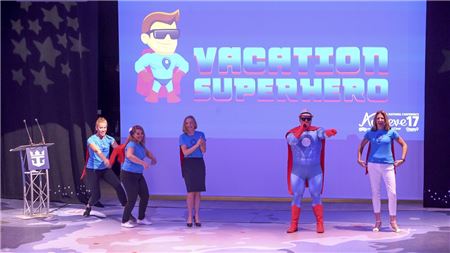 As the cruise industry goes, so goes its biggest distributor: the triad of World Travel Holdings (WTH) sister companies — Dream Vacations, CruiseOne and Cruises Inc. And so, it is no surprise that despite hurricanes, terrorism and natural disasters, 2017 has been a pretty good year for the travel franchises and hosted agents under these three umbrella brands.
"The macro-trends are so good right now, it's the perfect sunrise," World Travel Holdings Co-chairman Brad Tolkin told TMR at the group's annual conference aboard Harmony of the Seas in October.

Brad Tolkin on stage.

"We're seeing double-digit growth for 2018 in the home-based travel agent division; it's doing extraordinarily well. We've been pleasantly surprised that in spite of the disruptions pricing has held up, that's a really positive sign that macro-consumer demand to take a vacation is holding up. For us, because of how good this year was going to be, the only headwinds we see are terrorism and natural disasters."
And for the cruise industry, where the guests and their rooms can easily be moved out of the way, even the three back-to-back Caribbean hurricanes were not too disruptive. "I think cruise is going to have a phenomenal first quarter of 2018 because pricing continues to go up, and so much hotel inventory — like Frenchman's Reef in St. Thomas— has been removed," Tolkin said.
Multimillion-dollar technology investment
Indeed, all of the talk at the conference was positive, and much of it centered around new technologies. In a year that saw "double-digit sales growth, the highest growth in the history of our franchise," technology continues to be a multimillion-dollar investment.
A big investment in the company's IT department has doubled the size of the team, adding 17 new employees, who delivered bimonthly releases and updates. This year, the company rolled out such tools as Cruise Reservation Pull, to help agents retrieve manual bookings with the major cruise lines seamlessly into My Cruise Control. They also continue to create efficiencies in My Cruise Control, adding price-sort features to cruise search, and the ability to easily navigate cross-referenced reservations; and a brochure rack of marketing materials agents can share with customers.
Loyalty programs and education
Also new this year was a "reinvented" loyalty program that includes a referral bonus for customers.
WTH research shows that 37 percent of consumers who use travel agents were recommended by friends or family, and 41 percent of customer who used a recommended travel agent were more likely to book again without checking alternate sources. So, to help grow this lucrative repeat referral business, the marketing and IT teams collaborated to come up with the "Vacation Superhero" Referral Program.
Through the program, proprietary technology makes it easy for a consumer to recommend a travel agent via email and social media, and then tracks the referrals so they can receive gift cards and other promotions. "This enables our agents to concentrate on what they do best, planning dream vacations," said Rosemarie Reed, vice president of sales and marketing at World Travel Holdings.
Meanwhile, a new Immersive Education Series – which included Groups, Land and Luxury Summits – offered a hands-on learning experience. A Groups Concierge program also provided direct access to Groups Specialists to help identify, secure and grow the groups business.

Agent attendees.
Online branding
On the marketing side, the biggest change was the ongoing branding effort designed to move members from the "CruiseOne" to the new "Dream Vacations" name, as a way to stay more in line with the growing land business the agents had been seeing. Where six years ago just 1 percent of WTH business was land vacations, now it's a "double-digit part of our business," Tolkin said; and 73 percent of its agents have switched to the new name.
And finally, in keeping with Tolkin's advice to always wear the company logo in public, the three agencies now offer a line of branded vacation-themed apparel for agents.
Into the future
For 2018, the three sister companies have three major projects in the works. The first, promised by the end of June, is to uncomplicate the multitude of cruise promotions on the consumer website; qualifying customers and presenting choices aimed specifically at them, spelling out all the promotions that apply and providing the best price so they can book them.
The multimillion-dollar investment from World Travel Holdings is designed to "reimagine the online vacation shopping experience by simplifying promotions and improving the overall experience for consumers," said Vice President of IT Sandi Szalay. "No one else provides multiple qualified price points and selectable options on consumer sites."
The second project, Groups Rediscovered, will upgrade the groups module to "deliver time savings and an improved consumer booking possibility." To that end, the IT team is "looking at cruise lines that offer group opportunities to see if, in the future, we can integrate our systems with theirs. We have an entire team dedicated to this project in 2018."
And the third initiative follows the branding effort by focusing on land sales. The IT management team will be working with a committee of independent agents and franchisees who have land experience to identify "where we can make land easier to enter, studying the reservation pull capability with the intent to integrate and pull a reservation" from their system to the WTH system and vice versa."