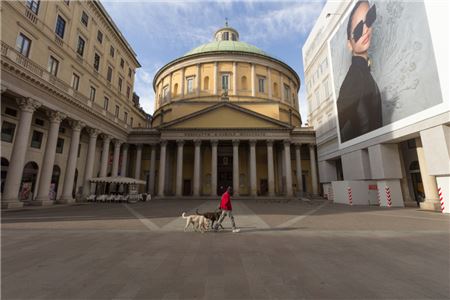 News broke this week that coronavirus (COVID-19) outbreak has reached Italy, the first major outbreak in Europe and the largest outbreak outside of Asia. As of Thursday morning, 528 people have been infected in the country with 14 confirmed deaths, according to Worldometer.
Since then both the U.S. State Department and the CDC have added Italy to their travel advisory lists, though neither are recommending against travel to Italy for healthy people—the State Department has Italy at "Level 2: Exercise Increased Caution" and the CDC has it at Alert Level 2 with Japan and Iran.
Here's how the outbreak is currently impacting traveling to the country, which has long been one of the most popular destinations for North American travelers.
Where is the outbreak?
The majority of confirmed cases in Italy are in the northern regions of Lombardy and Veneto—more than 250 cases were confirmed in Lombardy only.
In those regions, smaller towns are on complete lockdown — including Bertonico, Casalpusterlengo, Castelgerundo, Castiglione d'Adda, Codogno, Fombio, Maleo, San Fiorano, Somaglia, Terranova dei Passerini, and Vo' Euganeo — forcing nearly 50,000 residents to stay home and self-quarantine.
What's closed?
Both region's capital cities, Milan and Venice, respectively, remain open, though attractions have closed in an effort to contain the outbreak.
A number of popular attractions in Milan, including the Duomo di Milano, La Scala opera house and the Fondazione Prada museum, have closed. Bars and cafés have been ordered to close at 6 p.m. daily.
In Venice, the famed Carnival has been suspended, while museums including the Peggy Guggenheim Collection, the Palazzo Ducale in Piazza San Marco, and the Museo del Vetro have temporarily shuttered.
These closures are in effect until at least Mar. 1, at which point the government will re-evaluate the situation.
The Italian government has also banned public events in the regions of Emilia Romagna, Friuli Venezia Giulia, Piedmont and Liguria, in addition to Lombardy and Veneto.
Is the virus spreading?
New cases have been identified in other European countries, including Spain, Austria, Croatia, and France. These cases are all travelers or Italian nationals who had recently been in Lombardy.
The EU Commissioner for Health Stella Kiriakidis said Wednesday during a summit on the coronavirus emergency that it's important to remember the EU is "still in a containment phase," and thanked the ministers of the countries bordering Italy for keeping the borders open "to avoid taking ineffective and disproportionate measures."
Milan's Linate and Malpensa airports remain open. The country's airports have implemented checkpoints to test individuals for related symptoms.
What are airlines doing?
EasyJet, a British low-cost carrier that operates flights out of Milan, said on its website that "there is currently no change to advice for airlines, so our flights are operating as normal." No U.S.-based airlines have canceled flights to Italy.
British Airways announced that while it would still be operating flights to and from Italy, it would allow customers who booked travel between London and the Northern Italian destinations including, Milan (Linate and Malpensa), Turin, Bologna, Venice, Bergamo and Verona, some flexibility to rebook at a later date up to March 31.
Delta Air Lines has added Italy to its coronavirus-related travel waivers. Travelers scheduled to fly to airports in Bologna (BLQ), Milan (either LIN or LXP) and Venice (VCE) through Mar. 2 can now change or cancel flights without a change fee. Air Canada has also added parts of Italy to its list of places that are eligible for rebookings.
What are hotels doing?
Major hotel chains have also extended their travel waivers to include Italy, alongside mainland China and Hong Kong. Hilton updated its waiver to include guests with travel plans to, from or through Italy, and cancellation penalties may be waived for stays from Feb. 24 through Mar. 8. Hyatt is waiving cancellation fees through Mar. 31 for guests residing in Greater China, South Korea, Japan and Italy.