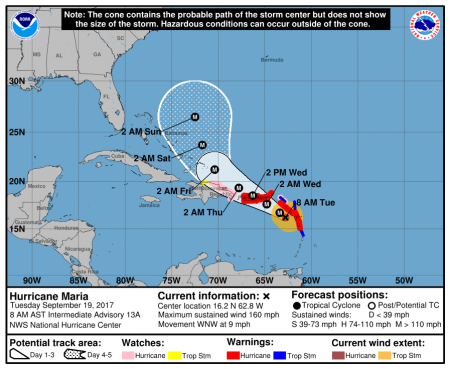 Puerto Rico is preparing for the arrival of yet another hurricane as Hurricane Maria intensified to a Category 5 storm.
The storm, which already battered the small island of Domenica, is moving across the Caribbean Sea and is now forecasted to make a direct hit with Puerto Rico on Wednesday, potentially causing catastrophic damage to an island already without power from Irma.
Officials in the Puerto Rico have warned residents to find safe shelter and began rationing supplies on Tuesday. Officials also warned residents that the storm could dump 18 inches of rain across the island.
Nearly 70,000 Puerto Ricans remain without power from Hurricane Irma, according to the Associated Press, and Gov. Ricardo Rossello warned of an island-wide outage.
Hurricane Maria had maximum sustained winds of 160 mph late Monday, according to the U.S. National Hurricane Center.
Maria comes one week after Hurricane Irma devastated parts of the region. Certain islands hit hard by Irma, like St. Thomas and St. John, appear to be in Maria's path.
Hurricane warnings were posted for the U.S. and British Virgin Islands, Puerto Rico, Guadeloupe, Dominica, St. Kitts, Nevis and Montserrat and tropical storm warnings were issued for Antigua and Barbuda, Saba, St. Eustatius, St. Maarten, St. Lucia, Martinique and Anguilla.
Airlines begin to make adjustments
American Airlines, Delta Airlines and Southwest Airlines issued advisories waiving fees for changes to a number of Caribbean destinations, including: Punta Cana, Santiago, and Santo Domingo, DR, and to San Juan, Puerto Rico, St. Thomas, VI, Saint Maarten and Turks Caicos.
All three airlines are updating their websites with the latest details on their flights.
According to the website FlightAware, 80% of the flights at San Juan's Luis Munoz Marin International Airport are cancelled for tomorrow, Wednesday, Sept. 20. All flights are cancelled for tomorrow at St. Croix's Henry E. Rohlsen Airport.