Iceland's Hotel Rangá Luxury Resort Has Something for Everyone
by Mary Gostelow /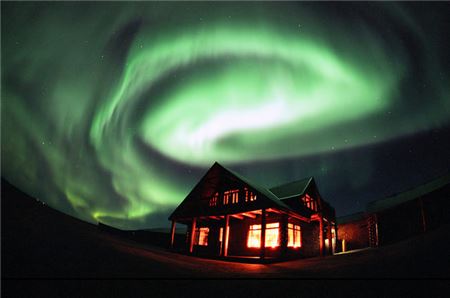 Iceland justifiably continues to top many international travelers' wish lists. Now, adding to ingredients that include incredible open scenery, the cleanest air, wildlife and nature, plus activities and healthy food, a unique, world-class luxury hotel comes into the recipe.
Hotel Rangá Luxury Resort & Dining uniquely offers those staying in its 52 bedrooms complimentary, curated access to its professional observatory. Yes, says hotel Owner/GM Friôrik Pálsson, he deliberately built a "hut," but its roof slides back electronically to allow his GM2000 10-micron from Italy's Comec Technology, plus an Astro-Physics 900GTO Servo Drive from the U.S., to show the stars.
NASA scientists are already flocking, as are, from the world over, amateur astronomers keen to see the Aurora Borealis, Northern Lights. Travelers should be sure to ask, November through March, for nocturnal wake-ups if it suddenly appears.
But Hotel Rangá, which Friôrik Pálsson bought in 2013 as a hobby, has something for everyone. Some of the 52 bedrooms, mostly on one floor, have clever, walk-in bathtubs that are also proper showers. Some upstairs rooms are geographically themed – choose Antarctica, with two life-size penguin sculptures and three walls of windows looking over the salmon-full Rangá River, 300 yards away, and onto horizon-depth, moss-covered lava rock.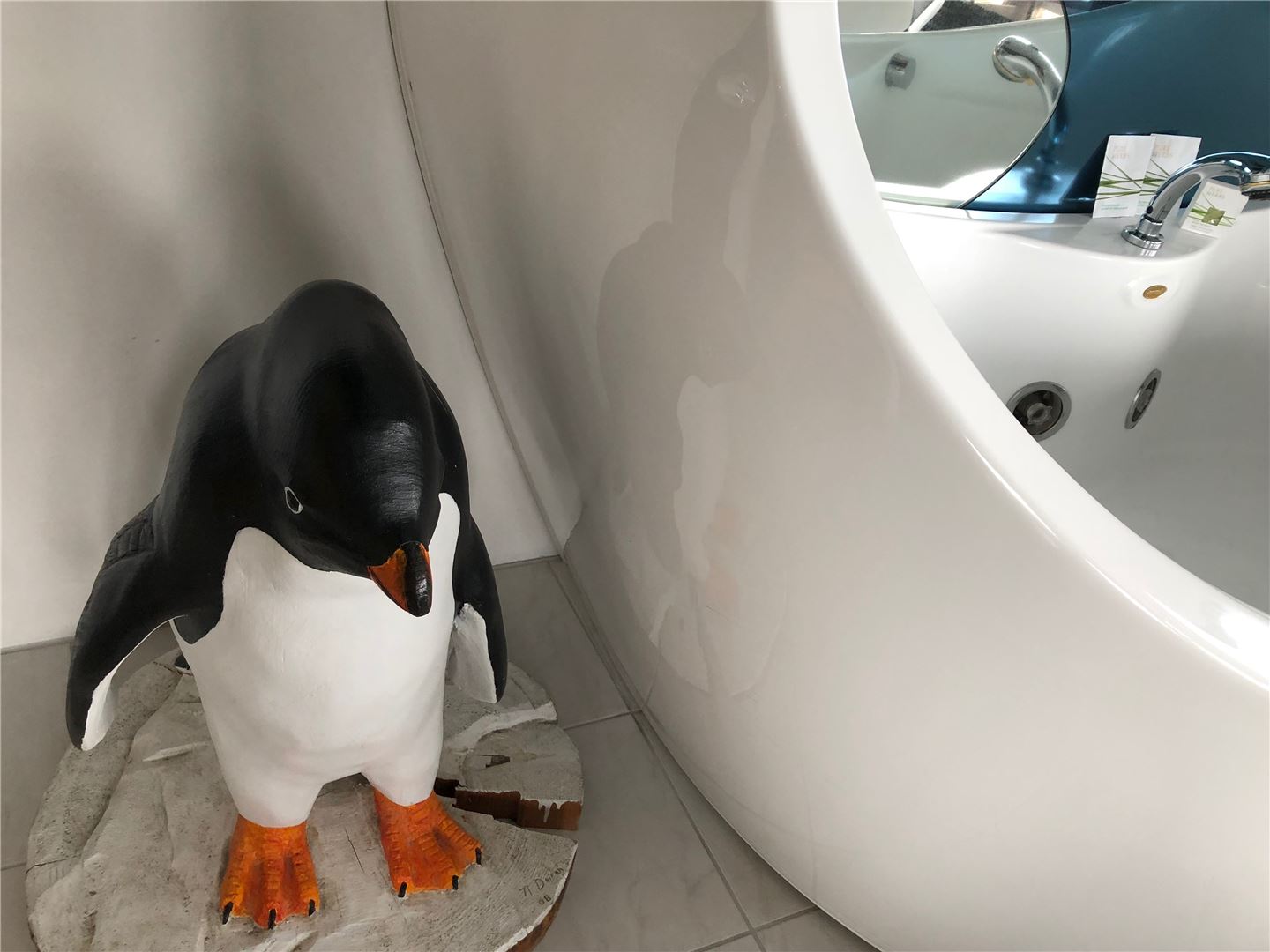 One of a pair of lifesize penguins, and bathtub, in Antarctica bedroom.
Guests can venture out for fishing, horseback riding, and helicopter tours over the island. Or, they can opt to stay in to play billiards and chess, or enjoy the library and superb entertainment.
Most guests, who stay up to four nights, are away during the day, sometimes enjoying one of the three outside thermally-heated hot tubs when they return. By cocktail time, both bars, which unusually are open 24/7, are becoming popular; and dinner, boosted by locals driving vast distances to eat here, does a minimum of 100 covers. There is a three-course tasting menu, including salmon, local lamb and rhubarb in puff pastry, with or without wine pairings. The à la carte offering includes such specialties as reindeer carpaccio, Arctic char beautifully arranged on a selection of vegetables, and homemade ice creams, which are ideally complemented by a highly addictive Blueberry liqueur. The best values on the wine list are the hotel-labelled Rullys.
Breakfast, like excellent WiFi included in the room rates, must not be missed. The center of the restaurant becomes a massive square, buffet table, filled with local and international fare. Worth trying are the skyr cream-yogurt (like the Russian smetana), as well as the fresh and compote fruits, and cod liver oil, and cheese and more smoked fish than you knew existed. Although this is not a toddler-specialty destination, youngsters of all ages radiate towards jugs holding one-waffle pancake mix, to make their own on two griddles (chocolate sauce provided). Also included, free, is a range of made-to-order hot dishes, say oats with berries, eggs benedict and poached eggs with just-smoked salmon.
Hotel Rangá, a Preferred property, never dips below 50 percent occupancy during its lowest period, April and May. For the rest of the year, it is often fully-booked, sometimes a year ahead. The savvy not only reserve early, but also ask Friôrik Pálsson to lay on his superb driver-guide, former businessman Jón Halldórsson, who gives a detailed insight into Iceland, or whatever aspect interests the guests wish, as his Mercedes takes them around.
It is Friôrik Pálsson and his team who are most praised on Tripadvisor (Friôrik Pálsson 's former marketing career leads to one simple maxim: Try never to say "no"). My own, lasting memories include the hotel's two most popular selfie spots: a real, full-size stuffed polar bear in the wood-cabin lobby; and a pair of oh-so-naughty bar stools that the canny owner bought in Italy. Plus, of course, my introduction to that little, wood shed that turns out to be a world-class observatory.

Friôrik Pálsson in front of Hotel Rangá's observatory.