In One Busy Week, Uniworld's Ellen Bettridge Launches A New Ship And A New Product
by Cheryl Rosen /

How do you sell a product that doesn't yet exist? That's the question facing Ellen Bettridge, eight months into her new job as president and CEO of Uniworld.
Bettridge is just back from a single weeklong trip in which she launched a new ship – the Paris-based Joie de Vivre (definition: "feeling of joy or excitement about life") – and a new brand, U by Uniworld.

Photo: Steve Dunlop
"It's just been an exciting whirlwind," Bettridge told TMR yesterday – but a challenging one, especially when it comes to selling U by Uniworld, a product that does not yet physically exist. "We have all the ideas and the itineraries and the shore excursions, and we're working through the menus. But the ships have not been refurbished yet; we don't have a brochure yet. And it's really challenging to launch a new product without having the product itself."
Still, she is not concerned. After 20 years at American Express, where she worked her way up from front-line agent to VP of leisure sales, Bettridge is "really depending on my travel partners," with several speaking engagements with consortia coming up to reach out to them, she said. With only two ships carrying 120 passengers each, U by Uniworld cannot even offer much in the way of fam trips or promotions at first, though a new training module for travel agents will be added to Uniworld's training program.
But what U by Uniworld does offer, to travel agents and to Uniworld itself, is a product that meets a need in the market, and a new, young client base that hopefully will stick around for many years to come.
Aimed at the new-to-river-cruising Millennial demographic, U by Uniworld offers a significantly lower price point, starting at about $1,700, plus the social scene, the amenities, the activities, even the food that its target 21-to-45-year-old customer wants on a vacation – and that the traditional river cruise lines, including Uniworld itself, do not.
She was somewhat surprised that the very first customer, the very first day, was a honeymoon couple. But on second thought, it is a great product for honeymooners, combining relaxation and interesting sites and plenty of activities and a young crowd to party with, and the all-inclusive nature of a river cruise means no going over budget.
U by Uniworld's research, and the experience of sister company Contiki, said that young travelers "were interested in river cruising but wanted to cruise with people like them, and we believe that if they go on U by Uniworld they will progress. We want to grab them early," she said. Launched 15 days ago, it is "off to a very good start, and we've done very little promotion. We're going to do a big push in May, but people already are finding us."
So far, customers are "mostly just young people who want to go travel. They have the money, they have the time and they want quality." Despite the lower price point, Uniworld has kept the luxury feel for which it is known, the linens and the marble and the flat screen TVs, as well as new touches for the younger market – adding a DJ and new menu items, like Mrs. Tollman's honeycomb ice cream and sesame chicken, as well as fine dining and healthy choices. There will be yoga every morning, hiking and kayaking available on top of the excursions, which also tend to be "very active." And of course, Paris beckons, for small-group excursions during the day and late into the night.
Joie de Vivre
At the same time, and for a different audience altogether, Bettridge also this week presided over the launch of the $26 million Joie de Vivre on the Seine. Designed to offer a quintessentially French experience to Uniworld's more traditional clientele of discerning travelers, it has four dining venues for just 128 passengers, plus "bespoke experiences" that include a supper club that seats just 30 passengers, an exclusive wine cave set for 12, and a cooking school.

Photo: Steve Dunlop
Despite some concerns in the industry about France as a destination following terror events there, Joie is almost 90% full, mostly with repeat Uniworld cruisers. "There was a lot of noise about whether we should launch in Paris, but it was a very smart decision for us," Bettridge said. "We stayed for a lot of reasons, including the fact that the Tollman family (owners of parent company The Travel Corporation) has been doing business in France for 75 years, and they felt it was very important to be supportive."
And of course, there is that French je ne sais quoi that adds to the upscale feel of the whole experience. "When you walk on board, everything about her is so French. She is just elegant and classy, and you feel as though you are in France the entire time."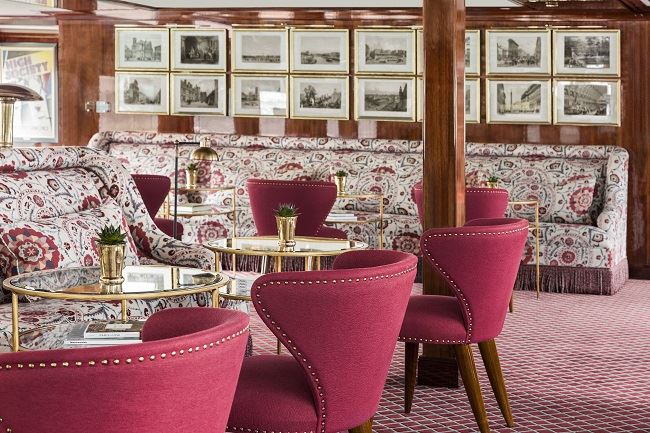 Photo: Steve Dunlop

Photo: Steve Dunlop
The motif extends to the menu as well, much of it French-countryside-farm-to-table on the day it is served, with "an amazing cassoulet, French onion soup, beautiful patés and cheeses. Mrs. Tollman herself is my executive chef; she looks at every menu and decides what to serve each night."
Reaching out to agents with tips and support
As she switches hats from launching to selling, Bettridge is "spending my time right now telling our story. When you walk on board our ships you are walking into someone's home, the art and the candy in the candy dishes and the décor is designed around that. And I don't think we have really gotten that message out."
To that end she is adding field sales people and "making sure we have the right support for our travel partners, that our brand is very consistent, and starting to think about what's next."
Her advice on selling Uniworld is this: "The number-one thing is to ask your customer is, 'What do you want out of your vacation?' Find out what type of hotels they have stayed at in the past to really qualify them. If they stayed at a Red Carnation or the George V, and are ready to try a river cruise, you better put them on the right one."
For U by Uniworld, the company has added click-to-chat so agents can quickly get answers to any questions while the client is on the phone. Expect shorter lead times, maybe four to six months, in this market, and remember that "the opportunity is that this is a land experience as well as a river cruise. Be sure you are telling that story," she said.