MSC Cruises' Meraviglia Arrives in New York Marking North America Debut
by Daniel McCarthy /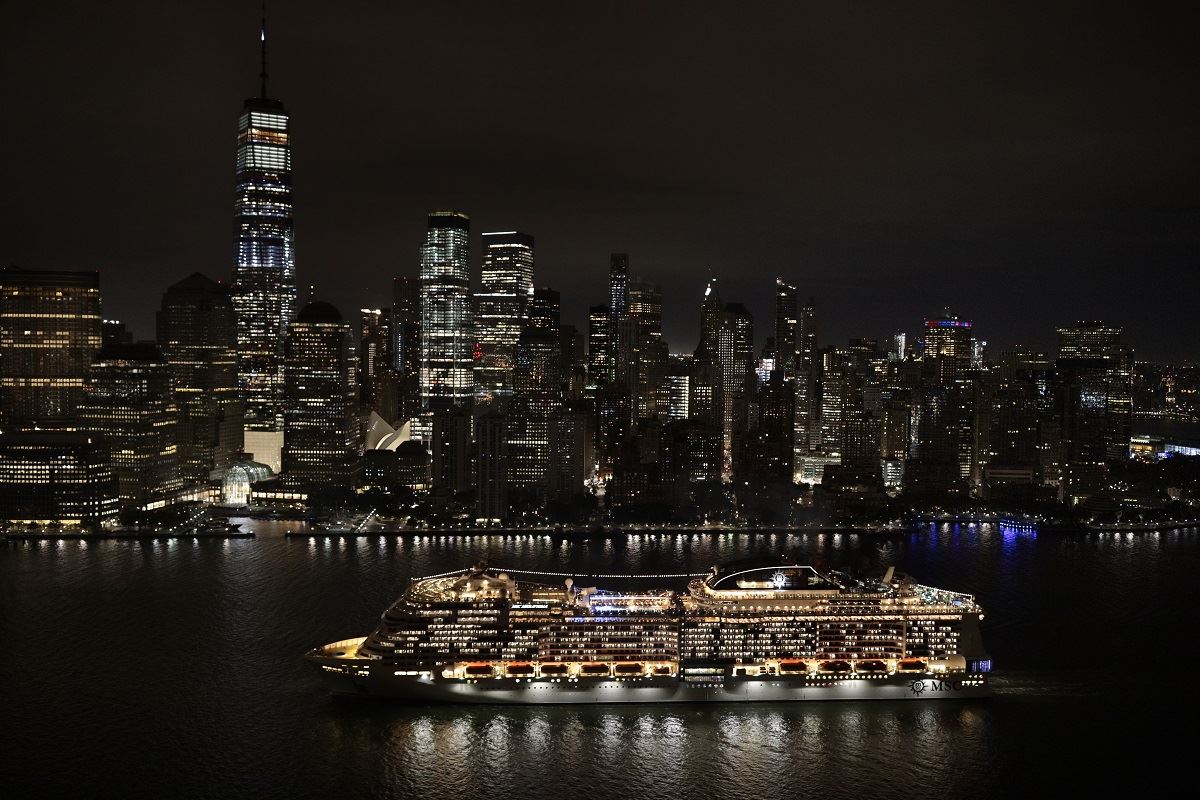 MSC Meraviglia became the largest ship to ever dock at the Manhattan Cruise Terminal on New York City's West Side on Monday, when it arrived ahead of its season sailing the U.S. East Coast, cruising into New York Harbor at 171,598 gross tons with a capacity of 4,488 passengers.
The debut is part of MSC's "dedication to growing in the North American market," MSC Cruises USA EVP and COO Ken Muskat told media and travel advisors in attendance on Meraviglia on Monday. "We are growing in North America in a very, very big way."
Meraviglia is now scheduled to sail three cruises out of New York; two to New England and Canada, where the ship will become the largest ship to ever dock in Boston and Quebec; and then one Caribbean itinerary to reposition to Miami. The repositioning sailing, which departs Oct. 28, includes a call at Ocean Cay Marine Reserve, the first call any MSC ship makes to the island.

Ken Muskat addressing agents and media onboard MSC Meraviglia this week.
Meraviglia will become one of four MSC ships sailing out of Miami, giving the cruise line its biggest presence ever in South Florida. The vessel will join MSC Seaside, Armonia, and Divina.
From Miami, the ship will then kick off a series of alternating Western Caribbean itineraries through Apr. 5, 2020. One sailing includes calls at Ocho Rios, Georgetown, Cozumel, and Ocean Cay MSC Marine Reserve; and the other includes Isla de Roatan, Belize City, Costa Maya, and Ocean Cay MSC Marine Reserve.
It will then move to Europe for summer 2020 before returning back to the U.S. in October 2020.
Meraviglia history
Meraviglia originally debuted for MSC in Le Havre, France, in June 2017, as the world's fourth-largest cruise ship. Its centerpiece is a 315-foot, Mediterranean-style promenade that runs under the largest LED-screen-ceiling at sea.
Meraviglia's two-story promenade includes shops and specialty restaurants, including the steakhouse Butcher's Cut, Jean-Philippe Chocolat & Café, and Ramón Freixa's HOLA! Tapas Bar (which was retrofitted into the ship after its debut).

Sonor, from Cirque du Soleil, performed on MSC Meraviglia at the ship's Carousel Lounge.
The ship offers two shows from Cirque du Soleil — "Viaggio" and "Sonor" —both created exclusively for the cruise line through a partnership that will see Cirque perform throughout MSC's fleet, eight different shows, six nights a week, yearlong for MSC. Both shows host guests in Meraviglia's Carousel Lounge, which was purpose-built specifically for the Cirque shows.
Meraviglia also boasts MSC Yacht Club, the line's all-inclusive, ship-within-a-ship concept that includes a private restaurant and lounge, a dedicated sundeck with a pool, and 24-hour butler service.