Meet Peggy: Serving the Deaf and Hard of Hearing
by Judy Jacobs /
Peggy Prosser founded D-travel to deal with a very special type of clientele. Her clients are primarily deaf and hard of hearing.

And that's Deaf with a capital D. For hearing people not in the know, that means people who embrace a culture of Deafness, with its own unique language – sign language.

The road to becoming a travel agent for Prosser, who is herself Deaf, was a serendipitous one.
Peggy Prosser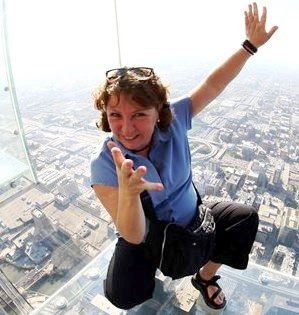 While a senior at Gallaudet University—a Washington D.C. university serving Deaf and hard of hearing students—Prosser worked part time tutoring Japanese and other international students in English.
Some of those students invited her to visit them in their home countries, so at the age of 27, Prosser quit her job in continuing education at Gallaudet to travel the world.

A fortuitous stop
She didn't get further than her first stop, however, and ended up staying in Tokyo to teach English at a Deaf school, traveling to nearby countries on vacations.

Through traveling, teaching and working as a motivational speaker, Prosser befriended many Japanese and other Asians.

When these friends asked her to help them travel to the U.S., she started booking their trips using online sources.

"They wanted to go to Deaf Expos, Deaf Ski events and Deaf conferences and use ASL interpreter services in the U.S., and so I arranged all that for them.

"Then one day it occurred to me that I could be a travel agent, so I looked for a host and found Montrose Travel," said Prosser.

Three partners
That was in 2011. Prosser now has three other partners – all women and all Deaf – and is still with Montrose. Although she remains in Japan, her agency is headquartered in Rochester, N.Y., a city with one of the largest deaf communities in the U.S.

In working with Deaf and hard of hearing clients, Prosser uses email videophone and video chat. She communicates with the travel industry and suppliers through video relay services.

Prosser books custom group travel and FITs for Deaf clients and their often-hearing families and friends, mostly Americans but also a fair number of Japanese and other nationalities.

She also assists Deaf licensed tour guides in various countries to develop itineraries and book hotel rooms so they can put together tours for Deaf clients.

A challenging business
Creating travel opportunities for Deaf clients is not an easy task, due to the lack of tour operators who cater to this market. Few offer American Sign Language interpreters.

Prosser helps solve this problem by arranging, and sometimes leading, small groups both to the U.S. for Japanese and other foreigners and to Japan and other destinations for Americans.

In fact, about 90% of D-travel's business is currently small custom groups of four to eight participants. Prosser not only does all the bookings but sometimes provides sign language interpretation as well.

Special interest travel
Prosser's groups often focus on special interests.

She recently arranged for a group to go to the Dominican Republic to visit Larimar and Blue Amber mines. This year she has groups going to Israel and Turkey, and recently had a request from two potential Deaf Japanese clients involved in theater work to visit Deaf theaters across the U.S.

Beyond her travel agency business, Prosser never loses sight of the bigger picture – helping to expand the world of opportunities open to Deaf travelers. And she's working on a global scale.

"The tourism sectors in different countries have added ramps for persons in wheelchairs to get around famous landmarks and historical sites," Prosser said.

"Many have also added braille or included audio equipment for blind people but what about [the] Deaf?"

Work with the IDDO
Since few people are willing to address that question, Prosser is tackling the situation by working with the International Deaf Development Organization (IDDO).

The IDDO is an NGO that promotes the inclusion of Deaf people and organizations through international development initiatives and programs. It believes that tourism is an especially good way to accomplish this.

"D-travel hopes to work with IDDO in to develop tour programs and packages with national tourism sectors and their suppliers and with Deaf associations who can refer deaf experts and guides to their country's tour suppliers to work with them on itineraries," said Prosser.

Then, putting on her travel agent hat once again, Prosser said she would promote and sell these tours.

Developing infrastructure
Another of her efforts with IDDO is the possibility of creating hotels in developing nations.

"We feel if we can build a hotel where deaf organizations run the business, the profit can go to the organization's needs to advocate for Deaf rights in their country," she said.

"And because of the hotel, Deaf people can offer other areas of expertise, such as nail saloons, restaurants, rickshaw rides or whatever their country allows them to do."

The target countries for this venture include the Dominican Republic, Kenya and Nepal as well as Haiti, where Prosser has a network among the Deaf community, and where tourism is growing.