Nearly Three-Quarters of the Caribbean is Open for Business
by Maria R. Gill /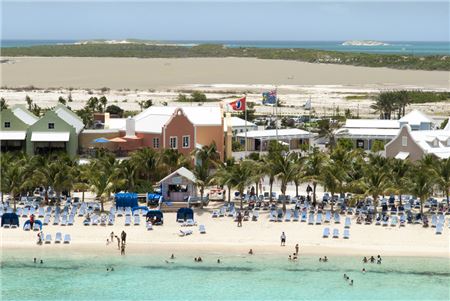 It is no secret that Hurricanes Irma and Maria have hit all sectors of the travel industry in the pocket, but what the Caribbean Hotel & Tourism Association (CHTA) wants travel agents to know is that 70 percent of Caribbean destinations are open for business, according to Matt Cooper, the organization's chief marketing officer.
This is great news for everyone in the industry who has experienced the initial negative impact of these extreme weather events: cruise lines have had to cut cruises short and create new itineraries; hotel and tour bookings have decreased; and travel agents are facing a number of cancellations — but they are also showing great resourcefulness and resiliency.
"I had a client about to leave for San Juan, Puerto Rico the day of Hurricane Irma and because of the weather reports we canceled it, but I was able to arrange a refund and book a package in Antigua instead," said Pamela Nikitas, president and owner of Joan Anderson Travel in Detroit. "That's what being an agent is all about."
An even more dramatic save was made by an agent at Breton Village Travel Services, Inc. in Grand Rapids, Mich. "We managed to get a client out of Turks & Caicos only two hours before Hurricane Irma got there," commented John Lovell, president and owner of the agency. He added that, although bookings have declined 9 percent since September, he remains confident about the Caribbean, which is showing a 20 percent overall increase in bookings over 2016.
Most agents are optimistic and focused on rebooking
Courtney McCarthy, owner and founder of Elysian Travel (an independent affiliate of Your Travel Center/Montecito Village Travel) in Chicago, is also optimistic. "There are so many islands and destinations — you just have to think out of the box a bit," she said.
Although many of McCarthy's clients had to cancel holiday trips to Anguilla, St. Thomas, Puerto Rico, and St. Barth's, she was able to book to unaffected (or mildy affected) destinations like St. Lucia, Turks & Caicos, the Dominican Republic, Costa Rica, Jamaica, and Aruba.
Battling negative perceptions
The CHTA is concerned about negative perceptions about the Caribbean that could continue to negatively impact the industry. "Media reporting on the hurricanes is wiping the entire Caribbean off the map" for many uninformed travelers, said CHTA's Cooper. "But agents remain optimistic.
"We have had a number of clients concerned abut the increase in natural disasters in the area, but generally people understand that the entire Caribbean wasn't impacted," noted Mitch Toren, chief vacation engineer at TripGuy Travel in Yvyland, Pa, who explained that business is thriving at his agency.
Breton Village's Lovell agrees: "If they've always gone to St. Thomas or Puerto Rico every year, they may be rethinking their choices, but they'll go back to the Caribbean every year."
Cruise lines feeling the impact
Cruises present a larger challenge for some agents, depending on the itineraries. For some, like Our Gang Travel in Maplewood, N.J., the hurricanes have brought their cruise business to a virtual stop.
"The biggest impact on our agency has been the cruise lines. We're waiting for them to figure out new itineraries and ports that can accommodate their ships," explained Christopher Cottle, general manager of Our Gang Travel. For example, one of Cottle's cruise bookings is for March 2018 and includes Dominica (a completely different country from the Dominican Republic) in the itinerary. "But Dominica is no longer there," he said.
All-inclusives faring well
The product that seems to be faring the best in the Caribbean is all-inclusives, according to Breton Village's Lovell. "Most all-inclusives are in Jamaica, the Dominican Republic, Turks & Caicos, and Mexico, so they weren't too affected — except for Mexico because of the earthquake," he noted.
Agents seem to agree that the beauty and great variety of destinations and products in the Caribbean ensure that it is — and will remain — a popular destination that travelers will always want to visit.