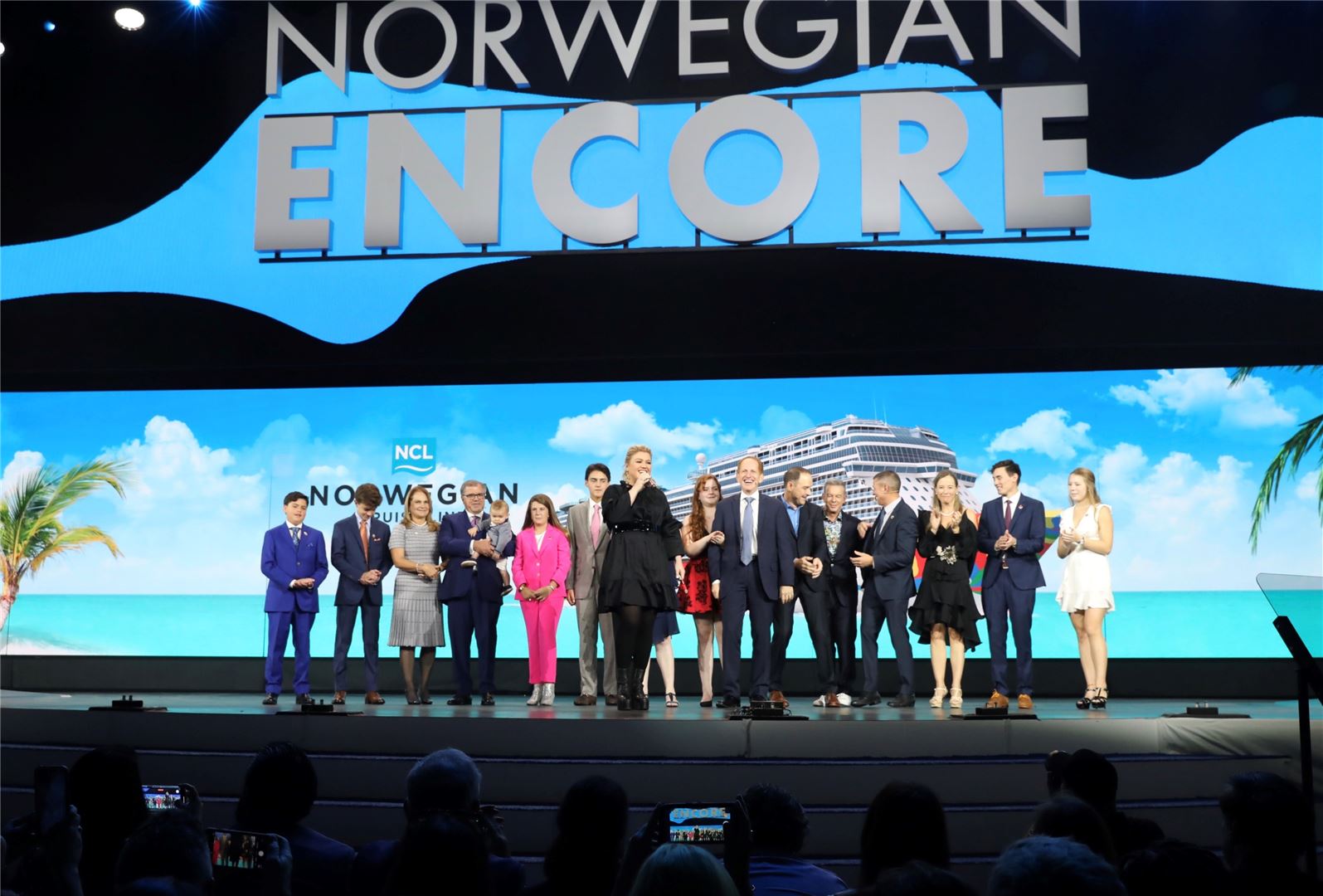 In a star-studded ceremony that was highlighted by godmother Kelly Clarkson, NCL Holdings' Frank Del Rio, and, in his last christening before leaving the cruise line, President and CEO Andy Stuart, Norwegian Cruise Line officially welcomed its newest build, Encore, to its fleet yesterday in Miami.
The ceremony brought over 3,500 travel partners, investors, government officials, media, and family and friends pier-side at PortMiami to watch performances of onboard shows including "Choir of Man" and "Kinky Boots," and to watch Clarkson (who also performed songs during the ceremony) break the champagne bottle across the ship's hull to officially christen Encore.
According to Del Rio, the ceremony not only marked Norwegian's completion of its Breakaway Plus class — Encore is the last of four ships in the class — but also demonstrated the cruise line's continued dedication to the city of Miami.
"Norwegian Cruise Line has been sailing from Miami for over 50 years," he said. "We were the first to offer weekly cruises to the Caribbean from Miami, which shaped the city's reputation as the 'Cruise Capital of the World.' Five years ago, we launched our history-making Breakaway Plus class, and today, we are proud to christen Norwegian Encore, the final ship of this class and a true representation of the evolution of the brand, right here in our hometown of Miami."
Starting on Nov. 24, Encore will sail seven-day Eastern Caribbean voyages out of Miami. It will then move to New York, where Travel Market Report previewed the ship earlier this month, in April 2020. From New York, Encore will sail Canada and New England itineraries before moving back to Miami in December 2020, where it will journey out on Western Caribbean itineraries.
The ship is then scheduled to make its West Coast debut in Seattle, from which it will sail to Alaska, in the spring of 2021.
Among other highlights, Encore is the first ship with Onda by Scarpetta, a specialty Italian restaurant that will offer guests signature seafood dishes, homemade pasta, and classic Italian dishes. Other eateries onboard were rolled out on Norwegian's Breakaway Plus class of ships, including the Texas-barbecue joint Q, the Mexican eatery Los Lobos, The Local Bar and Grill, the American Diner, the Food Republic, the chocolate and desert eatery Coco, and more.
The ship joins its sister ships in the Breakaway Plus class of vessels with big, eye-popping features that stand out onboard — the ship's top deck includes Norwegian's go-kart race track with 10 turns, a lost-city of Atlantis-themed laser-tag arena, and an aqua park with two multistory waterslides.
Norwegian is giving travel advisors who attended Encore's inaugurals in New York and Miami some booking incentives. Through Feb. 29, 2020, advisors booking FIT and groups on Norwegian fleetwide can exchange points earned for gift cards.
And, through a partnership with ASTA, Norwegian is giving advisors on the inaugurals discounted ASTA memberships, with $50 off membership per person and $100 off membership per agency.