Norwegian Cruise Lines Names Elvis Duran as Godfather to Norwegian Bliss
by Cheryl Rosen

Cunard has Queen Elizabeth II; Crystal has Julie Andrews; MSC has Sophia Loren. But Norwegian Cruise Line's newest partnership seems to be aimed at attracting a different kind of audience for the Norwegian Bliss.
In naming Elvis Duran, whose "Elvis Duran and the Morning Show" speaks to millions of radio listeners every day, as godfather of its 16th ship, Norwegian gave a nod to the new younger, new-to-cruise consumer the line hopes the Bliss will attract.
At a press conference announcing the naming yesterday, Norwegian President and Chief Executive Officer Andy Stuart said Bliss is "no doubt the most exciting" ship in the fleet, "full of firsts and favorites that will take cruising with Norwegian Cruise Line to the next level."
In searching for a fitting godparent, "we tried to think of who could bring life to this new ship"—and decided on Duran, the host of the top-syndicated morning radio show in the U.S., where the "banter and conversation feel like a dinner party every morning."
Looking at the Manhattan landscape outside the windows of the Dream Hotel where the event took place, Duran noted that we all "love our homes even more when we can escape sometimes. We offer our listeners escape and fun and exploration — and that's what Norwegian Bliss is all about. Over the next year and a half, we've made a pledge to introduce our audience, including our single listeners, to travel, to encourage them to get out there, because it makes coming home even better."
"Rather than just a moment," NCL's Stuart agreed, "this is a journey."
Indeed, Kathy Hall, who two weeks ago was promoted to director of field sales for Norwegian's Northeast region, told TMR that "the beautiful thing about Elvis is that he will be on the air every day promoting cruising through our partnership." And of course, the business development managers "will be going out to all the local travel agents to do training."
Coming just six weeks after Norwegian named popstar Pitbull as godfather of the Norwegian Escape, the new partnerships play up the venues and attractions on the ship that aim to amuse and entertain cruisers.
When Bliss enters service, it will do so with more open space, including a "10,000-square-foot lounge that will bring Alaska to our guests;" a two-level, 1,000-foot-long race track that will be the largest at sea and the first cruise race track in the North American market; and a laser tag area on its top deck will feature a Space Station theme and be open for play day and night, looping slides with transparent sides that fly over the sides of the ship.
Norwegian is also expanding its dining concepts on the Bliss. Q will serve an upscale version of authentic Texas barbeque, a first for the cruise line. Los Lobos, a contemporary Mexican restaurant, will be an expanded version of the Los Lobos Cantina on the Norwegian Dawn. Also new will be Coco's, an a la carte chocolate-themed dessert eatery. The Bliss will also feature the first full Starbucks on a Norwegian vessel.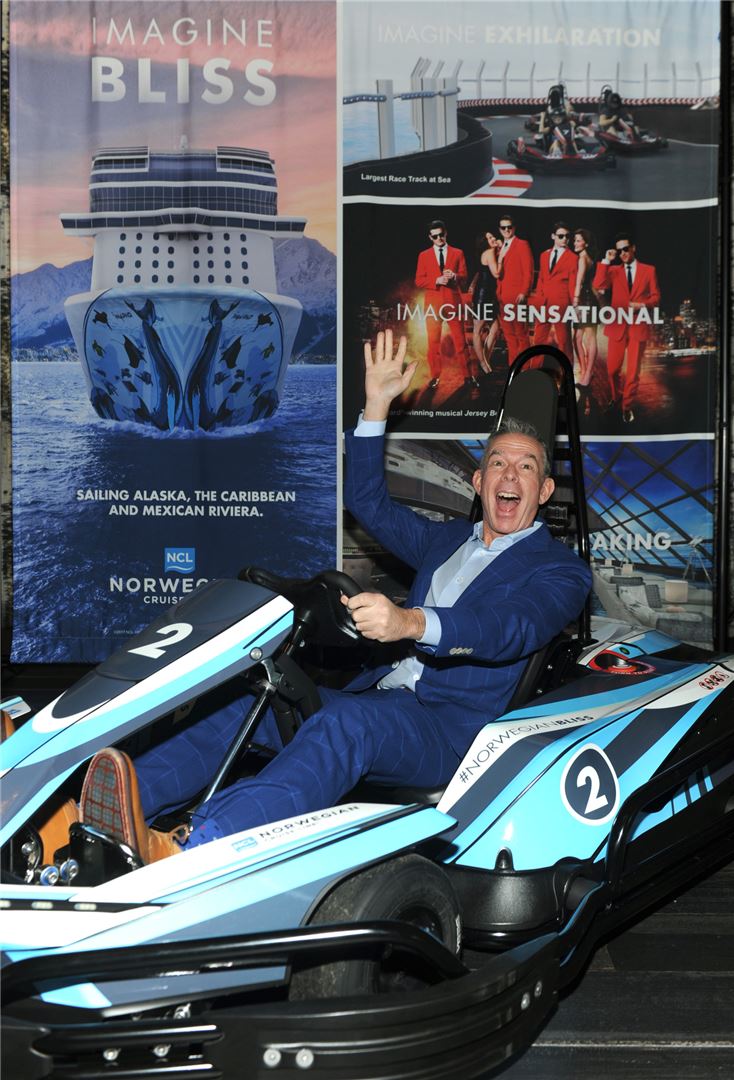 Duran on one of Bliss' go-carts.
Bliss will homeport in Seattle and sail seven-day Alaska cruises for the summer, then sail from Los Angeles to Miami through the Panama Canal, and end the season sailing the Mexican Rivera.