Offering Free Air, Norwegian Cruise Line Looks to Travel Agents to Support Hawaii
by Cheryl Rosen /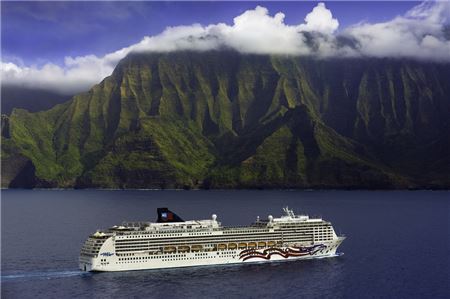 Looking to send your customers to a place no one has ever been, on a cruise whose itinerary has no days at sea, two overnights and more than 100 hours in four unique and safe ports? How about if we throw in free air?
That's the question Norwegian's Andy Stuart asked a select group of media and host agency executives yesterday in Hilo, Hawaii.
Six weeks after the volcano stopped erupting, Hawaii and Norwegian Cruise Line's Pride of America are both seeing traffic return to where it was in August. But, the two weeks during which Pride skipped the Big Island hurt their mutual bottom lines. So, they teamed up to ask travel agents to "help tell the story that Hawaii is open for business, and that it's the easiest sell in the world — a domestic destination that feels like an exotic destination, with a strong, rich culture," Stuart said.
Indeed, this "perfect cruise location" is literally bigger than ever, with 700 new acres added by the hardening lava flow, and a great new excursion soaring over the lava fields by helicopter.
And, to sweeten the pot of this "most port-intensive itinerary," Norwegian on Thursday will roll out free or reduced airfare from 37 gateway cities in the U.S. and Canada.
Travel agents onboard Pride of America loved the idea. And the destination. "Hawaii is one of the most beautiful destinations in the world and we sell a lot of it," said Bonnie Lee, the owner of Travel Quest in Albertville, Minn. Sailing on Pride of America, "you get a little flavor of each island; you're in port all day long and every day you wake up in a new port without ever having to pack." On this sailing, Lee said, "it was interesting to see how people treated the ship like a hotel; they relaxed in the morning, then went into town for lunch and shopping, and then came back to the ship again and relaxed some more."
It's a particularly good destination for first-time cruisers and for those with mobility issues, she noted, and the free air promotion, combined with Norwegian's standard Free at Sea offers, "is a true value, and that means our customers can come back again."
Stuart, meanwhile, noted that "a large percentage of our business is represented right here in this room; I'd say [the host and franchise agencies here] represent 10,000 travel agents and $1 billion in revenue."
And indeed, it's times like these that show the importance of the travel agency channel. "The advantage of a travel agency is that we know our clientele, and we can explain what's going on in a way that a website cannot. The volcano was not in a touristy area, but it scared people, especially since Hawaii is a higher price point and they are concerned they are going to lose some value," said Rick Zimmerman, the president and CEO of KHM Travel Group.
Meanwhile, the Hawaii CVB "has done a lot of work on developing a unique story differentiating each island, and wellness using that in our marketing," Stuart told Travel Market Report at a private press dinner. "I'd encourage travel agents to look at that material in the CVB website, and to look at all our promotions, including Free at Sea for dining and for WiFi and now free air, and I'd ask you to please communicate what's available to your customers. Hawaii is a really amazing opportunity, with high value and high commissions and great guest satisfaction, and we ask that agents get behind this bucket-list destination."