On Location: Sailing the Hawaiian Islands on NCL's Pride of America
by Cheryl Rosen /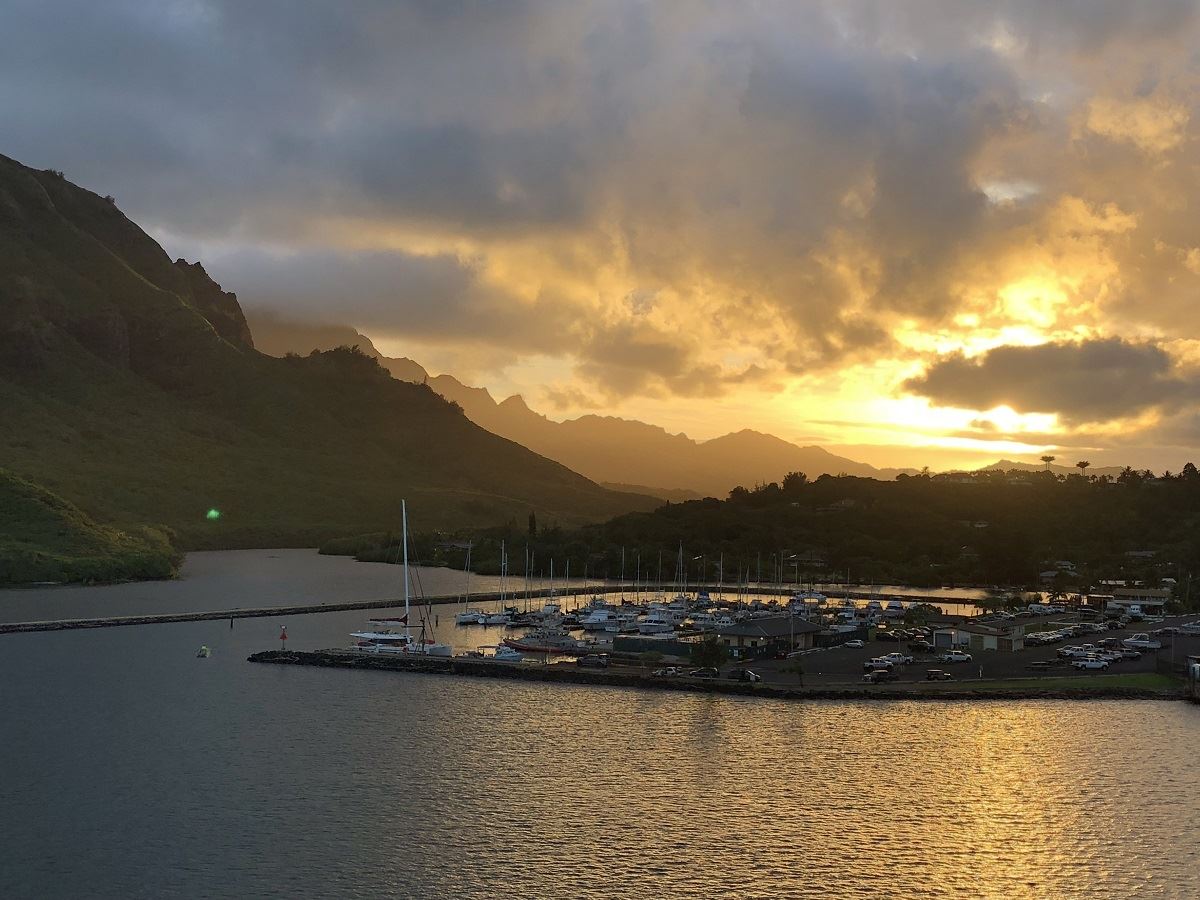 It's an ocean cruise that feels like a river cruise. And that's just one reason the iconic Hawaiian cruise ship offers an experience unlike any other.
Like on a river cruise, there's no casino on Pride of America, no giant water slides or car racing, no glitzy Broadway productions. The stars of the show are the sunrise and sunset outside your balcony.
Also like a river cruise, the draw is not the ship, but the destination. Pride spends a full seven days calling on the islands, not one of them at sea. There are long days ashore and two overnights in port.
And again, like a river cruise, the décor is themed to the destination, and the staff is largely local. In this case, that means a lot of Americana, on a ship that is U.S.-flagged, built in America (mostly), and staffed largely with American servers and bartenders.
Finally, as its ocean competitors tend to the very large, Pride of America is relatively petite, carrying 2,200 passengers and crew. The standard balcony rooms are small, and the buffets are small, as well.
On last week's media and fam trip, designed to give Hawaii a post-volcano boost, one other unique thing stood out. Many travel professionals have not sailed this ship, or even been to Hawaii, for a very long time. But those who spoke with Travel Market Report seemed overwhelmingly pleased with what they found.
What agents had to say
On her first trip on Pride, Bonnie Lee, owner of Travel Quest in Albertville, Minnesota, loved the fact that: "You get a little flavor of each island; every day you wake up in a new port without ever having to pack. People treat the ship like a hotel; they relax in the morning, then go into town for lunch and shopping, and then come back to the ship again and relax some more."
The historic theme blends well with the destination, home of Pearl Harbor and the USS Arizona Memorial, said her husband Walt Lee, who recently sent a group of World War II and Vietnam vets onboard. "When you sail this ship, you are really in Hawaii for the whole week," he said.
Roni Fishkin of Mann Travels, meanwhile, had never been to Hawaii, though the largely corporate agency has nine leisure agencies in North and South Carolina. "It was one of those things; being from the East Coast, the trip is daunting," she said. "But I wanted to come so I could go home and share the experience with my agents."
And she was glad she did. "The most stunning impression for me is how fabulously trained the staff is," she said. "I had heard the narrative that because it's an American staff, the service isn't as good — but I am blown away. The ship has clearly been enhanced by the recent renovation; the food is good; and the staff is about as well-trained as any I have seen.
"There's no Haven, so there's no luxury clientele, but you get to see four islands and have two overnights. It's a great way to see the islands — and with the free air Norwegian is offering from the West Coast, if you can get yourself to San Jose, it's a great deal."
Cruise Planner's Senior Vice President of Sales Scott Koepf, meanwhile, also was most surprised by the service. "For me, the extraordinary thing is the crew," he told Travel Market Report. "When they first launched here, it was so hard to find an American crew with a service attitude. But now, across the whole ship, they all seem to really like what they are doing."
Koepf also noted the décor, which was changed from a Hawaiian theme during a major renovation about two years ago. "I think they've done a great job making it representative of America; it's been fun to see it."
Still, despite some "fabulous renovations, it is an older ship," he said. "But the staff completely overcomes any negatives, and it's such a great product, such a port-intensive cruise and a great introduction to a beautiful destination." And while you're here, Koepf suggested, don't overlook the great golf.
For Janet Papilla, vice president of Boscov's Travel, which has 18 offices in the Midwest, part of the draw is the tremendous value that cruising offers visitors to Hawaii. In a high-cost destination where "we stayed overnight at the Hilton and paid $70 for breakfast," she said, "it's an opportunity to see all the islands at an excellent value. Compared to the cost on land, it's phenomenal."
To take advantage of Norwegian's free airfare offer from the West Coast, she suggested East Coasters fly into California a day in advance and sleep over, then use the free airline ticket from there to Honolulu.
"It's affordable for a middle-class customer," she said. "You are going to spend money on tours and excursions, but you can get an immersive experience because there is so much history and soft adventure here. Each island has its own personality and each island loves to tell its own story."
Beyond the attendees on the trip, Dillon Guyer of Guyer Travel International told Travel Market Report that while he does not usually sell Hawaii to his East Coast customers, the free air promotion already has brought him five inquiries from customers and one confirmed booking on Pride of America, which he had sold "just a handful of times" before. "I think the volcanic activity has spurred new interest in the islands," he said.
And John Gawne, an independent vacation specialist at Cruises Inc., who has twice sailed the itinerary, agreed that, "It's a great way for people who have never been to Hawaii before to see where they might like to return and spend another vacation." (There's that analogy to river cruising.)
In short, said Koepf, "Hawaii is a bucket list destination. If you are only going to do it once, I'd highly recommend this product."