Port of Buenos Aires Set for $200 Million Revamp
by Maria Lisella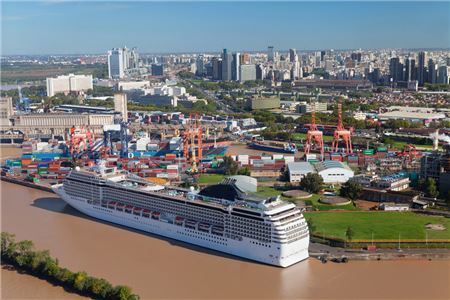 The Port of Buenos Aires is positioning itself as the most important hub for cruise lines throughout South America through an ongoing $200 million improvement and capacity building project by Terminals Rio de la Plata, a division of the Dubai-based DP World group.
Since its 2011 renovation, the port of Buenos Aires is the largest and most modern cruise terminal in South America. The "Quinquela Martín" terminal is located in the heart of the city and is a building structure of over 137,627 square feet that can comfortably receive a flow of up to 13,000 passengers daily.
Dubbed the "City of Passions," Buenos Aires' cruise season runs from October to April making wintertime in the northern hemisphere the optimum time to head to South America.
Cruise lines tha that sail into the Port of Buenos Aires include MSC Cruises, Costa Cruises, Royal Caribbean International, Norwegian Cruise Line, Oceania Cruises, Regent Seven, Celebrity Cruises, Crystal Cruises, Holland American Line, Polar Cruises, Silver Seas, Cunard, Seabourn Cruise Line, and Princess Cruises.