Qatar Airways Expands Q-Suite Business Class Product to More U.S. Destinations
by Barbara Peterson /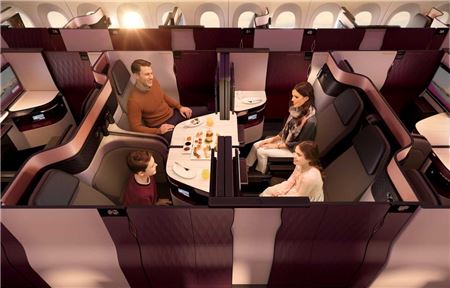 Qatar Airways is bringing its new business-class Q-Suite cabins to more transatlantic routes. At recent event in New York to show off the product, Qatar Vice President, Americas Gunter Saurwein said that the pod-like suites, which debuted a year ago at the ITB show in Berlin, have just been launched on flights to Washington, D.C., in addition to the existing New York route. The next U.S. gateway for the Q-Suite will be Chicago, he confirmed to TMR. The suites are also available on flights from the airline's Doha hub to London and Paris.
In fact, the airline will be adding the suites as fast as they can take delivery of its new widebody planes, like the Airbus A350-1000s and extended range Boeing 777-300s, that it has on order, Saurwein said. The seat/beds, dubbed Q-Suites, are far from the only enclosed beds in international business class – Delta has its "Delta One Suites" on its A350s; United has Polaris beds, and Singapore recently debuted its own enclosed business bed. But Qatar has an innovative layout that includes pairs of middle seats that can be converted into a double bedroom for a couple or, for parties of four traveling together, a shared space for dining or an inflight meeting.
Unlike the fancier digs on its Middle East competitors, such as the "residence" on Etihad which goes a step beyond first class, the Q-Suites are business class and, hence, less expensive; recently fares were running about $9,500 per person roundtrip, on flights from New York to Doha. By contrast, Etihad's residence would cost about $12,000 per person for a flight between Abu Dhabi and London.
Qatar is also promoting its Doha stopover program to U.S. fliers; as Sauerwein acknowledged, roughly 90 percent of U.S. originating business is connecting to destinations beyond the Gulf region, such as the Indian subcontinent, Southeast Asia, and Australia; the airline now serves some 150 cities around the world. Qatar offers those staying in Doha 24 hours or more a free night in a luxury hotel and other perks. The airport itself is also a plus, he said, adding that the three-year-old facility "is really a product in itself." Among other amenities, the airport has an in-terminal hotel and spa, a squash court and a pool. "It's got everything you need for a short or long transfer."