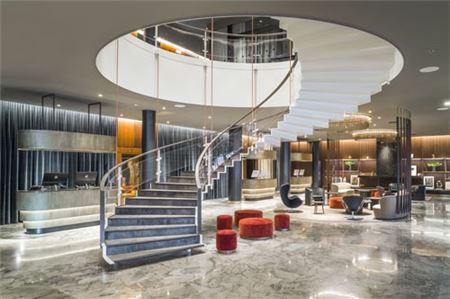 Part of a major overhaul, Radisson Hotel Group will launch a new premium collection brand this summer.
Formerly Carlson Rezidor Hotel Group, the company announced a five-year plan on Monday, at the International Hotel Investment Forum (IHIF) in Berlin, to rebrand and reposition more than 500 hotels in its portfolio of eight brands, as well as debut the Radisson Collection this June.
Set to replace the company's Quorvus Collection, 14 hotels will be reflagged under the new brand, including former Quorvus-branded hotels and Radisson Blu properties that were upgraded to meet luxury standards.
There will be two categories within the brand: "brand-led" and "identity-led." The former will lead with Radisson Collection in the hotel name, such as Radisson Collection Strand Stockholm. There are eight other brand-led hotels, in Europe, Russia, Nigeria, and India. Five hotels, considered to have a strong enough brand on their own, will be identity-led — for example, the Hormuz Grand Muscat, Oman, a Radisson Collection Hotel.
Radisson Collection hotels will focus on experiences in dining, fitness, wellness and sustainability; and include luxurious amenities, high-speed WiFi and TV streaming. Properties will be located close to prime leisure attractions and "boast an individual and locally authentic atmosphere." They will reflect the destinations through locally curated art, sustainability programs, and locally inspired food and drink offerings.
Additionally, Radisson, in the upscale segment, will be introduced in Europe, the Middle East, and Africa. The brand will also be refreshed in the Americas and Asia Pacific. The Millennial-geared Radisson RED will undergo "a robust growth plan across Europe, Africa, the Middle East, and the Americas."
Radisson Hotel Group also plans to invest significantly over the next five years into platforms and technology, including a comprehensive IT program for integration, with new property management and distribution platforms along with a new CRM, loyalty and campaign management platforms.