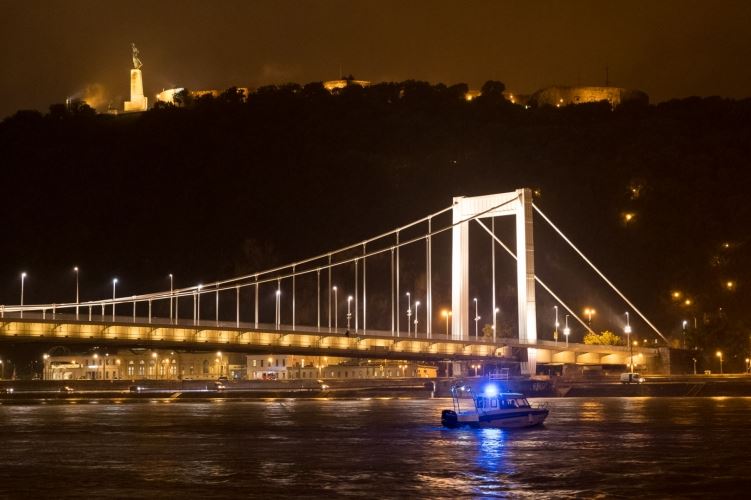 A rescue mission on the Danube river near Budapest is still underway after a Hungarian tourist boat collided with a river cruise ship on Wednesday afternoon.
Hungarian police launched a criminal investigation and have detained the Ukrainian captain of a cruise ship, authorities said late Thursday. The 64-year-old man is suspected of endangering water transport leading to a deadly mass accident.
According to reports, a tourist sightseeing boat capsized within seconds after colliding with Viking Sigyn. At least seven passengers on the sightseeing boat, the Hableany (Mermaid), were killed.
Nineteen South Korean tourists and two Hungarian crew members, the captain and his assistant, remain missing. Search efforts, now extended downstream as far as Serbia, have been hampered by the rain and the fast flow of the rising Danube.
"Those contributing to the search will continue to do everything possible ... along the full Hungarian stretch of the Danube's coasts in the interests of the locating the missing persons," Budapest police said in a statement.
South Korean Foreign Minister Kang Kyung-wha visited the site of the accident on Friday, accompanied by Hungarian counterpart, Peter Szijjarto, and met with rescue officials.
Seven people have been rescued and were taken to hospital with injuries.
In a statement to TMR, a Viking spokesperson said there were no injuries to Viking crew or Viking guests.
"We have been and continue to cooperate fully with the authorities while they undertake their investigations," the Viking spokesperson said. "Our heartfelt condolences to those affected by this tragic accident."
Very Good Tour, the South Korean travel agency that operated sightseeing cruise, said it was arranging for family of the dead and missing to fly to Budapest.
Adrián Pál r. Colonel, deputy chief of police chief of Budapest, said the ship will be raised from where it sank, near the Margaret Bridge and parliament building in central Budapest. Officials said that due to heavy currents it could take days to recover the boat.
The South Korean government said none of those on board was wearing a life jacket.