Silversea Cruises offered up some more details of the Balsonarona Owner's Suite on the new Silver Muse today. Named after chairman Manfredi Lefebvre d'Ovidio di Balsorano de Clunieres, the suite is designed to showcase Lefebvre's personality, with some of his personal items, including works of art and family photographs, on display.
In the bookshelf are Lefebvre's favorite books: The Great Navigators of the Eighteenth Century by Jules Verne, The Great Sea: A Human History of the Mediterranean by David Abulafia and After the Victorians: The World Our Parents Knew by A.N. Wilson. There are photos of his family and furniture that includes a chair from a family residence in Rome—and the bar includes his favorite vintage port.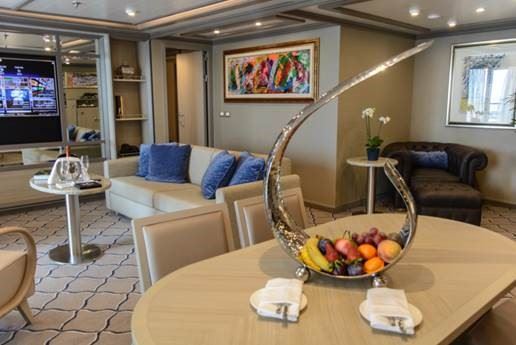 Lefebvre said he was proud to have a "space which superbly encapsulates my family's Italian heritage and taste" and that he hopes guests "find the Balsorano Suite a spectacular home away from home."
Silver Muse will debut as Silversea's flagship vessel, sailing 596 passengers in all-suite accommodations, with more dining options than any other ultra-luxury cruise ship.
Starting in October 2017 it will sail out of Fort Lauderdale's Port Everglades, offering itineraries including a 16-night roundtrip through the Caribbean in December 2017, a 10-night cruise to San Juan in winter 2018, and a transatlantic crossing to end the season.