Staycations on North America's Rivers and Waterways: The Great Lakes Region
by Lynn Elmhirst /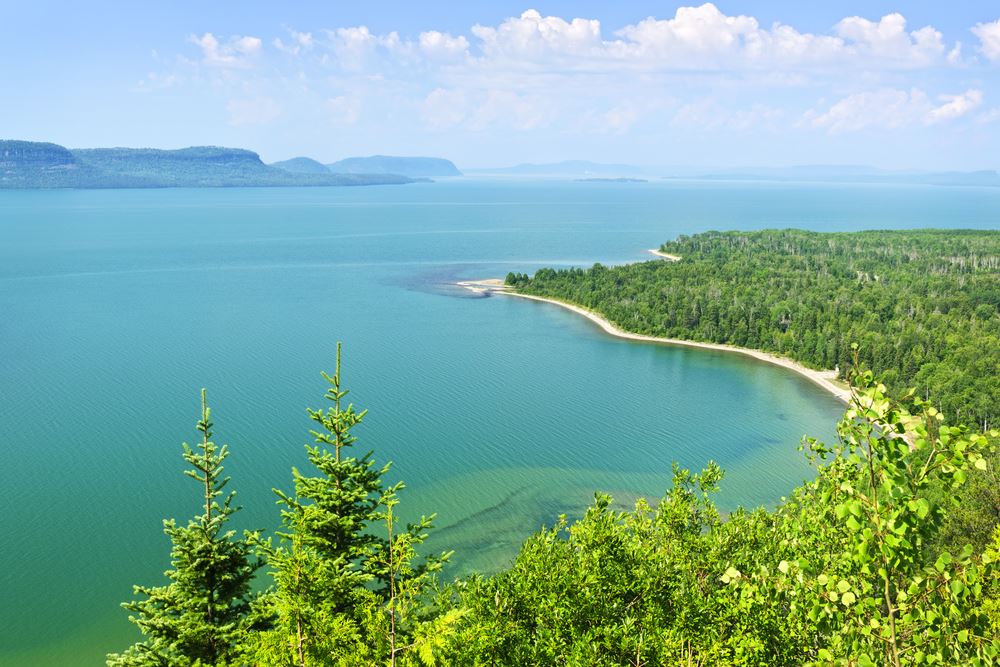 The Great Lakes are the world's largest freshwater system and a natural border between Canada and the U.S. For centuries, the waterways have been a major shipping route, transporting goods from the continent's heartland out to the Atlantic and points beyond. And now, there's new interest in exploring the major cultural centers, charming historic towns, even natural wonders like Niagara Falls, by small ship cruising.
This is a boon for travel advisors wanting to introduce clients to cruising close to home. Half the population of Canada, and even a greater number of Americans, live within driving distance of popular North American Great Lakes ports like Chicago, Toronto, Detroit and Montreal.
Here are travel suppliers and their products to consider when booking clients on Great Lakes cruises.
Tauck
Most travel advisors know Tauck for ultra-luxury land tours and safaris, as well as exquisite European river cruises. But in addition to land tours in North America, the travel company also provides a one-of-a-kind Great Lakes small ship itinerary that is tailor-made for travel advisors' American and Canadian clients with the highest requirements for luxury.
Tauck's autumn cruise between the dynamic Canadian and U.S. cities of Toronto and Chicago bookends the voyage with included pre- and post-stays in Fairmont or (with an upgrade fee) Four Seasons hotels and programming in both cities. The seven-night voyage between those world-class cities highlights seasonal foliage along the coasts; and includes Niagara Falls and Niagara on the Lake, as well as Detroit and charming towns along both countries' coasts. Shore excursions feature nature, sports, culture, and history along the way.
For the seasonal itinerary, Tauck is using one of luxury French line Ponant's elegant and eco-friendly, 160-guest, 5-star ships. Included are private balconies, iPod docks, minibars, wine and spirits in several lounges, and dining at two venues.
Travel Advisor Tips: Jackie Coulson, managing director of international sales, at Tauck, points out that the Great Lakes itinerary is an ideal opportunity for advisors to book their luxury small ship clients on a vacation close to home.
Furthermore, she adds, the itinerary is a great opportunity for travel advisors themselves to become familiar with Tauck's Small Ship program without having to fly internationally.
Coulson reveals that 75% of guests booked are American, with the remaining guests made up of Canadian and international visitors. So, there are a lot of opportunities for Canadian advisors to introduce this product to their clients. And, she says, "The bonus for Canadian agents is that now we also have Canadian Dollar pricing," which makes quoting and booking clients even easier.
For advisors on both sides of the border, Coulson recommends becoming a Tauck Specialist and registering for agent rewards for the best success selling this Tauck small ship staycation cruise.
Victory Cruise Lines
This cruise line, acquired earlier this year by American Queen Steamboat Company, has two newly upgraded, identical, 200-guest ships – the M/V Victory I and II – that sail all-inclusive itineraries along North America's coasts. In addition to the Great Lakes, some itineraries extend through the St. Lawrence Seaway, and even Canada and New England itineraries. An upcoming new ship in 2021 will sail British Columbia and Alaskan itineraries.
The lines' Great Lakes and St. Lawrence journeys transport guests from Chicago or Detroit as far east as Quebec City on the St. Lawrence Seaway; or embark farther east from Toronto or even Montreal, and sail out the Great Lakes, through the Seaway, to Canada's Maritime provinces and New England ports.
Guests travel the Great Lakes in the company of historians and naturalists, and enjoy inclusive shore excursions for expert immersion into destinations in North America's backyard; and both marquee ports as well as coastal gems in Ontario, Quebec and the U.S.
Blount Small Ship Adventures
Founder Luther Blount built his first ships specifically for one very special itinerary. The "Great American Waterways" 16-day cruise between Chicago and New York includes four Great Lakes and uniquely also New York State's Erie Canal and Hudson River. The ships are built to fit the historic Erie Canal, and Blount is the only overnight cruise line able to navigate the waterway en route to Buffalo and Niagara Falls.
Perhaps even more than the casual, no dressing-up atmosphere and complimentary wine and beer with meals, one related perk is immensely popular with Blount's guests. Experienced cruise advisors and their clients will be astounded to learn about Blount's unrestricted BYOB policy. Not only can guests provide their own wine and spirits (and shopping for them at local, craft wineries and distilleries at ports of call becomes part of the cruise experience), but Blount even gladly provides mixers, garnishes and barware for guests to take full advantage of the enjoyment of their personal choice of beverages, and host their own onboard get-togethers with new friends among the other passengers.
The "Great American Waterways" itinerary remains the family-owned and -operated company's most popular voyage. But Blount considers the entire Atlantic Coast part of its cruising territory, with itineraries sailing coastal New England and the Canadian Maritimes into the St. Lawrence Seaway, as well as winter itineraries in the Bahamas.
Travel Advisor Tips: Blount's guests are 65-plus, affluent and well-traveled, looking for a small ship experience that doesn't require a flight. Ninety percent are Americans, who have the added convenience of not requiring a passport, since the itinerary hugs the American coasts of the Great Lakes, with U.S.-only ports of call.
Canadian, British, and Australian passengers make up the remaining guests, leaving a lot of opportunity for Canadian advisors to introduce their clients to this distinctive small ship cruise.
Kayla Setters, marketing manager, for Blount, adds: "Clients who are aging out of wanting to fly, they walk into their travel agent's office saying, 'I've done everything, now I want to do something different.' That's when a trip like 'Great American Waterways' becomes a conversation. The sell is simple once you can explain to the client Blount is the only cruise line who can do this itinerary."
LeBoat
LeBoat has been operating "self-drive cruises" on the canals and waterways of Europe for half a century, and in 2018, introduced their first North American itinerary. It's a one-of-a-kind cruise on Ontario's UNESCO World Heritage Rideau Canal, the oldest continuously operated canal system on the continent.
Dating from 1826, the Rideau Canal travels 125 miles north from Canada's early capital city of Kingston on Lake Ontario, north to today's national capital, Ottawa. It remains today one of North America's most beautiful navigable waterways, with 47 locks, many with original masonry and metalworks that are hand-operated by helpful lock staff; and quaint countryside, small towns, historic sites, and stone architecture between each charming terminus city.
Advisors shouldn't confuse LeBoat with houseboat rentals. According to Managing Director Cheryl Brown, LeBoat cruises are more like pet-friendly "floating villas" or private yacht charters. The company's Canadian fleet includes new, upscale European models designed for larger groups – some even five-cabin/five-bath models that sleep 12 people – with ensuite bathrooms, expansive "fundecks," barbecues, air-conditioning, even dishwashers in fully equipped kitchens. Guests set their own pace; choose their own itinerary; provide their own food, drink, fuel, and fun as they swim, fish, cycle, shop, and stroll their way along the canal.
To fully dispel any comparison to houseboat rentals, Sales Manager Laurie Hudson-Craig reveals 60% of LeBoat's bookings are done through travel advisors, and adds that U.S. and Canadian advisors are provided quotes in their own currency.
Travel Advisor Tips: LeBoat fares are for the vessel, not per person. That makes this unique canal cruise option a highly cost-effective choice for clients with families, corporate and other groups, including solo travelers. Hudson-Craig says advisors' local yacht/sailing clubs present great sales opportunities, as many boaters like to see other parts of North America traveling by boat like they are used to. Non-boaters are also welcome at LeBoat; no experience or license is required, and a tutorial gives new clients confidence driving the boat, while lock and docking fees are included in the fare.
Advisors who register with LeBoat benefit from monthly newsletters, webinars, fam trips, and discounts, as well as sales and marketing support. New advisors are provided with a presentation of LeBoat features and benefits, and advice about how to sell LeBoat.
Part 1 of this 3-part series covered The Snake & Columbia Rivers in the West and Part 2 visited The Mississippi.