Some of America's hotels are centuries old and carry with them storied histories. If you are a believer, that includes being haunted by previous guests or owners whose spirits have lingered at the properties. Staff, guests, and even ghost-hunters have reported sightings of ghosts at these locations.
The Historic Hotels of America (HHA) listed these properties as its "Top 25 Most Haunted Historic Hotels for 2017":
The Stanley (1909) — Estes Park, Colo.
The inspiration for Stephen King's book "The Shining," the Stanley Hotel is said to be haunted by the original owner, F.O. Stanley. He and his wife have been seen dressed in formal attire on the main staircase and in other public areas, and Flora's piano occasionally echoes in the ballroom.

Sean Xu/Shutterstock.com
Concord's Colonial Inn (1716) — Concord, Mass.
Many wounded patriot soldiers were taken to Concord's Colonial Inn, which served as a hospital during the Revolutionary War. The most famous and sought-out spooky guestroom is 424, which once served as an operating room during the war. Many guests who have spent the night in the infamously haunted room have reported strange activity.
Admiral Fell Inn (1770) — Baltimore, Md.
Dating back to the 1770s, the hotel was a boarding house where seamen, immigrants and "ladies of the night" would pass through. Now, guests have often reported seeing floating sailors and disappearing butlers knocking on their doors.
The Red Lion Inn (1773) — Stockbridge, Mass.
It has been said that guests have awoken to the feeling of someone standing over them at the foot of the bed. Cold spots, unexplained knocks, and electrical disturbances have all been reported. Cleaning staff and guests have claimed to see a "ghostly young girl carrying flowers" and "a man in a top hat." Needless to say the property has been the interest of many paranormal investigators and mediums.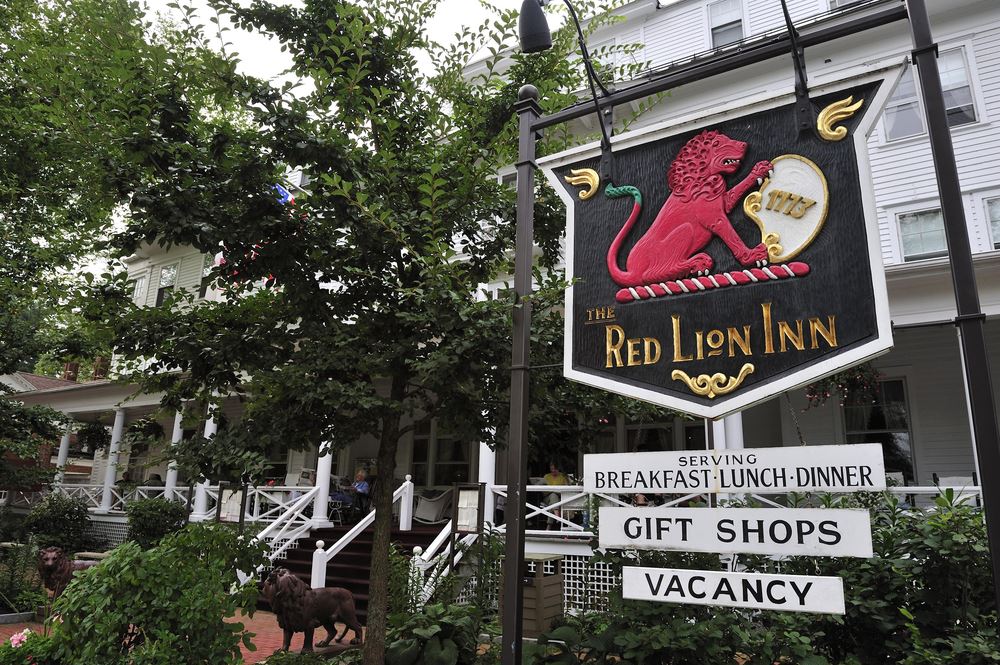 T photography/Shutterstock.com
Hanover Inn Dartmouth (1780) — Hanover, N.H.
Dartmouth College ghost stories include the tale of nine fraternity brothers who died in 1934. More than one Dartmouth student has come face-to-face with a room that is not there and a party of those young men and their dates.
Omni Parker House, Boston (1855) — Boston, Mass.
This hotel was opened by Harvey Parker, who remained involved with the operations of the building until his death in 1884. Over the years, many guests have reported seeing him inquiring about their stay.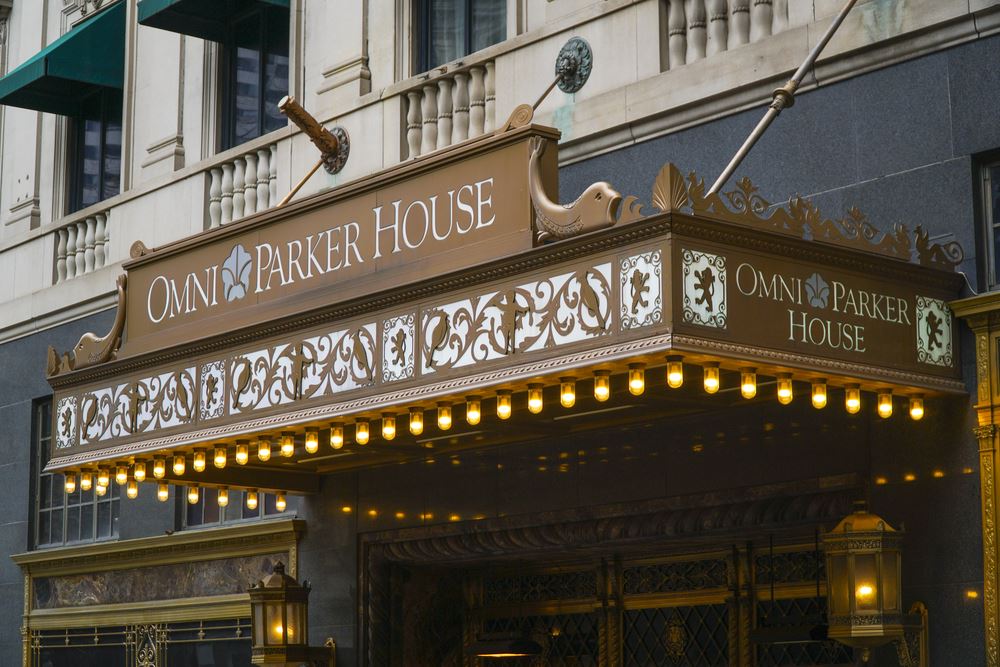 kclips/Shutterstock.com
The Sagamore (1883) — Bolton Landing, N.Y.
Stories persist of a ghost of a silver-haired woman wearing a blue polka-dot dress descending from the second floor to the hotel's restaurant.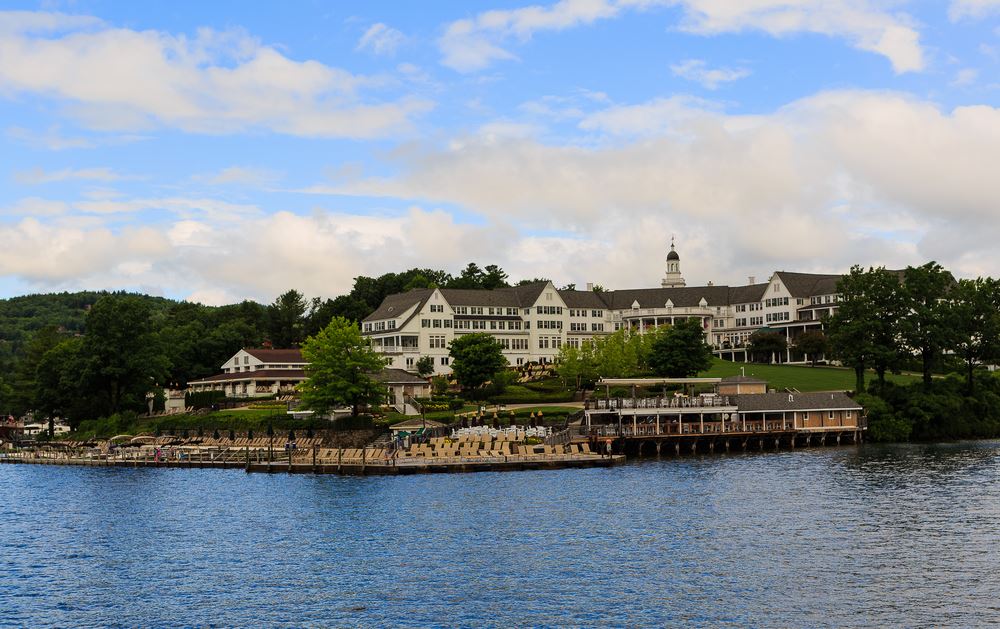 Carol Bell/Shutterstock.com
1886 Crescent Hotel & Spa (1886) — Eureka Springs, Ark.
Many people know of the most famous "guests who check out but never leave" at the 1886 Crescent Hotel & Spa. Visitors have reported encountering dozens of spirits and ghosts, including "the lady in the Victorian nightgown," who likes to stand at the foot of the bed in Room 3500 and stare at guests while they sleep.

RaksyBH/Shutterstock.com
Hotel Monteleone (1886) — New Orleans, La.
A maid, known as "Mrs. Clean" is said to haunt the hotel. Paranormal researchers once asked why she stayed, and the maid replied she's picking up after housekeeping.

jackanerd/Shutterstock.com
Jekyll Island Club Resort (1886) — Jekyll Island, Ga.
This hotel is rumored to have a dead bellman from the post-WWI era lurking the grounds and knocking on guestrooms' doors.

James R. Martin/Shutterstock.com
Green Park Inn (1891) — Blowing Rock, N.C.
This hotel keeps a "Ghost Log" in the lobby for guests to use (and add to when they have their own encounters to share). One includes the daughter of the inn's founding family, Laura Green, who was jilted at the altar. Reports are that she and her would-be groom continue to be seen on the third floor.
The Pfister Hotel (1893) — Milwaukee, Wis.
Several guests have reported hauntings by the ghost of the hotel's original owner. It is rumored that Charles Pfister still roams the halls to ensure that his guests are well taken care of at his century-old "Grand Hotel of the West."
Moana Surfrider, a Westin Resort & Spa (1901) — Honolulu, Hawaii
On Feb. 28, 1905, the untimely death of Jane Stanford, co-founder of Stanford University, made headlines everywhere. Stanford, who was vacationing in Hawaii, died in her room at the Moana. There have been reports that her ghost still frequents the hotel. Guests and hotel staff have said that they've seen her walking at night trying to find her room.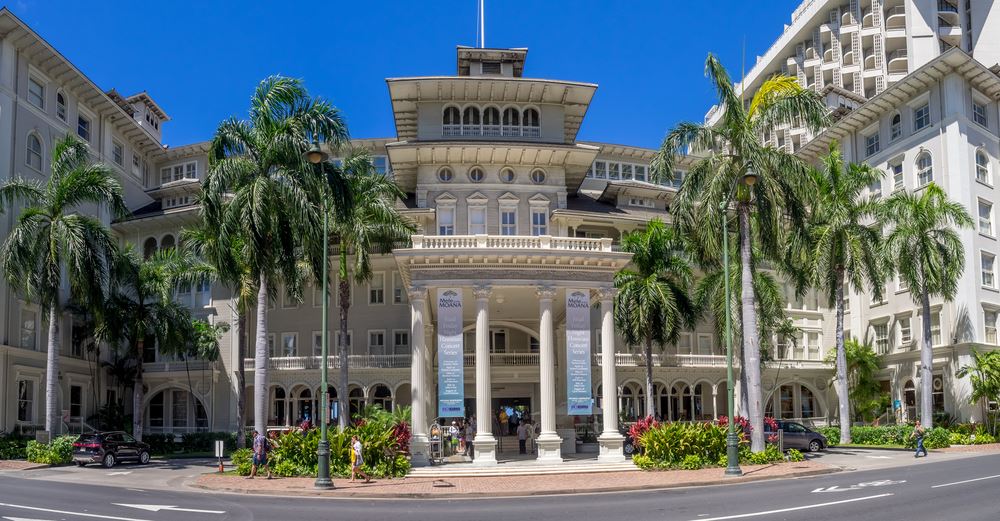 Jeff Whyte/Shutterstock.com
Omni Mount Washington Resort (1902) — Bretton Woods, N.H.
Caroline Foster, known as "the princess," was a long-time inhabitant of the hotel. Many guests report sightings of the regal Caroline, citing visions of an elegant woman in Victorian dress in the hallways of the hotel. The most common sighting, though, is in room 314, where guests report seeing her at the edge of their bed.
The Seelbach Hilton Louisville (1905) — Louisville, Ky.
Legend has it that two lovers were to be married at the hotel in 1907, but the groom met an untimely death on his way to the wedding. His distraught bride threw herself down the elevator shaft, falling ten stories to her death. The bride is said to continue to haunt the halls.
Boone Tavern Hotel of Bera College (1909) — Berea, Ky.
The historic Boone Tavern Hotel attracts ghost-hunters with its three-day ghost hunts, and some guests report seeing the apparition of a young boy in their photographs. In the hotel basement, the voice of a boy named Timmy can sometimes be heard.
The Omni Grove Park Inn (1913) — Asheville, N.C.
For nearly half a century, there has been the belief that there is a ghost who roams the hallways of the main inn. She is referred to as the Pink Lady because of the flowing pink gown she wears. It is believed that this young woman was a guest in room 545 in the 1920s and that she either jumped or was pushed to her death in the Palm Court, five floors below.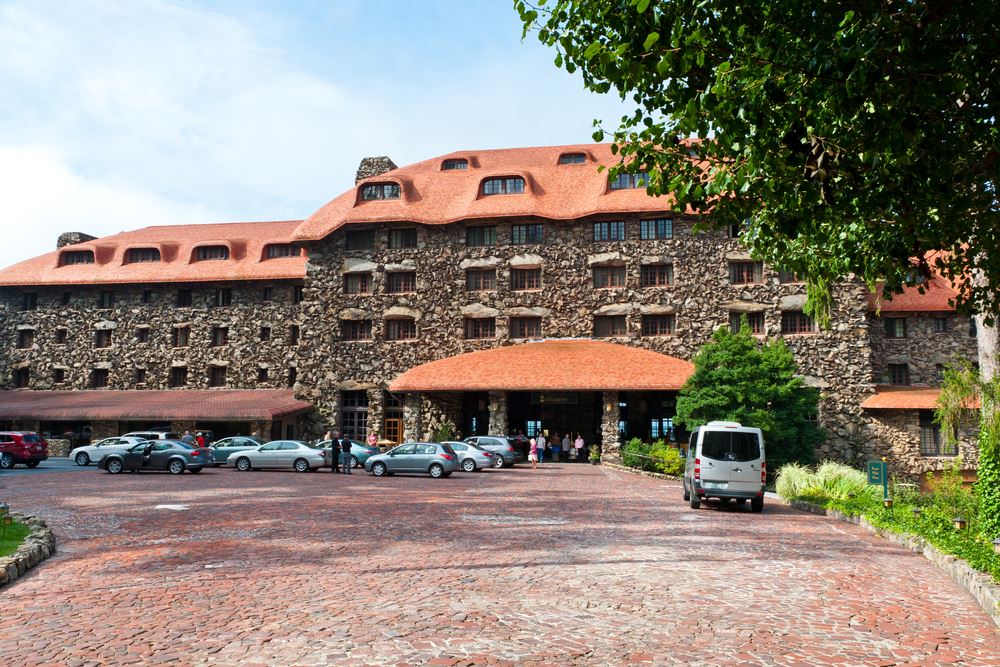 Irina Mos/Shutterstock.com
La Fonda (1922) — Santa Fe, N.M.
Shot to death in 1867 in the hotel lobby, John P. Slough, Chief Justice of the Territorial Supreme Court, is said to have never left. In addition, a distraught salesman, who jumped into the hotel well after losing a card game, has been seen emerging from the fountain by visitors.
The Emily Morgan San Antonio, a DoubleTree by Hilton Hotel (1924) — San Antonio, Texas
This hotel, known as "the official hotel of the Alamo," has been known to have ghosts haunt the halls. At one time, the hotel housed a medical facility, which had a morgue and a psychiatric ward. Reports of unexplained noises, apparitions, and the feeling of being touched have been reported by guests.

Philip Lange/Shutterstock.com
Francis Marion Hotel (1924) — Charleston, S.C.
In the early 1930s, New Yorker Ned Cohen was found at the hotel face down, body smashed in the middle of King Street facing toward the old Citadel's parade grounds. Today, guests hear eerie and unexplained sounds at night and believe they see visions of a man questioning either himself or a possible witness.
Hawthorne Hotel (1925) — Salem, Mass.
The Hawthrone's ghosts are mostly attributed to the sea captains who were returning to their gathering place. Rooms 621 and 325 have had reports of lights turning off and on and a general uneasy feeling throughout the rooms.
The Hollywood Roosevelt (1927) — Hollywood, Calif.
This historic hotel is haunted by one of the most famous, Marilyn Monroe. She has been said to haunt the full-length mirror that was once in her suite. Also, room 928 is believed to be haunted by the restless spirit of Montgomery Cliff, the film and stage actor best known in the film "Red River" in 1948.

Alex Millauer/Shutterstock.com
Lord Baltimore Hotel (1928) — Baltimore, Md.
Numerous times, guests and staff have reportedly seen a little girl wearing a long, cream-colored dress and black shiny shoes, running by the open doorway, bouncing a red ball before her, though the hallway has been completely empty.
The Don CeSar (1928) — St. Pete Beach, Fla.
Employees at the Don CeSar tell tales of seeing a couple who suddenly appear walking hand-in-hand in the hotel and then disappearing.

Shutterstock.com
Omni Shoreham Hotel, Washington, DC (1930) — Washington, DC
During the Shoreham's early years, three people died unexpectedly in suite 870. At that time the apartment was occupied by one of the hotel's owners, Henry Doherty. Juliette Brown, the family's housekeeper dropped dead mysteriously one night at 4 a.m. Doherty's daughter and wife also perished mysteriously in the same suite. During its vacancy, there were claims of mysterious noises, doors slamming shut and furniture moving — many of which happened around 4 a.m., the exact time of Juliette's death.