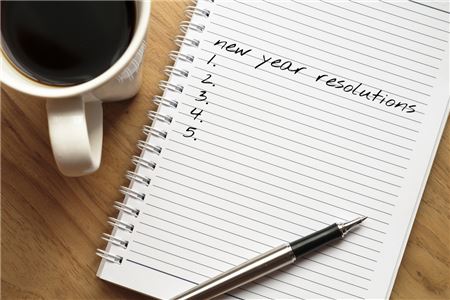 As 2017 draws to a close, many of us are pondering how the year went — and what we can do to make 2018 even better. In other words, it's time for our annual New Year's resolutions.
In what many predict will be the busiest year in recent history, travel advisors with whom TMR spoke said they will reach out more to the clients they have; do more to get in front of potential clients they have yet to meet; and focus more on improving their bottom line.
In short, the tips seem to be: Grow your customer base. Make your existing business more profitable. Build your niche. Partner. Educate yourself. And remember what likely was your resolution last year, and the year before: get more organized.
"I need to get better on follow-up," acknowledged Laura Small Avital, owner of Mill Brook Travel. "I'm going to try to put a schedule in place to either call or email clients when they come back from a trip."
"I will keep better lists of contacts I meet and categorize them so that I can market to them with things that they may specifically be interested in," said Lorraine Simpson, owner of The Romance Concierge. "I think it's best to use a CRM system and categorize customers into types and likes, etc."
At Love Shack Vacations, Will Medina also will be upping his CRM game. "Segmentation has been a focus for me this year and will continue to be in 2018," he said. "I want to be able to speak to my ideal client in a very personal way, via marketing automation. What state are they in, what is their favorite type of travel, what are their kids' and or pets' names. In the end, travel is about connecting."
Grow your customer base
But if 2018 is to be a year of growth, it's going to have to entail winning new clients as well as keeping existing ones.
Simpson's plan is to "focus more on my food-and-wine niche, and offer a deal similar to an airline code share with other travel agents who want to sell my very well-selected and tested personal trips for food and wine."
Travel agency owner Helen Prochilo wants to try some "small local trade shows." And Chuck Flagg plans "to do four community events for lead generation," as well as "a giveaway via Facebook."
Barbara Khan, at Vista Travel Inc., vows "to do better follow-up with clients after their trip, and figure out a system to keep in touch with clients regularly to keep them thinking about their next trip." For new customers, she will look to grow the leisure business she gets from her corporate customers.
Maximize what you have
For many, the goal in 2018 will be not so much to do things differently as just to do them better. "I am going to monetize my systems, getting rid of the things that are not working efficiently and concentrating on a more level monthly income," said Margie Lenau of Wonderland Family Vacations. "By the end of the year I want to take my income up a level. I'm hoping to level out the highs and lows."
At Brownelle Travel, Suzette Mack will focus more on her specific areas of expertise, and not "go down a rabbit hole trying to please a client who is not a good fit. We need to both be excited about working on the trip. If I focus on clients who appreciate service and value, I can work more efficiently and create the best possible experiences for them. Ideally this will lead to loyal repeat clients and great referrals."
Debra Ruzbasan, of Ed-Ventures, Inc., also vows to "recognize that doing business with difficult clients with little return takes time and resources that can be directed to more profitable, more interesting itineraries and happier tour groups."
And Jennifer Danvers, of Camelback Odyssey Travel, will free herself up to concentrate on what she does best by hiring an assistant; "organization, marketing, research, booking, servicing...is all too much for this busy old gal! I need a Millennial with mad computer skills," she said.
Education is key
Another big theme for the year is getting, and staying, educated, particularly in a specialty niche. Dawn Williams Crowe, of Dawn Crowe Travel, for example, plans to "seriously focus on those suppliers that serve my niche clients. I will take all their trainings, attend every venue that offers an opportunity for a better understanding of each nuance that makes them special."
Coming back from a recent Boot Camp training program at her host agency, Peace of Mind Travel Services Owner Iesha L. Brewton also determined to "take more trips in 2018 so my clients, current and future, can see that it's more than a hobby for me. It's my passion and my lifestyle."
And Dream Vacations franchise Owner Karen Quinn-Panzer plans to try out a new cruise line each year until she has been on them all.
Ashley Bennington will focus on educating not just herself, but consumers at large — "educating people that, yes, travel agents still exist, and what we do and why you should use us. People need us but don't know it, and I want to work on changing that."
Focus on systems, both electronic and organizational
Meanwhile, the disastrous Napa fires this summer left Jenny Holmes Senter, of Celtic Heritage Destinations, painfully aware of the need to "have a back-up plan for my clients and myself. A better database of contact information is a top priority. Seriously, a hand-written address book is back in my life. But most importantly, I am setting a goal of a better set of priorities in my life. I need a better balance in my life, and definitely need to spend more time away from the business and with my loved ones."
While social media is already in every travel agent's toolkit, many vowed to move toward video. At Cruise Planners-JustGetaway2day, Tee Washington-Alexander, for example, will "be more present on social media. My followers like when I post Facebook Live videos, and I don't do them as often as I could."
And while she is "a bit video-camera shy," Bella Travel Planning Owner Becky Millard Lukovic still intends to utilize more video. "Our industry gives amazing opportunities for good video content," she said.
In the end, though, perhaps Jeni Chaffer, owner of Journeys Travel Inc., has the best advice of all. "Just do it!" she said. "Put all of the planning and marketing into action, whether or not it's as good as you think it should be."