Agents and others throughout the travel industry paid tribute to Anthony Bourdain over the weekend, sharing their memories of meeting him, being inspired by him and reflecting on how he promoted a more intimate style of traveling that has stirred tens of millions to pursue local foods, cultures and experiences across the globe.
"He was a huge influence on the travel industry," said Myrna Arroyo, owner at Roux Luxury Travel, Baton Rouge, Louisiana. Arroyo said Bourdain's CNN travelogue, "Parts Unknown," has "kindled travelers' interest in authentic culinary travel. Many of my travel clients ask me to include restaurants and chefs they've seen on one of his shows in their itineraries. His death is a huge loss to the travel and culinary industry."
In an essay for Condé Nast Traveler, digital director Brad Rickman, noted how "Bourdain was far from the first person to practice what we now call immersive travel, but we owe him a debt for mainstreaming it."
Bourdain, Rickman said, went deeper than his predecessors, "More direct, more political, more passionate, more ambitious in his destinations: places like Libya, Tehran, the West Bank. He'd already shown us what to turn toward. Now he showed us what we couldn't turn away from."
Throughout his television career, Bourdain visited local, simple places, showcasing a destination's culture and culinary rewards in an up-close and accessible manner that encouraged viewers to get to know people in an intimate fashion.
It began in 2002, when the Food Network offered him his own show, "A Cook's Tour," following the wild success of his book, "Kitchen Confidential." The show premiered in January 2002 and ran for 35 episodes through 2003.
In July 2005, the Travel Channel featured Bourdain in "Anthony Bourdain: No Reservations." But it is his most recent work, "Parts Unknown," debuting on CNN in 2013, that urged Americans to go deeper and farther, to capture personal moments and memories, an "open kitchen" of sorts for his greatest work.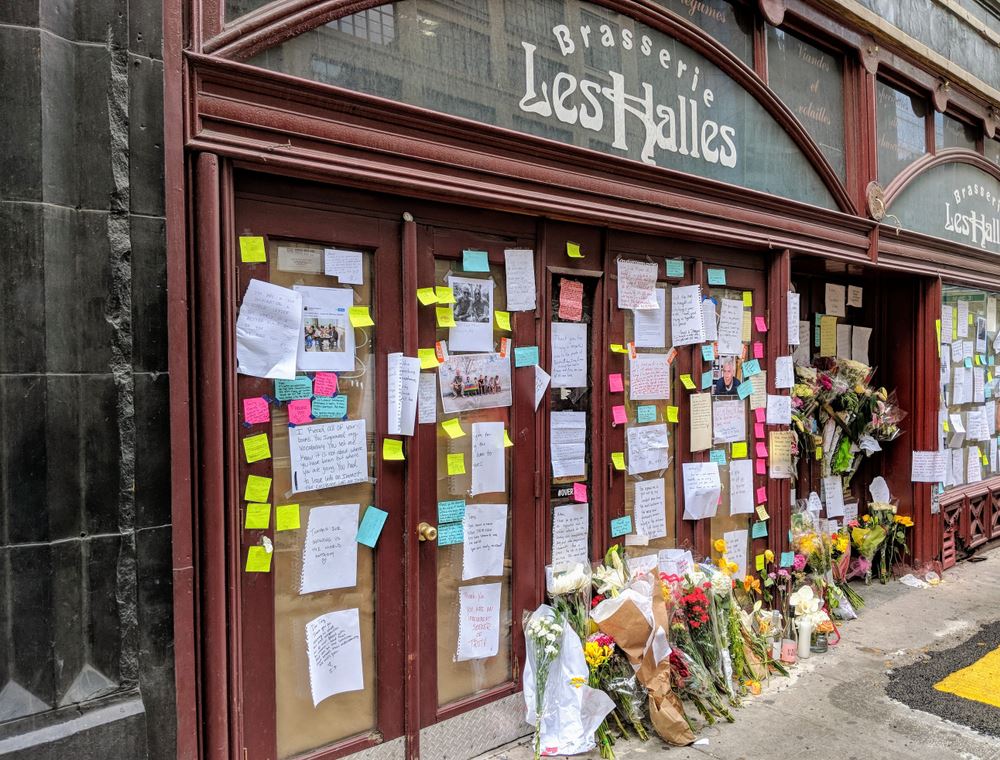 Memorial outside of Les Halles Brasserie in Manhattan. Photo: Christopher Penler/Shutterstock.com
Rebecca Tucker, managing editor, G Adventures, in an essay published at the G Adventures website, called Bourdain's love for food an entry to defining how people live differently, and the same. "On TV as in life, food was a way to understand the world, and a way to help others understand it, too," she wrote.
"He saw — and communicated — every meal, every bite, every ingredient as a small piece of a larger cultural, historic, and economic puzzle, no matter where he was or what he was eating."
Bourdain also used food and travel "as a force for understanding," Tucker said, including the ugly side of social injustice. "But when Anthony Bourdain wasn't angry at the world for being less perfect than he felt it ought to be, he was in love with it. Through food and travel, and through his TV series' investigation of the way people different cultures eat, share, and live, he showed us a sort of remarkable sameness: everyone eats, yes, but everyone also laughs, cries, works, celebrates, and suffers before, during, and after their meals. And everyone, ultimately, wants the best for themselves."
Rolanda Chambers, owner of Golden Voyage Travel in Baltimore, Maryland, shared a similar view of the famous chef and traveler. "Anthony Bourdain introduced his viewers to other countries and cultures one meal at a time. A conversation over a great meal bridges the gap. Wouldn't it be nice to retrace his steps and embrace one another through travel? He was one of a kind and will be truly missed," Chambers said.
On Facebook, Laura Massoni, Founder of SEE ITALY by Laura Massoni Travel, San Diego, California, posted something Bourdain told attendees at a 2015 Ensemble Travel Group International Conference in Orlando: "When people offer a stranger food they are telling you the story of what they love. And the story often is the struggle to make a lot out of very little."
"He was the epitome of a world ambassador, using the commonality of food to demonstrate how people all around the globe, despite cultural differences, are basically the same," said Sally Black, founder of Vacationkids.com, Kunkletown, Pennsylvania. Black spoke with Bourdain a few years ago, when they both realized the other had chosen the same name for their daughter.
Inspiring agents
Bourdain's travels and his personal style inspired the professional choices of countless agents.
"He is a reason I love to travel and experience the local experience. He shared the world and its people and opened it to us all. His love of food and adventure was contagious," said Kim Milnes, chief memory officer at Family Travel Boutique, in Cherry Hill, New Jersey, on her Facebook timeline.
Bourdain literally influenced the look and feel of Lila Fox Travel Co., owner Lila Ermel Fox, New Orleans, told Travel Market Report.
"Aside from having a massive crush on the guy, he blurred the line between budget and luxury, between street and suite, and that gave me confidence years ago to weave those really raw elements in with white glove travel for clients. His personal style, white t-shirt and jeans tat'd up, and the way he told stories from anywhere in the world of the culture, food, politics from really a working-class perspective, was also an inspiration."
Black, and many others, added reflections on the cause of Bourdain's death, suicide. "I am saddened to think he couldn't understand his impact and connection with everyone else and find help. I pray his ultimate journey will deliver him peace," she said.
"His death was such a shock. It made me reflect on the loss of a dear friend back in the 1990s and how I struggled for months with guilt, feeling like if I had done this or said that, would she still be here. Depression is real," said Chambers.
If you are having thoughts of suicide, call the National Suicide Prevention Lifeline at 1-800-273-8255 (TALK) or go to SpeakingOfSuicide.com/resources for a list of additional resources.