As she was settling into a well-deserved vacation on the Alabama shore, Tammy Murphy received the first desperate message about a cousin stranded in St. Maarten.
"I'm relaxing, and I get this text on my phone from my sister-in-law," Murphy recounted. "They need to get out of there."
In about 36 hours, Hurricane Irma was scheduled to touch down on Murphy's cousin, Monica Bullion Miller, and her husband, three days into the honeymoon of a lifetime at the Sonesta Ocean Point Resort in St. Maarten.
The view from Monica Miller's balcony just days before Hurricane Irma touched down on St. Maarten.
"Was there a way to get Monica and Martin on a scheduled flight off the island immediately?" her sister-in-law asked.
Murphy, the owner of VIP Travel Experience in Harahan, LA, scrambled into action. She made phone calls, sent emails and worked every angle she could to get the Millers on a commercial flight out. But it was too late. Every flight was full and flights for the next day, Wednesday, were already cancelled. The airport was closing.
Monica and her husband Martin would have to ride out the storm in a concrete reinforced conference room at the resort with about 300 other guests and staff. For twelve hours, Murphy heard nothing from the Millers until a text came late Wednesday.
"We're okay. Just get me home. The island is gone."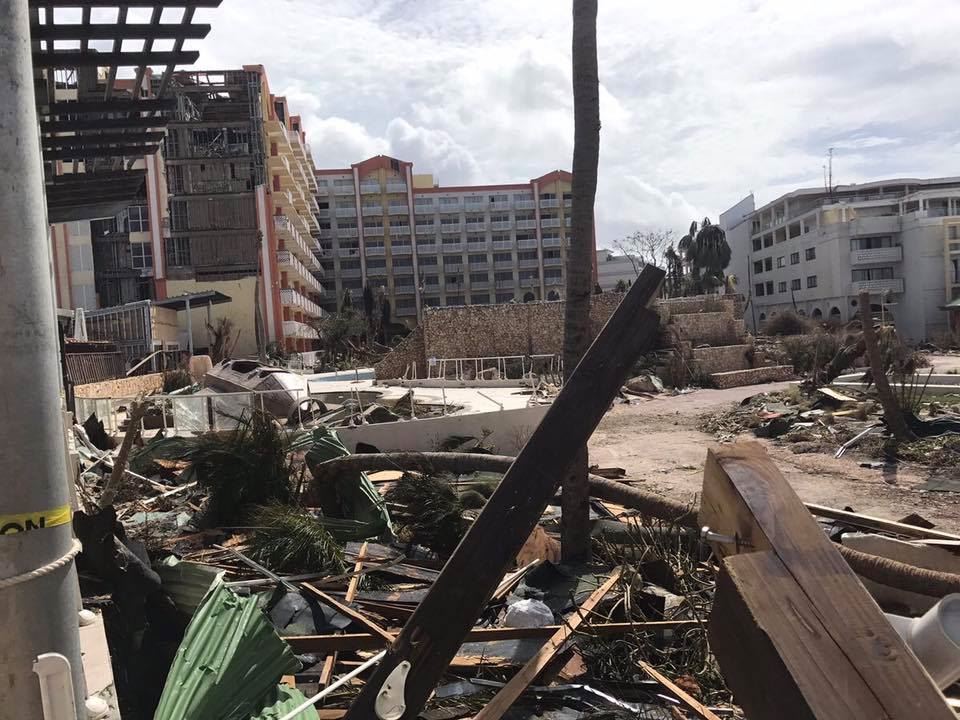 Monica Miller's hotel after Hurricane Irma had departed. Photo: Jonathan Falwell
While the Sonesta was severely damaged, its windows blown out and roofs torn off, it still had generators, food and water. But Monica had a medical condition, and would need medicine soon. Murphy felt an urgency to get her out.
Being an ASTA agent pays off
Working with Murphy, an ASTA agent, the Millers had a leg up. Murphy had copies of the Millers' passports, and forwarded them to the U.S. embassy in Curacao, which oversees Americans visiting St. Maarten.
Murphy had attended the 2015 ASTA Global Convention, taking part in education sessions about working with U.S. embassies and learned about the State Department's Smart Traveler Program through ASTA. As Murphy worked the phones and email addresses of the United States embassy and her Congressman, having this information gave officials certainty that they were protecting American citizens and helped expedite the process.
Additionally, Murphy had instructed Monica to download the U.S. State Dept. Smart Traveler app to her phone, providing the State Department with easier access to the couple in case of an emergency.
As Wednesday night faded into Thursday, Murphy worked her contacts, trying to find out the status of the airport and commercial airline service. Might there be cargo planes landing to deliver humanitarian aid that could carry the Millers out? What was the U.S. military doing to evacuate Americans?
She also was a lifeline of civilization to the Millers who had very little news from outside their immediate area. They were aware of Hurricane Jose, looming out in the Atlantic, and were concerned about the island taking a second hit with the hotels and other infrastructure already severely damaged.
The Millers meanwhile had volunteered to assist locals. Monica, a nurse, was frequently out of cell range, in remote parts of the island, tending to residents injured by the storm, while her husband was performing other acts of humanitarian relief.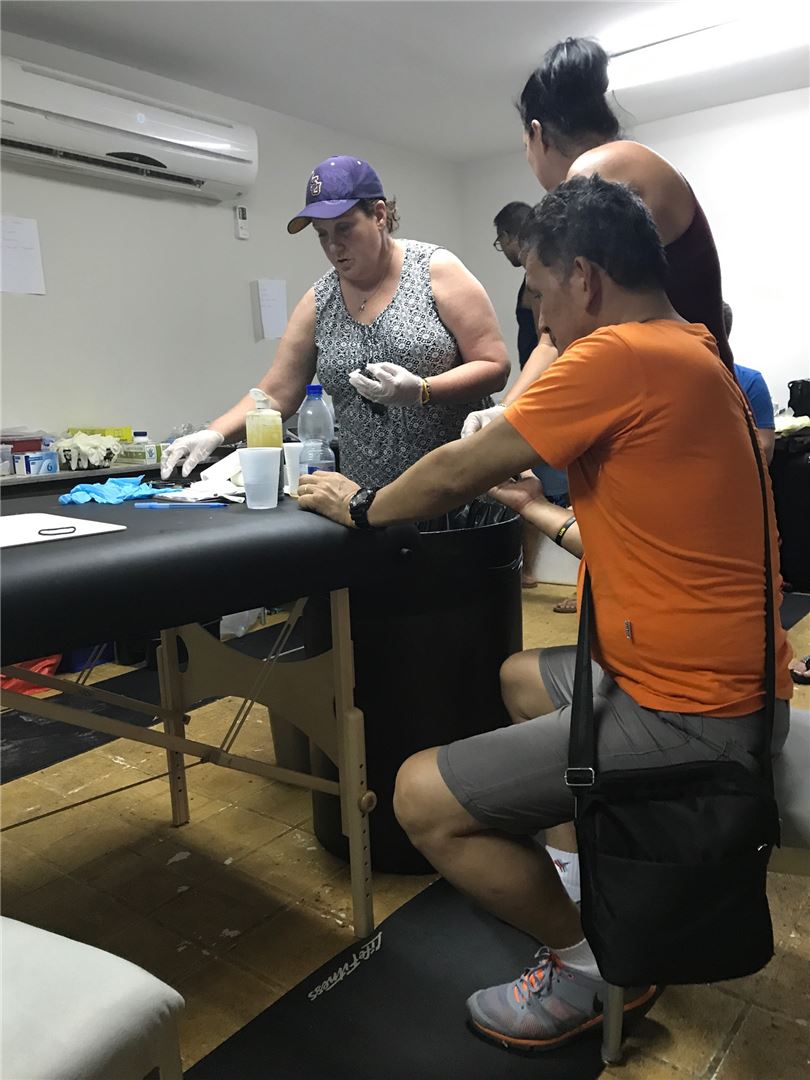 Monica Miller uses her nursing skills while waiting to be evacuated from St. Maarten. Photo: Monica Miller
As word of Murphy's efforts to save her cousin spread across Facebook and the internet, the news department at WAFB, a TV station in Baton Rouge, ran a story about the Millers and Murphy.
The reporter put Murphy in touch with the chief of staff for Congressman Garret Graves, whose district covers the Baton Rouge area.

"He explained to me that the Dutch government had taken control of the situation and that the U.S were waiting for the Dutch to accept U.S help," Murphy said. There was nothing anyone could do until that assistance was accepted.

Meanwhile, news reports and rumors were spreading about conditions on the island, private charter flights and possible evacuation plans.

"We would get our hopes up that there would be a plane, or a ferry, accepting evacuees, and then we would find out it was untrue," Murphy said.

The earliest flight American Airlines could confirm was for Friday, "but American couldn't give you any information or confirmation."
Finally, on Saturday, Murphy and her contacts were able to get the Millers on a flight to a military airport in Puerto Rico. The Millers were transferred to Luis Munoz Mari­n International Airport that day, where Murphy got them on standby on a flight to Charlotte, NC, with a connection to New Orleans.

"They barely had the clothes on their back, hadn't showered in days, carrying a small bag on their shoulders with a few things in it," she said. They finally returned to their Louisiana home Sunday.

All of the publicity around the Millers and Murphy also led total strangers to contact Murphy to assist their families stuck on St. Maarten. She helped whomever she could, all the while still on her own vacation.