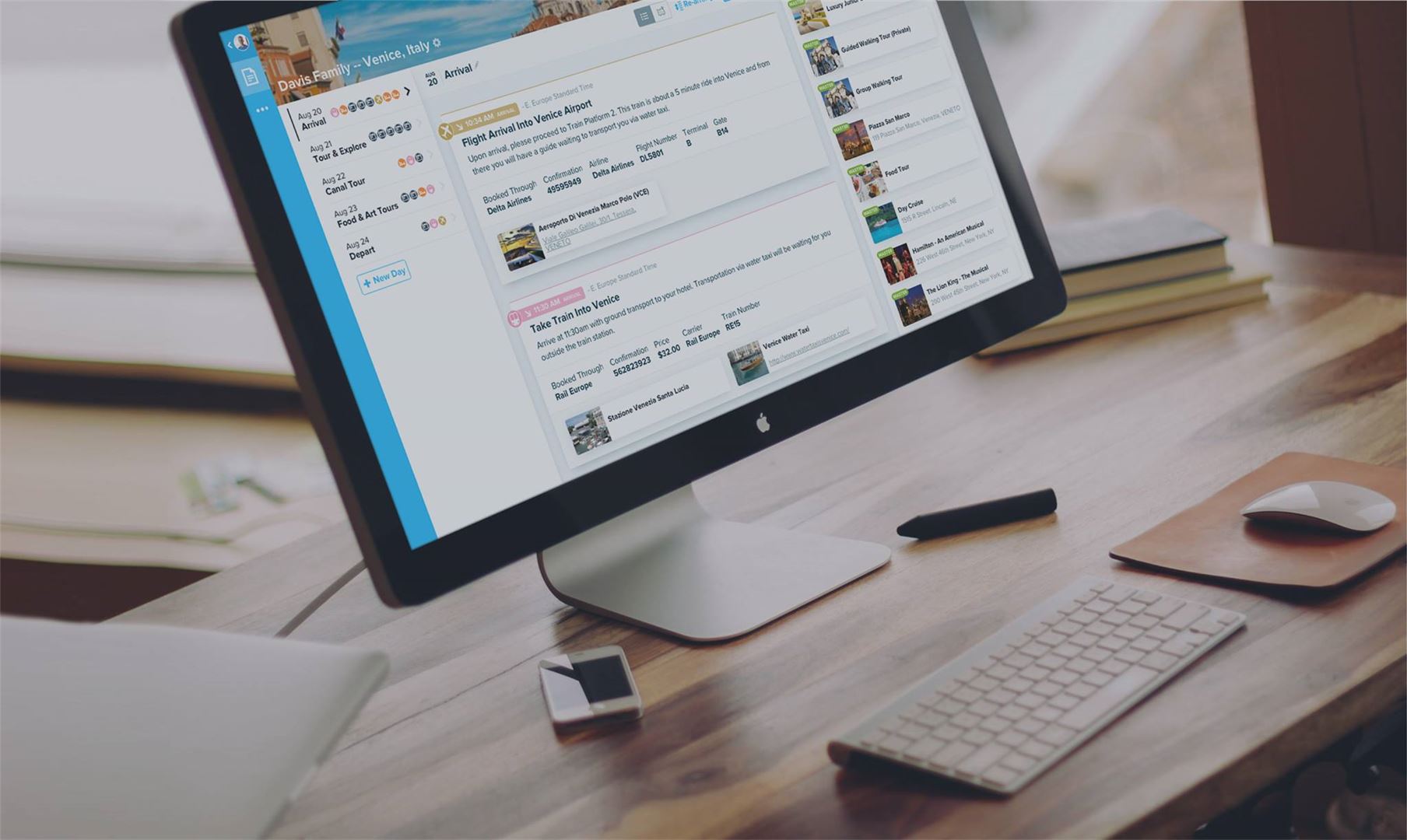 When it launched in 2013, Travefy sought to provide travelers with group trip management services, automating things like building FITs and communicating between, say, members of a family reunion trip.
One day, while reviewing user data, company executives noticed some stark differences between those clients who used Travefy's tools once or twice a year and those who appeared to be using it multiple times a day.
"We reached out to the accounts logging in every day to ask what they were doing, and found out they were travel agents 'hacking' our system and using it to serve their clients," said Travefy co-founder and CEO, David Chait. "We built the right tool, but for the wrong market."
Many of the agents told Chait and his co-founder Chris Davis that they had found Travefy when friends and family invited them on group trips that were using the tool. Others were finding them by Googling phrases like "travel agent group management tools."
"They told us 'This platform is great, but here are the three, five, 10 things, I would need you to add to optimize it for my business,'" Chait said. "'I need custom branding for my agency. Can you integrate the suppliers I work with?'"
Davis and Chait took notes and got back to work, launching a B2B site that today serves several thousand agency customers, and integrates content from 1,500 suppliers in four GDSs, including a variety of the top tour operators and destination management companies.
Automating across platforms
Today, outside of itinerary planning, Travefy also can help agents collate and publish quotes to clients, trigger email reminders, share special offers like airport parking vouchers, and curate custom maps that include an agent's favorite restaurant recommendations and things to do.
Agents and their clients can communicate across platforms, including computers, tablets and even a smartphone app, which can be custom-branded with an agency's logo if the agent subscribes at Travefy's Enterprise level.
Mark Bratt, owner of Mark Bratt Travel in Manchester, U.K., uses Travefy's mid-tier subscription service. Bratt tried a variety of Travefy's competitors when he opened his agency in January 2016.
Bratt, who specializes in curating journeys for independent couples who want to travel around a country, needed a visual tool that allowed his customers to have their itinerary on their phone. "I also wanted maps and information to help the customer find their hotels," he said.
"Customers love the imagery that I add and I love the flexibility that Travefy offers — the way that I can add in photos, links, whatever info I like. Once customers book their trip, then I send them the link to download the app — so it's an added-value of booking with me."
"I also use the new flights automation, which allows me to copy and paste a flight PNR from my Galileo desktop straight into Travefy. For me, this is gold," he said.
To keep evolving and meeting agent needs, the company hosts an agent advisory board, and works with about 100 agents who regularly test new products and services before they are fully launched.
Last year, Travefy won the American Society of Travel Agents Entrepreneur of the Year award at the ASTA 2017 Global Convention, and has garnered recognition from other forums.
Freeing up time for agents to add value
Bratt feels Travefy and other software/technology companies are arriving at just the right time in the travel agency's evolutionary history, as they help smaller agents look more progressive and put them on a better footing with online travel agents.
"Traditional travel agents can be seen as old-fashioned, and I always wanted to be a forward-thinking travel expert who made use of technology in a way that made the customer experience as smooth as possible," Bratt said.
Taking out the friction of agent customer service is key to Travefy's mission, Chait said. "Agents have been through a lot, with commissions cuts, the Internet. But the agents who have survived are doing well and thriving because they have that unique 'thing' about them that attracts clients," he said.
"We look at our mission as allowing agents to accentuate that 'thing' by giving them back the time they would have spent on tasks that we can automate," said Chait.
He recalled his work with a travel agent on a personal trip to Thailand two years ago. "We didn't ask the agent to find us flights or book a specific hotel. It was about which tour they felt we should we go on, what eco-friendly activities were there that fit our personalities. If all an agent is doing is booking and displaying flights for their client, they won't unlock the expertise that is the reason why clients go to an agent in the first place."
Chait said that there isn't a specific travel agent demographic that is driving the company's success so far. For example, there are long-tenured agents who subscribe, as well as younger agents new to the industry, like Bratt. The software is equally popular with independent contractors and larger agencies like Travel & Transport (which invested in Travefy in 2015).
"Any agent who is looking to remove the friction between them and the consumer is a potential client," Chait said.
Bratt is a perfect example. "I have a part-time marketing person, but apart from that, I'm on my own. So, balancing my day-to-day job of creating incredible holidays, which often involves a lot of research alongside business development, is a challenge. I honestly have a better business proposition with Travefy — itineraries would be nowhere near as slick without it," he said.
"There's more work to do, but I feel confident in Travefy that we can continuously improve things. They are honestly great partners to be working with."