United Airlines Opens Newest Polaris Lounge at Newark Liberty International Airport
by Barbara Peterson /

United Airlines is continuing to roll out new business class amenities, including larger and more luxurious airport lounges, as it ramps up the schedule for equipping all of its widebody planes with its new Polaris product.
At a ribbon cutting ceremony for the carrier's newest business class lounge at Newark Airport on Thursday, United executives touted the features of Polaris, which is meant to compete with the improved business class offerings on airlines like Singapore, Emirates and other top-ranked airlines.
The cabins feature brand new pod-like suites, in a 1-2-1 configuration, each with direct aisle access; fully reclined, the seats offer a 180-degree, lie-flat bed that is six feet and six inches long.
Polaris is currently available on key international routes such as Newark-Tokyo and Los Angeles-Shanghai, and the aim is to complete the overhaul of all 220 jets in its international fleet by the end of 2020.
The airline is equipping jets with Polaris seats at the rate of one every ten days.
Jill Kaplan, president, New York/New Jersey for United Airlines, said the new lounges are an essential part of this makeover. The lounge at Newark, which opens to customers June 4, follows on the heels of Polaris lounges at Chicago O'Hare and San Francisco International. Some 40,000 United passengers travel through the airline's New York area hub every day, said Kaplan, "the addition of the United Polaris lounge for our customers traveling on long-haul flights strengthens our service offering in Newark for the most enjoyable experience."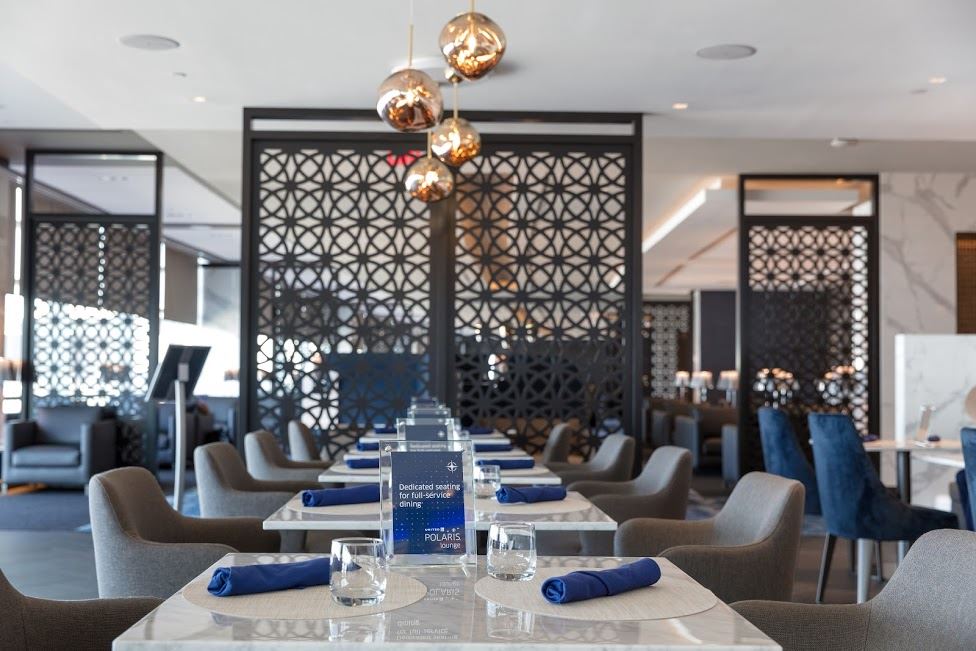 A shot of the dining room at United's new Newark facility.
Among the features of Newark's new 27,000 square feet facility:
More than 455 seats total, with 15 different seat types
570 power outlets and 450 USB ports
4 private phone rooms
10 private daybeds outfitted with Saks Fifth Avenue bedding
10 luxurious shower suites, featuring rainfall showers
Personal valet services, including steaming garments
A private dining area with table service for up to 48 guests, with menus by New York Chef John Glowacki, plus a self-serve buffet
A cocktail menu with signature drinks
Polaris lounges will open in Houston and Los Angeles this summer and according to United Vice President of Marketing Mark Krolick, the airline is also eyeing locations at international airports such as Tokyo and London.