Why New York State May Be the Hottest Ticket This Summer
by Maria Lisella /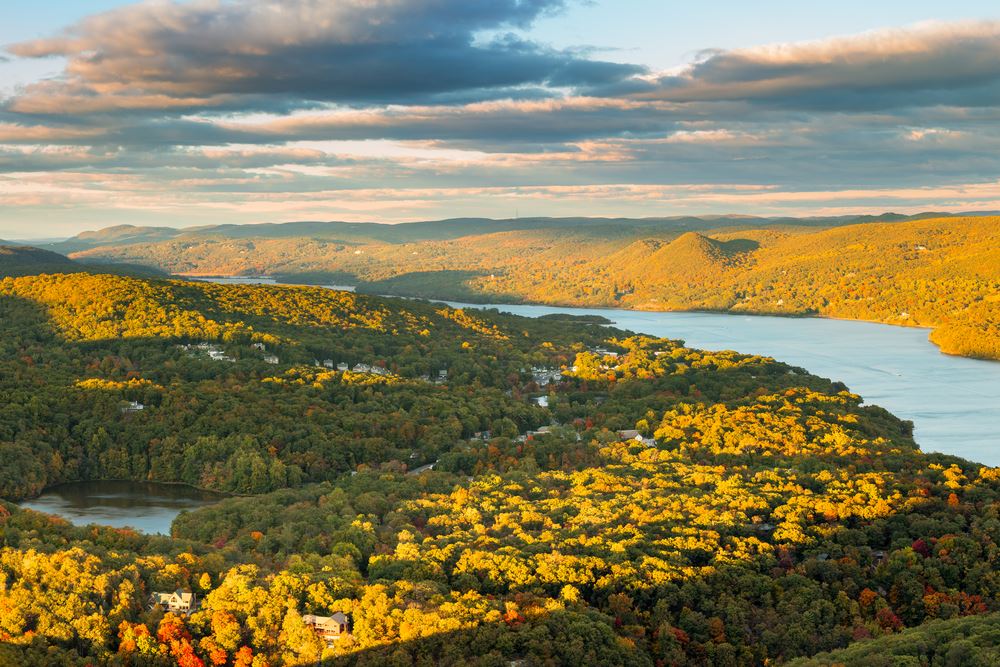 Make no mistake, New York State's recent record-breaking visitor counts have raised the bar, as have this year's crop of new resorts, hotels and inns.
New York State Executive Director of Tourism Ross D. Levi said, "We're making substantial and targeted investments in tourism because it's New York State's fourth largest industry and the historic levels of visitation we're experiencing are creating a record-high economic impact of $105 billion."
In 2016, New York State welcomed a record 239 million visitors, which generated $65 billion in direct visitor spending and, for the third consecutive year, tourism's total economic impact reached record levels of more than $100 billion. According to reports from New York State Tourism, the industry supported 935,000 jobs in 2017, about one in every 12 jobs.
New York State features no less than 11 vacation regions that are dotted with outstanding landmarks like Niagara Falls, the largest park in the continental U.S. in the Adirondacks, and the Baseball Hall of Fame in Cooperstown and the Strong Museum of Play in Rochester.
July is a good time to schedule special interest trips. The wine and cheese festival in the Finger Lakes region in Watkins Glen runs from July 13-15; while on July 28, regional dairy producers will be sampling and selling their cheeses, as well as leading seminars and classes on cheese (from its history to how to cook with it) at Sunset View Creamery in Odessa. The Hudson Valley Chalk Festival attracts international and local artists to create massive chalk paintings on Water Street Market from July 20-22. Consider steering learning vacationers to the Chautauqua Institution, which has been attracting travelers for more than 140 years to this haven of arts, culture and learning, on a 750-acre community that presents nine weeks of programming during its summer season.
Where to stay
Accommodations throughout the state range from wellness treatment centers to properties on the National Historic Register to Las Vegas-style gaming in the heart of culture-rich cities, quaint historic villages or pristine wilderness.
When it comes to New York City, no one says guests must stay right in the heart of Manhattan to see Manhattan. As another option, the Hilton Garden Inn Westchester in Dobbs Ferry is set just off the Saw Mill River Parkway and I-87. That's a 30-minute drive to the Bronx Zoo or a 40-minute ride on Metro North to midtown Manhattan. Families will find respite in the hotel's indoor saltwater pool, 24-hour convenience shop and fitness center. LEGOLAND Discovery Center is just 15 minutes away.
The Queen of Comedy
The upscale, lakeside Chautauqua Harbor Hotel in Celoron, the childhood home of Lucille Ball, is slated to open this summer. Following a day of kayaking on the lake or the nearby National Comedy Center, travelers can unwind in indoor and outdoor pools.
In June, Eastwind Hotel and Bar will open in Windham, with 16 glamping cabins decorated with Turkish rugs and luxurious Frette sheets. The hotel is also outfitted with a deck, firepit, swimming pool and oversized hot tub.
Hilton's The DoubleTree in Jamestown (also associated with Lucille Ball) will open in October with a restaurant and a gastropub. The hotel is within walking distance of the new comedy center and the Lucille Ball Desi Arnaz Museum, where its annual festival draws A-list comedians every summer (July 31-Aug. 6 this year), and the Desilu Studios is an exact replica of the "I Love Lucy" television studio set.
Capital experiences
Washington Park Inn is set in a converted 1884 brick mansion, combining modern comfort with Victorian charm. Located directly across the street from Albany's historic Washington Park, the inn is a short walk from downtown Albany, the Capitol Building and Empire State Plaza.
Located just five minutes from the Albany International Airport stands the Albany Marriott, which recently completed a $15 million renovation, upgrading all guest rooms and its 27,500 square feet of event space. The hotel features indoor and outdoor pools, a full fitness center and two on-site restaurants. The Saratoga Race Course is a 30-mile drive away.
Wellness, games and nostalgia in the Catskills
YO1 Wellness Center in Monticello now occupies the former Kutscher's Resort, where new owners India-based Essel Group invested $90 million created a luxury wellness destination focused on Eastern-inspired practices. Personalized programs include naturopathy, Ayurveda, yoga and meditation, physical therapy, reflexology, acupuncture, diet and nutrition.
Resorts World Catskills in Monticello brings Las Vegas-style gaming to the Catskills with a $1 billion-plus complex featuring 100,000 square feet of casino floor with more than 150 live game tables, and 2,150 state-of-the-art slot machines. The 18-story, five-star hotel's 332 all-suite luxury rooms include 12 penthouse suites, eight garden suites and seven two-tier villas. Off the gaming floor, visitors can relax in the Crystal Life Spa and fitness center with two indoor pools, scheduled to open this summer.
Central New York history
Cooperstown, known for the National Baseball Hall of Fame and the Fenimore Art Musem, is also home to The Railroad Inn, which was built in 1890, a block from town and across the street from a seasonal trolley. On the National Register of Historic Places, the inn was recently redone as a 22-room boutique hotel. Its loft suites, with spiral staircases that lead to bunk beds and a TV, are ideal for younger clients.
An historic, turn-of-the-century hotel, the DoubleTree by Hilton Utica is conveniently located in the city center and near the New York State Thruway and Amtrak station. Stanley Theatre, Children's Museum and Utica Memorial Auditorium, are all within walking distance.
Built about 1840, the Avon Inn earned its place on the National Register of Historic Places with its stately Greek Revival architecture. In 1910, it was converted to an inn. The property hosted famous guests such as Thomas Edison, Henry Ford and Katharine Hepburn. It recently reopened with 14 boutique-style guest rooms and an elegant ballroom that holds more than 200 guests. Nearby is Letchworth State Park, 25 minutes away; or guests can join locals for a murder mystery or team trivia evening in the inn's tavern.
Niagara Falls spectacular
The Hyatt Place Niagara Falls will accept reservations as of July 2, and the property is a short walk from Niagara Falls State Park. Families can enjoy the indoor saltwater pool, 24/7 gym, free breakfast and pet-friendly policy. A must-do is a ride on the Maid of the Mist boat right to the base of the falls; or take the Cave of the Winds to the famous hurricane deck, to stand directly under the falls.