Windstar Cruises Launches Star Collector With Longer Voyages
by Daniel McCarthy /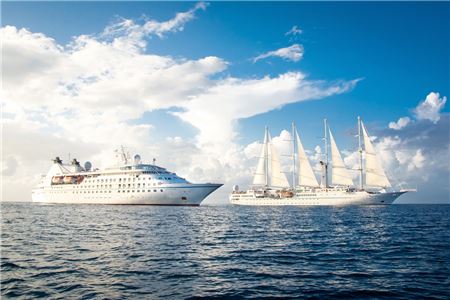 Windstar Cruises launched a new series of eight Star Collector sailings this week, each with a stronger focus on ports.
Windstar's Star Collector Voyages each sail for at least 14 days and combine some of its most popular itineraries for "a longer exploration of the region."
According to president John Delaney, the sailings are "an extensive collection of longer voyages designed for the person who wants to sail longer, get closer, and discover the world."
Guests on the journeys will be able to travel light, as Windstar has added free daily laundry service for all guests on its Star Collector voyages.
The sailings include:
Arabia & Ancient Spice Routes: a 34-day sailing leaving from Athens and traveling to Egypt, Jordan, Oman, UAE, India, Sri Lanka, Thailand and Malaysia before landing in Singapore.
Grandeur of Southeast Asia: a 28-day sailing departing from Singapore and heading to Bangkok with stops at UNESCO sites in Malaysia, Brunei, China, Vietnam, Thailand and the Philippines.
Sailing Among Dragons: a 28-day voyage through both ancient and contemporary sites in Vietnam, China and Japan.
The Best of China, Korea and Japan: a 28-day journey from China to Japan that gives guests the opportunity to visit more than 17 UNESCO World Heritage Sites.
Crossing to the Caribbean Saints: a 21-day sailing from Lisbon to Bridgetown, Barbados with stops in some of the best beaches in the world.
Caribbean Explorations: a 14-day roundtrip voyage out of Philipsburg, St. Maarten that stops in more remote places like small harbors and other havens in places such as Barbuda, Tortola and St. Barthélemy.
According to Travel Market Report's Cruise Report Card for Travel Agents, Windstar offers commission on ancillary services, travel insurance, hotel accommodations (when pre-purchased), pre- and post-trip tours, drink packages and unlimited internet.