TMR Spotlight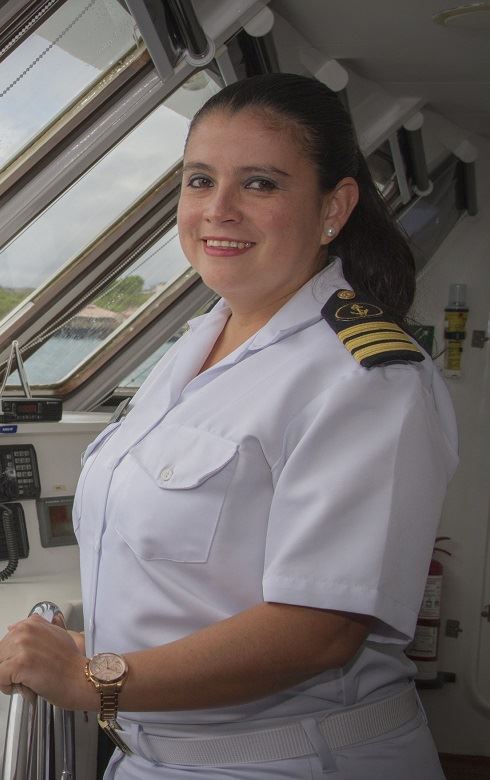 Celebrity Cruises' Nathaly Albán
Nathaly Albán will become the first-ever female searfarer to sail the Galapagos as a captain when she takes the helm of Celebrity Xploration in August.
Albán, who was born in Ecuador, started with Celebrity in 2006 as the third officer onboard Celebrity Xpedition. Since then she's amassed 12 years' experience sailing on a number of different ships in the Galapagos.
"Nathaly Albán was the ideal candidate for the job and we believe in celebrating and advancing our brightest talent," senior vice president of Global Marine Operations Patrik Dahlgren said in a statement.
One of only six women in her graduating class at Ecuador's merchant school La Escuela de la Marina Mercante Nacional, Albán has enjoyed a long maritime career including serving on the FLOPEC Tanker Fleet in the Ecuadorian Navy prior to graduating.
In a statement, she said was "overwhelmed with positive emotion" upon hearing the news.
"I told my family many times that I would be wearing white one day and be the first woman to serve as a captain on a ship in the Galapagos, now it's happening and I'm committed to delivering the very best experience for all guests onboard," she said.
Daily Top List
Top Five Hotels In Most Popular Summer Destinations
1. Disney's Port Orleans Resort-Riverside, FL
2. Blue Horizon Hotel, Canada
3. Hyatt Ziva Cancun, Mexico
4. Fairmont Olympic Hotel, WA
5. Sanctuary Cap Cana by AlSol, Dominican Republic
Source: AAA Inspectors
TMR Recommendations
Dream Job
Experienced Travel Consultant, Travel Associates
Location: New York, NY
Job type: Full-time employee
Salary: $30K Salary plus unlimited monthly incentives, medical, dental, vision, 401k and life insurance
Travel Associates is Flight Centre's boutique and premium brand with businesses in key locations Australia, New Zealand, South Africa and now the USA. Requirements include: strong repeat and referral client base; exceptional customer service; extensive travel experience and broad product knowledge of luxury products; and proficiency on Sabre or similar CRS.