CDC Changes Facemask Guidance for Cruise Passengers Again
by Daniel McCarthy /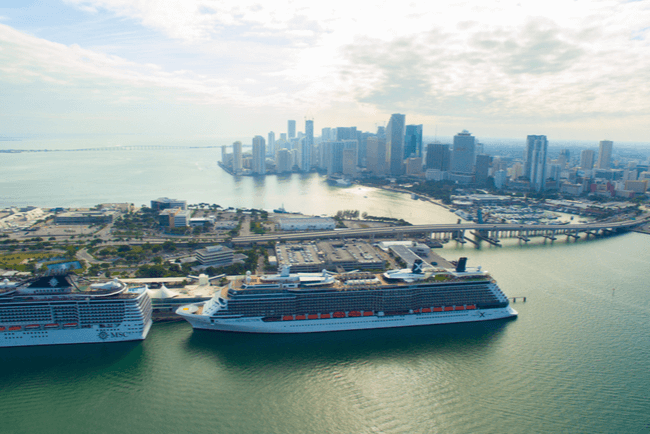 The Centers for Disease Control and Prevention (CDC) has again updated its guidance for resuming sailing out of U.S. cruise ports.
This time, the CDC has amended its facemask mandates, making it easier for cruise companies to allow passengers to gather or "conduct activities outdoors," including eating, without a mask as long as they are vaccinated.
The full change in language says that cruise lines "at their discretion, may advise passengers and crew that—if they are fully vaccinated—they may gather or conduct activities outdoors, including engaging in extended meal service or beverage consumption, without wearing a mask except in crowded settings."
Facemask requirements have been an obstacle for a number of consumers, according to travel advisors speaking to TMR, and lifting the requirement so guests are able to spend time at the pool deck without having to use a face mask should help alleviate that.
The CDC also this week said that fully vaccinated passengers would be able to go ashore on their own, instead of having to do so through a cruise line-sponsored shore excursion, another major change.
Still, even with the update, there are no concrete plans as of Thursday to allow cruise ships to start operating out of U.S. ports. Frank Del Rio, CEO of Norwegian Cruise Line Holdings, last week casted doubt on a potential summer restart.
"I seriously doubt we will be able to stand up a vessel out of a U.S. port in July, Del Rio told CNBC in an interview on Thursday. "August is also in jeopardy and it's all because of the disjointed guidelines from the CDC."
Norwegian will start cruising in July in Europe and in the Caribbean, but its U.S. restart is still on hold. Del Rio told CNBC that what NCLH received from the CDC this week was "anything but a clear path to restarting" despite the efforts of NCLH and the other cruise companies in the industry.
"We put forth a very ironclad proposal to the CDC about a month ago where we are mandating a 100% vaccination for both crew and passengers, onto that we are going to layer in the 74 protocols that the Healthy Sail Panel led by Scott Gottlieb put together. So we believe that our vessels will be the safest place on earth," he said.
The CDC is currently dealing with a lawsuit from the State of Florida that seeks to lift the CD's Conditional Sailing Order and Framework that is holding up the resumption of the industry. The case is in federal court this week.